Aston Martin Db11 2018 Review

14 Aug, 2023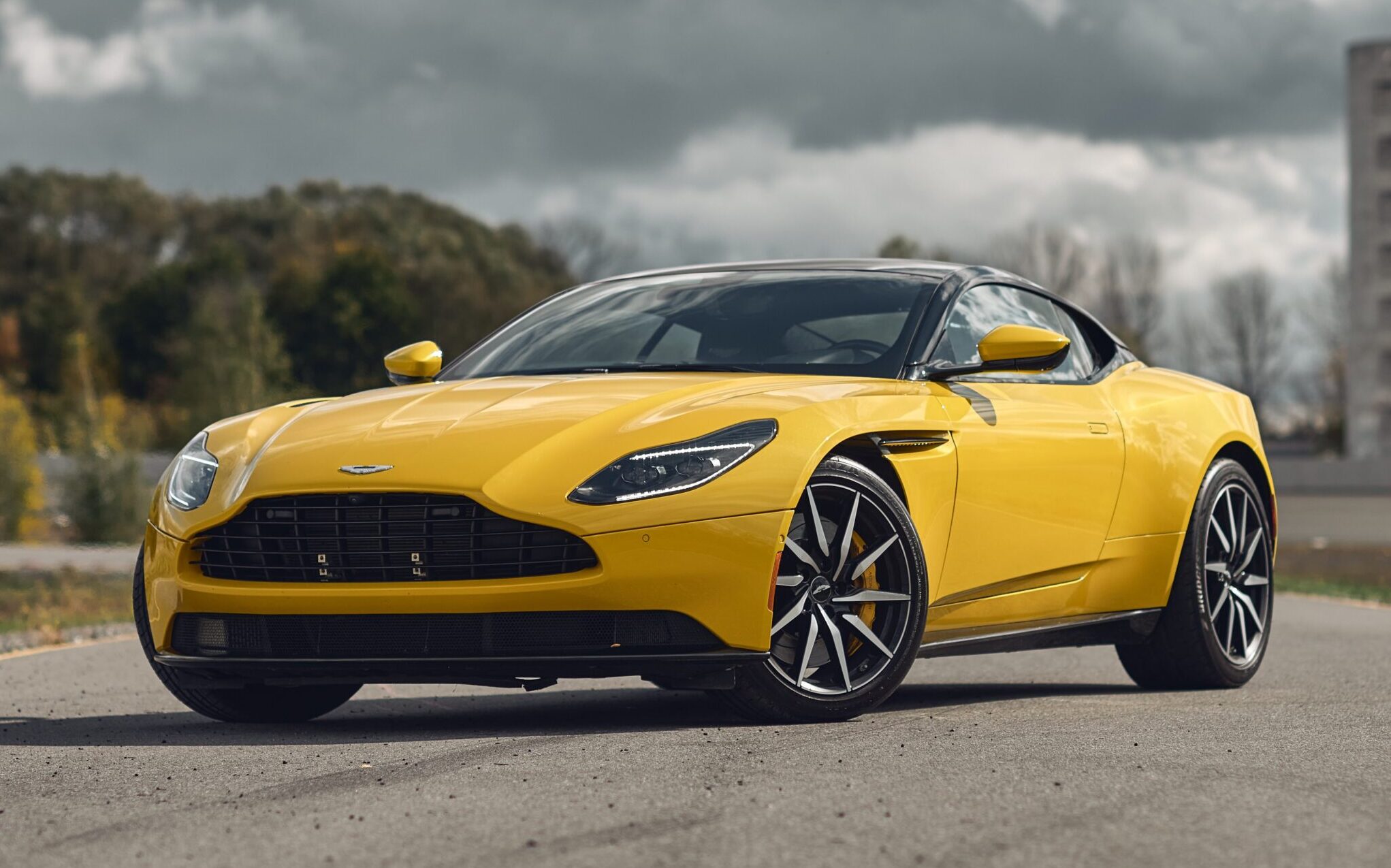 The Aston Martin DB11 (2018) is a stunning luxury grand tourer that embodies elegance and power. With its sleek design and powerful performance, it is sure to turn heads wherever it goes. Let's delve into the details of this remarkable vehicle.
Exterior Design
The Aston Martin DB11 features a captivating design that combines aerodynamic lines with classic British styling cues. Its muscular stance is accentuated by the bold grille, distinctive LED headlights, and sleek profile. The car rides on stylish alloy wheels, further enhancing its sporty appeal.
Interior Design
Step inside the DB11, and you'll be greeted by a luxurious and meticulously crafted cabin. The use of high-quality materials, such as premium leather and exquisite wood trim, creates an atmosphere of opulence. The seats provide excellent comfort and support, making long journeys a pleasure. The attention to detail and craftsmanship are evident throughout the interior.
Performance
Under the hood, the Aston Martin DB11 packs a punch with its powerful engines. It offers a range of engine options, including V8 and V12 configurations, delivering exhilarating performance and a thrilling driving experience. The precise handling, responsive steering, and advanced suspension system ensure that the DB11 performs admirably on both winding roads and long stretches of highway.
Safety & Technology
The Aston Martin DB11 (2018) prioritizes safety and incorporates advanced technology to ensure a secure and enjoyable driving experience. Equipped with features such as Adaptive Cruise Control, the DB11 allows drivers to maintain a comfortable distance from the vehicle ahead while reducing fatigue on long journeys. The Forward Collision Warning system uses sensors and cameras to detect potential frontal collisions, alerting drivers with visual and audible cues to prevent accidents. technology to ensure a secure and enjoyable driving experience.
Ride Quality
The Aston Martin DB11 (2018) delivers an exceptional ride quality, providing a balance between comfort and performance. With its advanced suspension system, the DB11 offers a smooth and refined driving experience, absorbing road imperfections and minimizing vibrations to ensure a comfortable journey for both the driver and passengers. The car's chassis and suspension components are meticulously engineered to provide precise handling and responsive steering, allowing for effortless maneuverability and confident control.
Aston Martin Pros
Striking and elegant design

Powerful engine options

Luxurious and comfortable interior

Advanced safety features

Cutting-edge technology
Aston Martin Cons
Limited rear-seat space

Relatively high maintenance and ownership costs
Aston Martin DB11 2018 යනු stunning design එකක් තියෙන, luxurious appointments සහ exhilarating performance සහිත විශිෂ්ට නිමාවකින් යුක්ත වාහනයක් විදිහට හදුන්වන්න පුලුවන්. එය අශ්වබල 503ක් සහ lb-ft 490ක ව්‍යවර්ථයක් නිපදවන 4.0-ලීටර් twin-turbocharged V8 එන්ජිමකින් බලගන්වන අතර, DB11 තත්පර 4.1කින් පැයට සැතපුම් 0 සිට 60 දක්වා ධාවනය කිරීමට ප්‍රමාණවත් වේ. එන්ජිම smooth, seamless shifts ලබා දෙන 8-speed automatic transmission සමඟ සම්බන්ධ කර ඇත.
DB11 හි හැසිරවීම ද සිත් ඇදගන්නා සුළු ය. සුවපහසු ගමනක් හෝ වඩාත් ආකර්ෂණීය රිය පැදවීමේ අත්දැකීමක් ලබා දීම සඳහා මෝටර් රථයේ adaptive suspension system සකස් කළ හැකිය. DB11 adaptive cruise control, lane departure warning සහ blind spot monitoring ඇතුළු විවිධ adaptive suspension system වලින් සමන්විතයි.
ඇතුළත, DB11 luxurious සහ luxurious ස්ථානයකි. cabin එක leather, wood සහ aluminum ඇතුළු high-quality materials වලින් නිර්මාණය කර ඇත. දිගු ධාවන වලදී පවා ආසන supportive සහ comfortable වේ. DB11 10.25-inch touchscreen display සහිත state-of-the-art infotainment පද්ධතියකින් ද සමන්විත වේ.
Aston Martin DB11 හි බාහිර පෙනුම විශ්මයජනකයි. මෝටර් රථයේ සැලසුම classic Aston Martin styling සහ modern elements වල සම්මිශ්‍රණයකි. DB11 long hood, sloping roofline සහ short rear deck සමන්විත වේ. මෝටර් රථයේ හෙඩ් ලයිට් LED වන අතර එහි පසුපස ලාම්පු Aston Martin Vanquish වෙතින් ආභාෂය ලබා ඇත.
Aston Martin වාසි
ආකර්ෂණීය හා අලංකාර නිර්මාණය
බලවත් එන්ජින් විකල්ප
සුඛෝපභෝගී සහ සුවපහසු අභ්යන්තරය
උසස් ආරක්ෂණ විශේෂාංග
අති නවීන තාක්ෂණය
Aston Martin අවාසි
සීමිත පසුපස ආසන ඉඩ ප්‍රමාණය
නඩත්තුව සඳහ විශාල මුදලක් දැරීමට හැකි වීම
Aston Martin DB11 Grades
503 hp Twin-Turbocharged V8 Engine
8-inch Infotainment Screen
Full-Grain Leather Interior,
360-Degree Camera System
630 hp Twin-Turbocharged V12 Engine
Sport-Tuned Suspension
Dark Exterior Accents
Carbon Fiber Trim
600 hp Twin-Turbocharged V12 Engine
20-inch Alloy Wheels
Sport Seats
Premium Audio System
Aston Martin DB11 Gallery
Frequently Asked Questions (FAQs)
Is the Aston Martin DB11 a good / reliable car?
As per our experts' review and rating, the Aston Martin DB11 has scored 8.8 out of 10. To find out more about whether the Aston Martin DB11 is well-suited to your specific needs, make sure to read our full review on it.
What factors should I consider when buying a used Aston Martin DB11 ?
Here are some important factors you should consider before buying a used Aston Martin DB11 car:
Price / budget & financing
Vehicle maintenance history & reputation
Pre-purchase inspection & test drive
Ownership and vehicle title
Insurance
Lifestyle compatibility