Toyota Corolla 2004 Review

10 Jun, 2023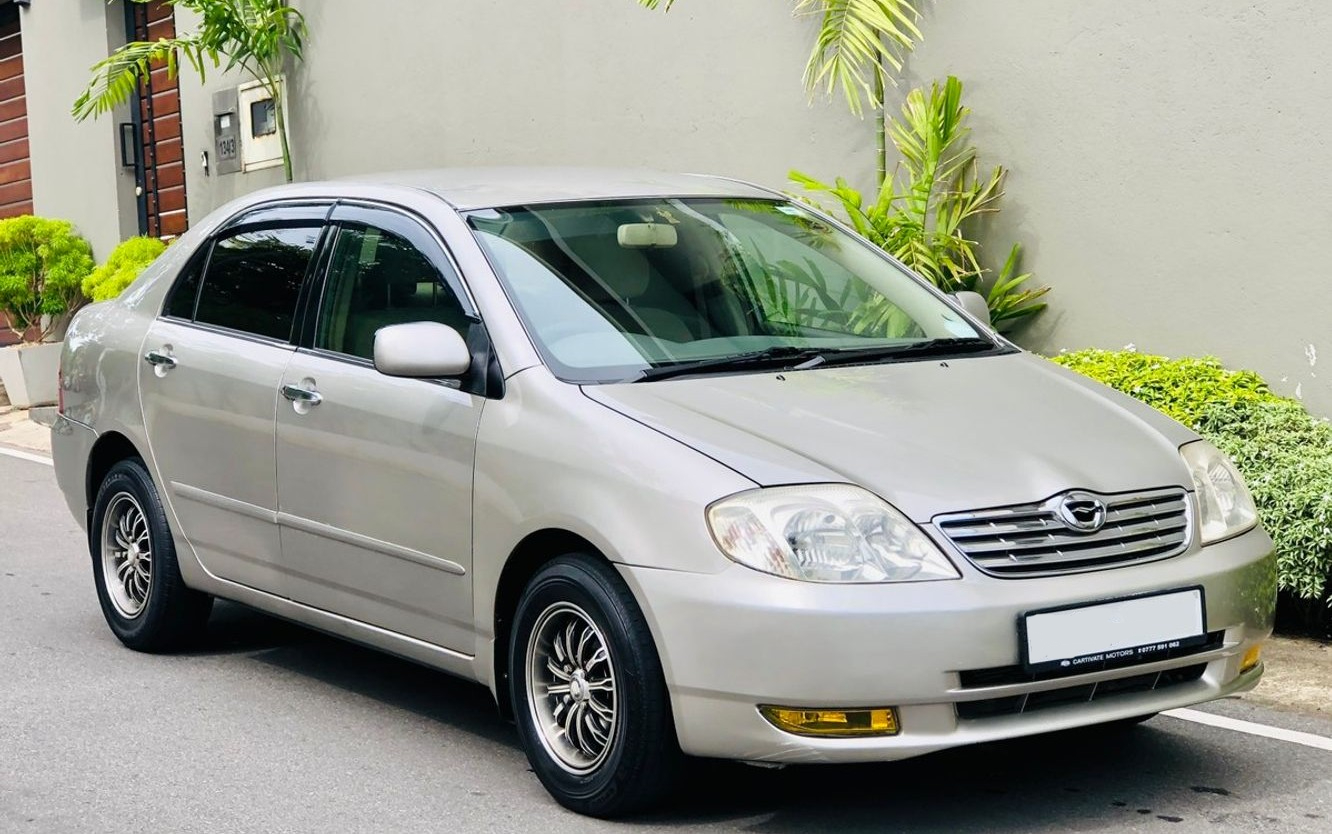 The Toyota Corolla is a renowned compact sedan that has gained popularity for its reliability, fuel efficiency, and practicality. With a long-standing reputation for durability and value, the Corolla has become one of the best-selling cars worldwide. In this review, we will delve into the Toyota Corolla 2004 model and evaluate its performance and features.
Exterior Design:
The Toyota Corolla 2004 features a clean and straightforward exterior design that prioritizes practicality and aerodynamics. Its compact size, smooth lines, and modest curves contribute to its timeless appeal. While not overly sporty or aggressive, the Corolla's design emphasizes efficiency and functionality.
Interior Design:
Inside the Toyota Corolla 2004, you'll find a practical and well-designed interior. The cabin offers comfortable seating and a layout that facilitates easy access to controls. The materials used are of good quality, ensuring durability and longevity. The Corolla provides ample headroom and legroom for occupants, creating a comfortable driving and riding experience.
Performance:
The Toyota Corolla 2004 delivers reliable and efficient performance with its 1.8-liter engine. While not designed for high-performance driving, the Corolla focuses on fuel efficiency and everyday usability. The engine provides sufficient power for daily commuting and highway driving, while its smooth operation contributes to the Corolla's reputation for reliability.
Ride Quality:
The Toyota Corolla 2004 offers a comfortable and smooth ride, ideal for daily commuting and city driving. The suspension system effectively absorbs bumps and road imperfections, resulting in a pleasant driving experience. The Corolla's compact size and responsive steering make it easy to maneuver in tight spaces, enhancing its overall practicality.
Safety and Technology:
The Toyota Corolla 2004 incorporates a range of safety features to ensure driver and passenger protection. These may include front airbags, side-impact door beams, and anti-lock braking systems. In terms of technology, the Corolla offers conveniences such as power windows, air conditioning, and a CD player, providing a comfortable and enjoyable driving experience.
Toyota Corolla 2004 Price in Sri Lanka
The price of the Toyota Corolla 2004 in Sri Lanka is in the range of LKR 4.0 Mn to 4.8 Mn. However, the most recent market price indications can be found on ikman.
As per the ikman's 3 months price data, the avg. price of used Toyota Corolla 2004 is LKR 3,827,222.
Toyota Corolla Pros
Reliable and fuel-efficient performance.

Practical and comfortable interior.

Good build quality and durability.

Affordable maintenance and ownership costs.

Respected reputation for reliability.
Toyota Corolla Cons
Limited performance capabilities.

Less advanced technology features compared to newer models.

Plain and conservative styling.
Toyota Corolla හි 9th generation එකට අයිති වෙන Toyota Corolla 2004 ගැන තමයි අපි CarsGuide තුළින් කතාකරන්නේ. Fuel efficiency, reliability, සහ practically කියන සාධක තුනටම ඉතා ජනප්‍රිය sedan රථයක් විදිහට මෙය හදුන්වන්න පුලුවන්.
පෙනුම කොහොමද?
Toyota Corolla 2004 practically සහ aerodynamics සඳහා ප්‍රමුඛත්වය දෙන විදිහට clean සහ straightforward exterior design එකකින් යුක්තයි. Body style එක ගත්තම දොරවල් 4ක sedan රථයක් නිසා යන අයට පහසුවෙන් යන්න පුලුවන් ආකාරයේ ප්‍රමාණවත් ඉඩක් තියෙනවා. Front grill එක modestly styled විදිහට තමයි නිර්මාණය කරලා තියෙන්නේ. Headlights වලින් විශේෂයෙන් රාත්‍රී කාලයේ drive කරන අයට ඉතා හොඳ visibility එකක් ලබා දෙනවා. වාහනයට අලුත්ම විදිහේ නවීනත්වයක් එක්වෙන විදිහට තමයි taillights නිර්මාණය කරලා තියෙන්නේ.
ඇතුළෙ පෙනුම
Toyota Corolla 2004 වාහනය 5 දෙනෙකුට සුවපහසු විදිහට ගමන් කරන්න පුලුවන් විදිහට තමයි නිර්මාණය කරලා තියෙන්නේ. User friendly dashboard එකක් අපිට බලාගන්න පුලුවන් මේ වාහනේ.යන ගමන් සිංදු අහන්න පුලුවන් විදිහට AM / FM radio, CD player මෙහි ඇතුළත්. ඒ වගෙම power windows, power door locks, key less entry සහ premium audio system මේ වාහනයේ තියෙනවා.
Engine Capacity
Engine capacity එක ලීටර 1.8 වෙනවා.මෙහි ඇති engine එක දෛනිකා ගමනාගමනයට වගෙම අධිවේගී මාර්ග වල ධාවනයට ප්‍රමාණවත් වෙනවා.
නඩත්තුවට ලොකු වියමදමක් යන්නේ නැති වාහනයන් ගන්න බලන අයට මේ වාහනේ කියාපුම වාහයක්.කාර්යක්ෂමතාව අතින්ද මේ වාහනය ගොඩක් හොඳ වාහනයක්.
Toyota Corolla 2004 ශ්‍රී ලංකාවේ මිල
ශ්‍රී ලංකාවේ Toyota Corolla 2004 හි මිල 4.0 Mn සිට 4.8 Mnදක්වා පරාසයක පවතී. කෙසේ වෙතත්, නවතම වෙළඳපල මිල ගණන් ikman වෙත පිවිසීමෙන් සොයාගත හැකිය.
Toyota Corolla Grades
Power windows
Power mirrors
Central locking
Air conditioning
AM/FM radio with CD player
Fabric seats
Power door locks
Remote keyless entry
Power steering
Cruise control
15-inch alloy wheels
Rear spoiler
Fog lights
Automatic transmission
Power-retractable side mirrors
Optitron instrument cluster
Chrome grille
Chrome door handles
Toyota Corolla Photo Gallery
Frequently Asked Questions (FAQs)
Is the Toyota Corolla a good / reliable car?
As per our experts' review and rating, the Toyota Corolla has scored 7.2 out of 10. To find out more about whether the Toyota Corolla is well-suited to your specific needs, make sure to read our full review on it.
What is the price of the Toyota Corolla?
The price range of the Toyota Corolla in Sri Lanka is LKR
4.0 Mn
to
4.8 Mn
. To compare prices of the Toyota Corolla, based on the condition, mileage and year of manufacture, check out the Toyota Corolla listings on ikman
for sale
.
What is the maximum power and maximum torque of the Toyota Corolla?
In the Toyota Corolla, the maximum power is 110 ps and maximum torque is 14 kgm.
What is the riding capacity of the Toyota Corolla?
The riding capacity of the Toyota Corolla is 5 Seater.
What is the engine capacity of the Toyota Corolla?
The engine capacity of the Toyota Corolla is 1496 cc.
What factors should I consider when buying a used Toyota Corolla?
Here are some important factors you should consider before buying a used Toyota Corolla car:
Price / budget & financing
Vehicle maintenance history & reputation
Pre-purchase inspection & test drive
Ownership and vehicle title
Insurance
Lifestyle compatibility
Toyota Corolla 2004 Specifications
| | |
| --- | --- |
| Model | Toyota Corolla |
| Launch Year | 2004 |
| Origin Country | Japan |
| Body Type | Saloon/Sedan |
| Doors | 4 |
| Riding Capacity | 5 Seater |
| Model Code | DBA-NZE121 |
| Overall Length | 4410 mm |
| Overall Width | 1695 mm |
| Overall Height | 1470 mm |
| Wheelbase | 2600 mm |
| Tread Front | 1490 mm |
| Tread Rear | 1470 mm |
| Interior Length | 1925 mm |
| Interior Width | 1430 mm |
| Interior Height | 1230 mm |
| Weight | 1050 kg |
| Engine Model | 1NZ-FE |
| Maximum Power | 110 ps |
| Maximum Power | 81 kw |
| Maximum Power | 6000 rpm |
| Max. Torque KGM | 14 kgm |
| Max. Torque Nm | 141 Nm |
| Max. Torque RPM | 4400 rpm |
| Engine Capacity | 1496 cc |
| Bore | 75 |
| Stroke | 84.7 |
| Compression Ratio | 10.5 |
| Fuel Tank Capacity | 50 L |
| Min. Turning Radius | 4.9 |
| Tires Size Front | 175/70R14 84S |
| Tires Size Rear | 175 |
| Driving Wheel | FF |