Mitsubishi Outlander 2015 Review

05 Oct, 2023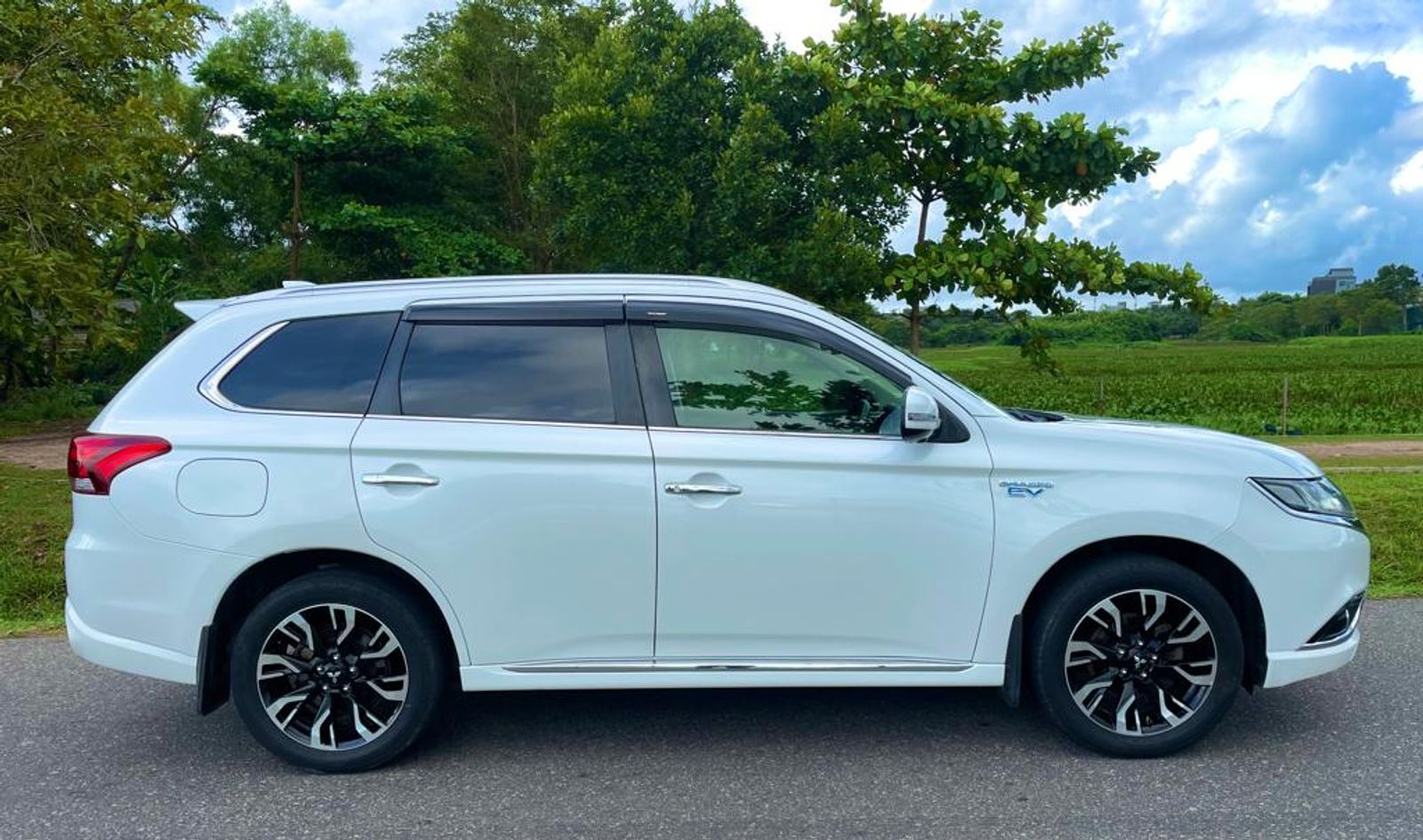 Do you prefer a vehicle with an aggressive appearance? However, not every car has one. However, that isn't the case with the Mitsubishi Outlander. This Outlander brand first appeared in Sri Lanka in 2001. So far, all four iterations of the Mitsubishi Outlander are seen. So, the Mitsubishi Outlander 2015, which is part of the third generation of the Mitsubishi Outlander, is the vehicle we are evaluating today at CarsGuide.
Exterior Design
Let's start this review with the exterior of the Mitsubishi Outlander.When talking about the front lights of this vehicle, you can see LED Daytime running lights. Apart from that, projector lamps can also be seen. The Mitsubishi logo can be observed in the middle of the grill. Also above the grill is the Outlander brand. Powerful fog lamps have been provided to this vehicle.
Coming to the side view, you can see stylish alloy wheels, designed in black and grey. This includes a low-profile tire set that comes with an 18-inch wheel set. This vehicle is an SUV, so, we generally believe that low profile tires on an SUV makes it better for on-road, but that isn't the case when on a rough road and it will be a disturbance in some way. The tires however, are not excessively low-profile. In general, a set of tires that can perform well both on-road and off-road at an average level is what the Outlander has.
In addition, side mirrors that are slightly larger than the size that comes with the winker mirror option can be seen as well as chrome accessories. The other thing is, we have been given the auto folding mirror option and the power and retractable mirror option for the side mirrors.
Door handles are designed in chrome and keyless entry buttons are found on them. Actually, we can open the door by simply holding the door handles easily because the width of these door handles is a little less.
In addition, we can also see chrome claddings on the side of this Outlander and two railings designed from chrome fixed to the roof. So, due to this chrome finish, this vehicle has a very good look.
Next, when we talk about the rear view of this Outlander and we can see the Shark fin antenna on the roof. And you can watch out for a spoiler. Below that is the top mount brake light and windshield washers. In addition, there is a windshield wiper.
Talking about the suspension of this vehicle, there is a standard independent suspension as well as a standard front and rear stabilizer bar suspension.
Full LED taillights have been provided. Signal lights, parking lights and reverse lights are all LEDs and this is a two-set light. So, when we have opened the tailgate, if the vehicle's parking light is on, especially at night, it indicates to the motorists from behind that a vehicle is parked.
It is given an electric tailgate. We can see the Mitsubishi logo on the front and back of the vehicle. The other thing is, chrome accessories have been added to the front, side and rear view, and the look of this Outlander has been boosted.
Also, the rear bump of this vehicle has been designed neatly, and two reflectors can be seen.
The height of this vehicle has been designed to match the name Outlander. And since this is an SUV, the average ground clearance should be around 225 mm. So, the ground clearance of the Outlander is 215 mm.
In the 7-seat option of this SUV, you can see a boot space of 570 liters. But since it doesn't have 3rd row seats, it has a boot space of 1000 liters. In addition, if the 2nd row seats are folded, we can increase the boot capacity to over 1500 liters. Also, when the seats are folded, you get a complete single floor.
The part below the boot floor cannot be used as a storage area because the hybrid battery is below the boot floor.
Interior Design
Talking about the interior, let's first see how the driver's cabin is designed. We can see leather seats with a very good curve. The driver seat is a power seat that can be electrically controlled. But the passenger seat cannot be controlled electrically. Good leg and headroom are visible and heated the seat option has been provided.
When we come to the center console, we can see an armrest with a large storage under it. In addition, there is a button labelled Twin Motor 4WD Lock. Electronic parking brakes are not seen. We can also see the gear positions and the parking gear position can be seen as a separate button. In addition, there are two cup holders. You can also see a 12 Volt out. Further, the electronic tailgate option can be turned on and off, and a controller has been provided. On the other side of this controller, there is the key holder. Coming to the Outlander's dashboard, there is a 4-way camera system. Below that, the doors are indicated. That means things like which door has been opened may be observed. Below that, the AC control area is provided as physical buttons. We also get to see a slightly bigger glove box in this vehicle.
Talking about the steering wheel of the Outlander, it has a premium design. The black colour has been given a little effect from the silver color and has been designed to offer a great look. And there is the multi-function option. Through this, we can access the cruise control option, 4-way camera system, infotainment system, and auto brake function. Also, you can answer the phone through this multi-function option.
Next, when we talk about the control area below the right side of the steering wheel, you can access options like the controller that opens the tailgate, lane-departure warning, and auto brake. So, we can consider another control panel.
Now let's see how the passenger cabin of the Mitsubishi Outlander has been designed.
It has three full-leather seats in the passenger cabin. The most important thing is the recline angle of these seats, because of which, you can go on a long journey easily and comfortably. If there are only two passengers, the middle seat can be used as an armrest and two cup holders. Talking about the center passenger, since this vehicle does not have a big floor hump, it can be easily accessed. But you may feel some discomfort. But it has the ability to go easily compared to other vehicles. However, you can see good leg and headroom in the passenger cabin.
A 1500 W outlet is found at the corner of the center console area. There are no AC vents in the passenger cabin. You can see two seat pockets on both front seats.
So, with these features, the passenger cabin of Mitsubishi Outlander has been designed to perfection.
Performance
The engine is the first thing that comes to mind when discussing the Outlander's performance. A 2-liter 4-cylinder petrol engine powers this car. This engine produces 166 horsepower, and a torque of 220 Nm.
Because it is a plug-in hybrid electric car, it may also be powered by a battery. We can travel up to 52 kilometers on average using the battery. Another feature of this Outlander is the presence of two 60 kW electric motors. As a front-wheel drive motor and a rear-wheel drive motor. The Twin Motor 4WD Lock control delivers power to these two motors in the Outlander's driver compartment. As a result, we can get very good performance as a four-wheel drive car. This is especially critical when driving off-road as well as on-road.
The engine in the Outlander is coupled to a continuously variable automatic transmission. This car is also front wheel drive.
The Outlander takes 10.2 seconds to accelerate from 0 to 100 km/h. It also has a top speed of 198 km/h. The fuel usage is 7.5 liters per 100 kilometers. So, because the Outlander's petrol tank size is 60 gallons, you may travel for 800 kilometers on this capacity.
Ride Quality
The ride quality is something that anyone considering a new vehicle should look for. We all want a vehicle that gives a comfortable ride. So, if you plan to purchase a Mitsubishi Outlander, you need be aware of its ride quality.
The engine and wind noise can be heard to some extent within the cabin when riding in this vehicle, it can turn in less space due to its 5.3 m turning radius. Another advantage is that the driver has a superb view. Aside from that, controlling the steering wheel is simple. With all of this, the Outlander has been provided a good ride comfort.
Safety & Features
When it comes to the protection of the driver and passengers, the airbags given in this car include a driver-side knee airbag, front seat side airbags, and side curtain airbags. In the event of a side collision, the side curtain airbags deploy. This lessens the crash impact and lowers the likelihood of a head injury. Above the side windows are side curtain airbags.
The Mitsubishi Outlander comes standard with antilock disc brakes, stability control, traction control, and hill-start assist. This feature, known as hill-start aid, is extremely useful while descending from high places such as mountains. When the foot is taken off the brake pedal to prevent the car from rolling, this hill-start assist feature automatically holds the braking system pressure for a short period of time. When the driver steps on the accelerator, the brake is released.
Lane departure warning, front collision warning, and a mitigation system are optional electronic safety features.
Mitsubishi Outlander 2015 Price in Sri Lanka
As per the ikman's historical price data, the avg. price of used Mitsubishi Outlander 2015 is LKR 13,478,571.
Mitsubishi Outlander 2015 Pros
Attractive and high-quality interior

High safety

Being able to get a high performance

Good fuel economy

Easy to turn in less space
Mitsubishi Outlander 2015 Cons
Passenger cabin does not get AC vents

Unrefined transmission

Hearing the engine and wind noise inside the cabin

Noisy powertrain

Front passenger seat does not have power adjustment
ඔබ වඩාත් කැමති ආක්‍රමණශීලී පෙනුමක් ඇති වාහනයකටද? කෙසේ වෙතත්, සෑම මෝටර් රථයකම එකක් නොමැත. කෙසේ වෙතත්, Mitsubishi Outlander සම්බන්ධයෙන් එය එසේ නොවේ. මෙම Outlander සන්නාමය ප්‍රථම වරට ශ්‍රී ලංකාවේ 2001 දී දර්ශනය විය. මේ වන විට Mitsubishi Outlander හි පුනරාවර්තන හතරම දක්නට ලැබේ. ඉතින්, Mitsubishi Outlander හි තුන්වන පරම්පරාවේ කොටසක් වන Mitsubishi Outlander 2015, අපි අද CarsGuide හි ඇගයීමට ලක් කරන වාහනයයි.
මෙම වාහනයේ front light ගැන කතා කරන විට, ඔබට LED Daytime Running Lamp දැකිය හැකිය. ඊට අමතරව projector lamp ද දැකිය හැකිය. grill මැද Mitsubishi ලාංඡනය නිරීක්ෂණය කළ හැකිය. grill එකට උඩින් තියෙන්නේ Outlander සන්නාමය. මෙම වාහනයට powerful fog lamp ලබා දී ඇත.
පැති දර්ශනය වෙත පැමිණෙන විට, ඔබට කළු සහ අළු වර්ණවලින් නිර්මාණය කර ඇති stylish alloy wheel දැකිය හැකිය. අඟල් 18 රෝද කට්ටලයක් සමඟ එන පහත් පැතිකඩ සහිත ටයර් කට්ටලයක් මෙයට ඇතුළත් වේ. මෙම වාහනය SUV රථයකි, එබැවින්, අපි සාමාන්‍යයෙන් විශ්වාස කරන්නේ SUV රථයක අඩු ප්‍රොෆයිල් ටයර් එය මාර්ගයට වඩා හොඳ කරන බවයි, නමුත් රළු පාරක යන විට එය එසේ නොවන අතර එය යම් ආකාරයකින් බාධාවක් වනු ඇත. කෙසේ වෙතත්, ටයර් අධික ලෙස පහත් නොවේ. සාමාන්‍යයෙන්, සාමාන්‍ය මට්ටමින් on-road සහ off-road යන දෙඅංශයෙන්ම හොඳින් ක්‍රියා කළ හැකි ටයර් කට්ටලයක් තමයි Outlander සතුව තිබෙන්නේ.
මෙම වාහනයේ උස Outlander යන නමට ගැලපෙන පරිදි නිර්මාණය කර ඇත. තවද මෙය SUV රථයක් බැවින් සාමාන්‍ය බිම් නිෂ්කාශනය 225 mm පමණ විය යුතුය. ඉතින්, Outlander හි ground clearance 215mm වේ
මෙම SUV රථයේ ආසන 7 ක විකල්පය තුළ, ඔබට ලීටර් 570 ක boot space එකක් දැකිය හැකිය. නමුත් එහි 3 වැනි පේළියේ ආසන නොමැති නිසා ලීටර් 1000ක boot space ඇත. මීට අමතරව, 2 වන පේළියේ ආසන නැවී ඇත්නම්, අපටboot space එක ලීටර් 1500 දක්වා වැඩි කළ හැකිය. රියදුරු සහ මගීන්ගේ ආරක්ෂාව සම්බන්ධයෙන් ගත් කල, මෙම මෝටර් රථයේ ලබා දී ඇති airbag අතර රියදුරු පැත්තේ side knee airbag, front seat side airbag සහ curtain airbag ඇතුළත් වේ. පැත්තක ගැටීමකදී, curtain airbag යොදවයි. මෙය කඩා වැටීමේ බලපෑම අඩු කරන අතර හිස තුවාල වීමේ සම්භාවිතාව අඩු කරයි. පැති කවුළුවලට ඉහළින් curtain airbag ඇත.
Mitsubishi Outlander 2015 වාසි
ආකර්ශනීය සහ උසස් තත්ත්වයේ අභ්යන්තරය
ඉහළ ආරක්ෂාව
ඉහළ කාර්ය සාධනයක් ලබා ගැනීමට හැකි වීම
අඩු ඉඩකින් හැරවීමට පහසුය
Mitsubishi Outlander 2015 අවාසි
මගී කුටියට AC වාතාශ්‍රය නොලැබේ
පිරිපහදු නොකළ සම්ප්රේෂණය
මැදිරිය තුළ එන්ජිම සහ සුළං ශබ්දය ඇසීම
Mitsubishi Outlander 2015 Grades
2.4-liter 4-cylinder engine
Continuously Variable Transmission (CVT)
Seven-passenger seating
16-inch alloy wheels
18-inch alloy wheels
Heated front seats
Leather-wrapped steering wheel
Six-speaker audio system
3.0-liter V6 engine
Power sunroof
Power tailgate
Rear parking sensors
Mitsubishi Outlander 2015 Gallery
Frequently Asked Questions (FAQs)
Is the Mitsubishi Outlander a good / reliable car?
As per our experts' review and rating, the Mitsubishi Outlander has scored 7.3 out of 10. To find out more about whether the Mitsubishi Outlander is well-suited to your specific needs, make sure to read our full review on it.
What is the maximum power and maximum torque of the Mitsubishi Outlander?
In the Mitsubishi Outlander, the maximum power is 150 ps and maximum torque is 19 kgm.
What is the riding capacity of the Mitsubishi Outlander?
The riding capacity of the Mitsubishi Outlander is 7 Seater.
What is the engine capacity of the Mitsubishi Outlander?
The engine capacity of the Mitsubishi Outlander is 1998 cc.
What factors should I consider when buying a used Mitsubishi Outlander?
Here are some important factors you should consider before buying a used Mitsubishi Outlander car:
Price / budget & financing
Vehicle maintenance history & reputation
Pre-purchase inspection & test drive
Ownership and vehicle title
Insurance
Lifestyle compatibility
Mitsubishi Outlander 2015 Specifications
| | |
| --- | --- |
| Model | Mitsubishi Outlander |
| Launch Year | 2015 |
| Origin Country | Japan |
| Body Type | SUV/4X4 |
| Doors | 5 |
| Riding Capacity | 7 Seater |
| Model Code | DBA-GF7W |
| Overall Length | 4695 mm |
| Overall Width | 1810 mm |
| Overall Height | 1680 mm |
| Wheelbase | 2670 mm |
| Tread Front | 1540 mm |
| Tread Rear | 1540 mm |
| Interior Length | 2580 mm |
| Interior Width | 1495 mm |
| Interior Height | 1265 mm |
| Weight | 1480 kg |
| Engine Model | 4J11 |
| Maximum Power | 150 ps |
| Maximum Power | 110 kw |
| Maximum Power | 6000 rpm |
| Max. Torque KGM | 19 kgm |
| Max. Torque Nm | 190 Nm |
| Max. Torque RPM | 4200 rpm |
| Engine Capacity | 1998 cc |
| Bore | 86 |
| Stroke | 86.0 |
| Compression Ratio | 10.5 |
| Fuel Tank Capacity | 63 L |
| Min. Turning Radius | 5.3 |
| Tires Size Front | 225/55R18 98H |
| Tires Size Rear | 225 |
| Driving Wheel | FF |