Mazda 6 2013 Review

30 Jun, 2023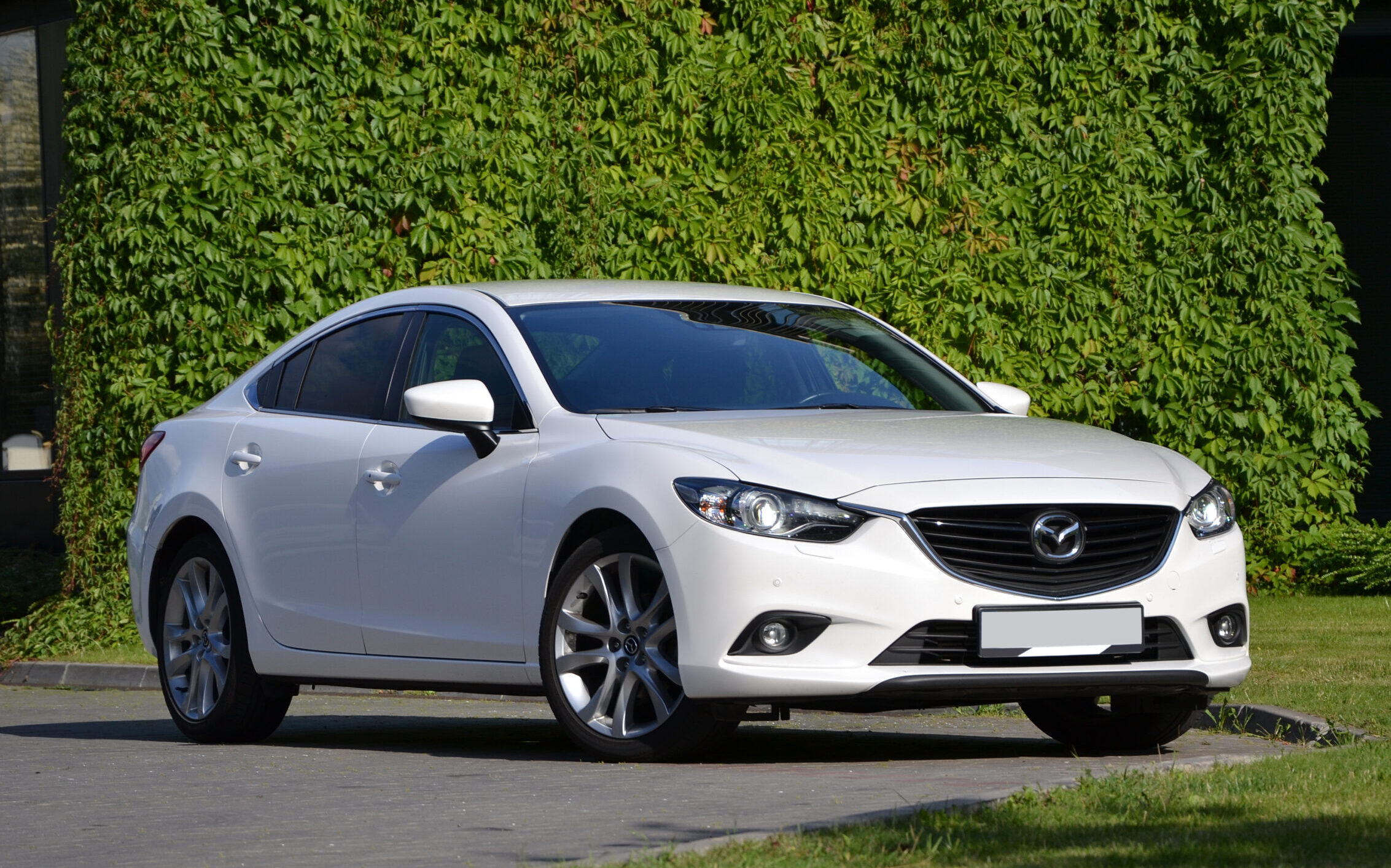 Although the Mazda 6 is a Japanese-made vehicle, it presents a highly attractive design, and goes as far as contending European standards and embodying an aesthetic similar to that of the Aston Martin. In this review, we will take a deep dive into the design, performance, specs, pros and cons of the Mazda 6 2013 model.
Exterior Design:
The Mazda 6 2013 features a design that perfectly embodies the KODO design philosophy. Its exterior design showcases a sense of motion and sophistication, with no design inconsistencies from any angle whatsoever. With its 19-inch alloy wheels, adaptive headlights, and a ground clearance of 165mm, the Mazda 6 is widely regarded as one of the most attractive vehicles available in the non-luxury car market. In fact, this upscale, performance-focused car can even give high-end brands such as BMW and Audi a run for their money.
Interior Design:
Mazda 6 offers plentiful rear legroom, providing a comfortable journey for up to six passengers in a first-class cabin-like environment. Also, the design of its interior is clean, functional, and well-thought-out. The cabin features a polished aluminum trim. However, the screen and touch buttons on the interface are quite small. Additionally, the Mazda 6 is equipped with a remote boot opener, and boot space of 480 liters of capacity. Moreover, the rear seats are foldable to further expand the boot space.
Performance:
The 2013 Mazda 6 is equipped with a 2.5-liter four-cylinder engine that delivers 184 horsepower and 185 torque. You have the option to choose between a six-speed manual or a six-speed automatic transmission, with the Grand Touring trim available only in automatic. The Mazda 6 can accelerate from 0 to 60 mph in 7.6 seconds. In terms of fuel efficiency, it achieves around 8 km per liter in the city and 14 km per liter on the highway, striking a good balance between performance and efficiency.
Ride Quality:
The 2013 Mazda 6 offers a commendable pick-up, far better than that of a regular sedan. The handling and driving feel are high in the Mazda 6, thus offering excellent driving pleasure and fun. One of the standout features of the 2013 Mazda is its powertrain that offers a smooth and quick acceleration to the vehicle.
Safety and Technology:
The standard safety features of the Mazda 6 include antilock disc brakes, traction and stability control, front-seat side airbags, full-length side curtain airbags, and active front head restraints. Also, the Touring and the Grand Touring trims include blind-spot and rear cross-traffic monitoring.
Only the Grand Touring features Mazda's Smart City Brake Support, which incorporates a collision-mitigation system. It has the ability to detect an imminent collision, utilizing an infrared sensor on top of the windshield. In the event of a collision, if the driver is not responding, the vehicle has the capacity to stop itself, automatically applying the brakes with a low speed.
Overall, the Mazda 6 is well-regarded for its safety features and has earned a five-star rating in various safety assessments.
Mazda 6 2013 Price in Sri Lanka
As per the ikman's 3 months price data, the avg. price of used Mazda 6 2013 is LKR 13,900,000.
Mazda 6 Pros
Smooth and responsive powertrain

Quick acceleration

Impressive fuel economy

Sporty handling & stylish looks
Mazda 6 Cons
Ride quality can be firm for some.

The interior touchscreen interface is less advanced and falls short in usability.

Front brakes tend to wear out relatively fast.
Mazda හි තවත් සුවිශේෂී නිෂ්පාදනයක් විදිහට Mazda 6 වාහනය හදුන්වන්න පුලුවන්.Mazda 6 ජපානයේ නිෂ්පාදිත වාහනයක් වුනත් Aston Martin සමාන විදිහෙ European standard එකකට පවා සමාන විදිහට attractive design එකකට තමයි නිර්මාණය කරලා තියෙන්නේ.
Exterior එක ගැන කතාකරන කොට KODO – soul of motion design philosophy හැඩය එන ආකාරයට තමයි නිර්මාණය කරලා තියෙන්නේ.19 inches alloy wheels තමයි Mazda 6 වාහනයේ තියෙන්නේ.165mmක හොඳ ground clearance එකක් මේ වාහනේ තියෙනවා.Headlights,foglights සහ front view design එකෙන් වාහනෙට අමුතුම elegant look එකක් ඇවිල්ලා තියෙනවා.
සැපහසු විදිහට යන්න පුලුවන් වෙන leathers seats තමයි මේ වාහනේ තියෙන්නේ.වාහනේ boot space එක 480 liters capacity එකකින් යුක්ත වන අතර එම space එක rear seats නැවීමෙන් වැඩි කරගන්නත් පුලුවන්.
2.5 liters four-cylinder engine එකක් තමයි මේ වාහනේ තියෙන්නේ.තත්පර 7.6කින් පැයට සැතපුම් 0 සිට 60 දක්වා වේගයකින් ගමන් කිරීමේ හැකියාව මේ වාහනෙට තියෙනවා.
හොඳ ආරක්ෂකයෙක් විදිහටත් Mazda 6 වාහනය නම්කරන්න පුලුවන්.anti-lock disc brakes, front-seat side airbags, full-length side curtain airbags, rear cross-traffic monitoring වගේ safety features රැසකින් සමන්විතයි.
Performance සහ efficiency කියන දේවල් අතින් well-balanced වාහනයක් විදිහට Mazda 6 නම් කරන්න පුලුවන්.
Mazda 6 2013 ශ්‍රී ලංකාවේ මිල
ikman හි මාස 3ක මිල දත්ත වලට අනුව සාමාන්‍යය Mazda 6 2013 හි මිල රුපියල් 13,900,000 වේ.
Mazda 6 Grades
17-inch alloy wheels
Keyless entry
Push-button start
Air conditioning
Cruise control
Fabric seats
Dual-zone automatic climate control
Power driver's seat
Leatherette seats
Rear-view camera
Bluetooth
19-inch alloy wheels
Power moonroof
Leather seats
Heated front seats
Bose audio system
Navigation system
Frequently Asked Questions (FAQs)
Is the Mazda 6 a good / reliable car?
As per our experts' review and rating, the Mazda 6 has scored 8.4 out of 10. To find out more about whether the Mazda 6 is well-suited to your specific needs, make sure to read our full review on it.
What is the price of the Mazda 6?
The price range of the Mazda 6 in Sri Lanka is LKR
7.4 Mn
to
8.1 Mn
. To compare prices of the Mazda 6, based on the condition, mileage and year of manufacture, check out the Mazda 6 listings on ikman
for sale
.
What factors should I consider when buying a used Mazda 6?
Here are some important factors you should consider before buying a used Mazda 6 car:
Price / budget & financing
Vehicle maintenance history & reputation
Pre-purchase inspection & test drive
Ownership and vehicle title
Insurance
Lifestyle compatibility