MAZDA 3 2017 Review

03 Oct, 2023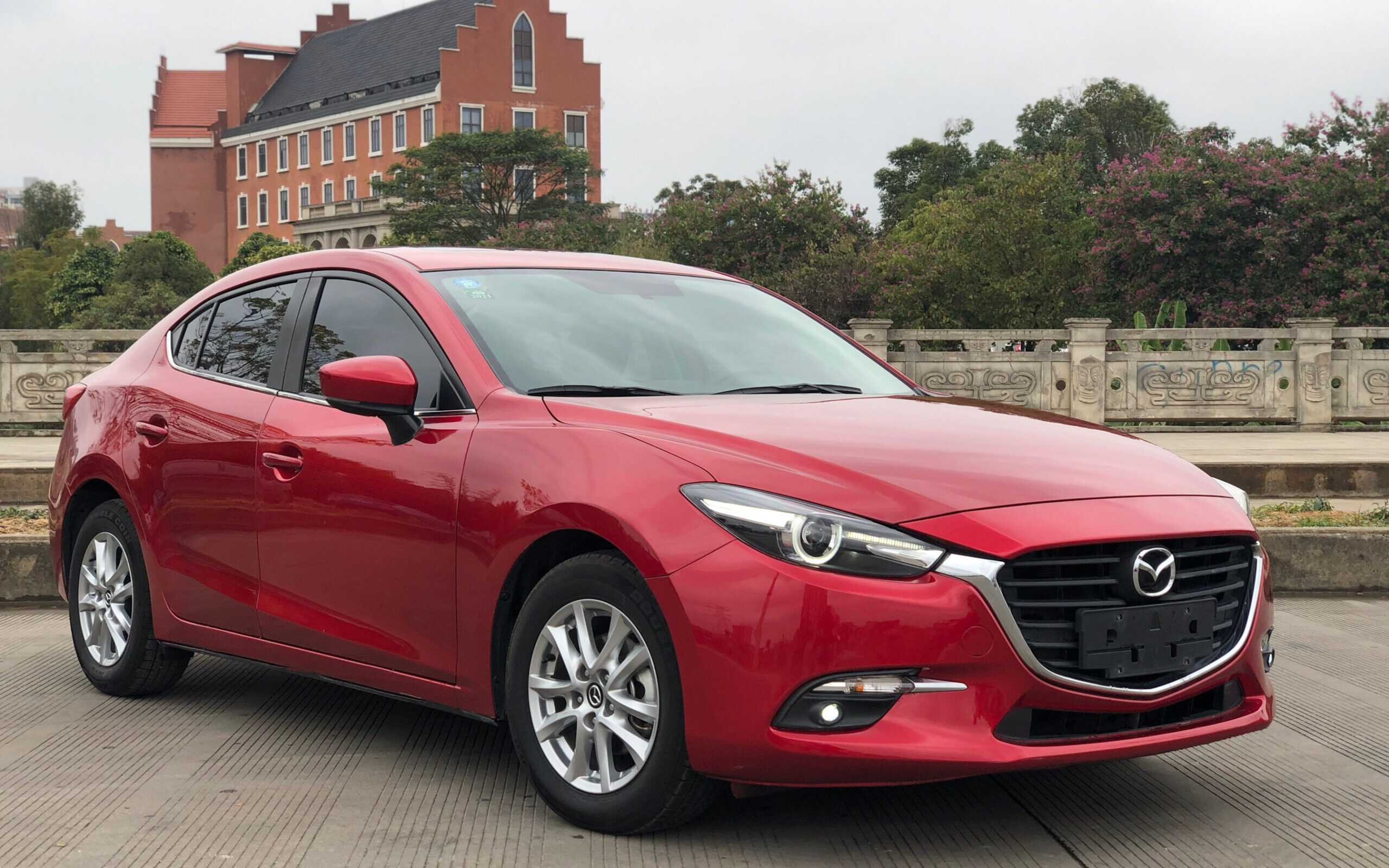 We all appreciate a well-designed luxury car, and the MAZDA 3 is one such example. MAZDA was founded in 1920, and was first introduced to Japan in 1931. There are now four generations of Mazda 3. Among these, we at CarsGuide are analyzing the MAZDA 3 2017, which belongs to the third generation.
Exterior Design
Let us first take a look at the outside design of the MAZDA 3.
Talking about the front view, there are Halogen headlights, Automatic on/off headlights, daytime running lights and a gloss-black grill. The MAZDA insignia is seen in the center of this grill. Front disc-ventilated brakes have been added.
We can see 16-inch alloy wheels on the side. There are body-colored door handles, as well as motorized and heated side mirrors. It also has power windows that are tinted. The total length is 4580 mm.
When you look at the back, you can see the MAZDA badge on the tailgate. A high-mounted stop light and body-colored bumpers are visible. The rear brakes are of the disc variety.
The MAZDA 3 belongs to the sedan class, and as a result, the vehicle's average ground clearance is 165 mm. This one, on the other hand, has a 155 mm ground clearance.
When it comes to the boot, it has a capacity of 364 liters, which is good space. This car also comes with a spare wheel.
Interior Design
The interior of the MAZDA 3 is exquisite from the moment you step inside.
Leather seats in the driver's cabin, with headrests that are adjustable. The driver's seat must be manually adjusted. These seats, on the other hand, have been created to be comfortable. There is plenty of leg and headroom.
Vanity mirrors with sun visors are available on both the passenger and driver sides. It also has a reading light and a manual day/night rearview mirror. A fairly spacious glove compartment is visible. There is a steering wheel with multiple functions and can be tilted. Telescopic adjustments are available for this. There is a storage compartment under the armrest as well as an armrest in the center console. Door bins and bottle containers are located on both doors. We've also been provided two cup holders. There is an analog speedometer, a digital tachometer, dual trip odometers, and a trip computer.
Push-button start, two USB connections, Bluetooth phone and audio connectivity, a six-speaker sound system, HD Radio, and the Mazda Connect infotainment system are all standard.
For the passenger compartment, three leather seats have been installed. All three seats are equipped with seat belts. The seats also have adjustable headrests. The middle seat can be utilized as an armrest if there is no passenger. If necessary, there are two cup holders. Because of the slant of the seats, even a tall person may fit without problem, and there is plenty of headroom. However, there is insufficient legroom. Also, if all three passengers are traveling, you will have a "crowded" sense. Seatback pockets have been installed in both front seats. The passenger compartment also features a reading light. Bottle holders are included in the doors.
Performance
A 2.0-liter 4-cylinder engine powers the MAZDA 3. This engine produces 152.9 horsepower, and has a torque of 200 Nm.
A six-speed manual transmission is coupled to the engine. In addition, this vehicle features front wheel drive.
It accelerates from 0 to 100 km/h in 8.1 seconds, with a maximum speed of 134 km/h. The fuel usage is 6.5 liters per 100 kilometers. So, using this vehicle, we can travel 785 kilometers because its fuel tank holds 51 gallons.
Ride Quality
When it comes to the ride of the MAZDA 3, it has a turning radius of 5.3 m. As a result, the vehicle can typically be turned in a small area. Only when the wind is quiet can you hear the cabin. Body roll is also minimal. So, overall, the MAZDA 3 provides a comfortable ride.
Safety & Technology
When it comes to the safety of the MAZDA 3, the Insurance Institute for Highway Safety has given the 2017 MAZDA 3 its top accolade, "Top Safety Pick+." It also achieved top marks in all IIHS crash tests. The basis for winning honors and top ratings in this manner is MAZDA 3's safety. Six airbags have been installed to protect the driver and passengers in the event of a collision.
It comes standard with a rear-view camera. MAZDA 3 also has blind spot monitoring, adaptive cruise control, rear parking sensors, lane departure warning, rear cross traffic alert, forward collision warning, adaptive headlamps, and traffic sign recognition. There are other safety features like as ABS, AEB stability control, and traction control. In areas like slopes, the hill holder prevents the car from rolling backwards. With all of this, the MAZDA 3 has a safety rating of 9.8 out of 10.
Mazda 3 2017 Pros
Easy to handle

Outstanding fuel economy

Quality interior

Easy to use Infotainment system

High safety
Mazda 3 2017 Cons
Limited space in rear seats

Boot opening is small

Rear-view camera issues

Loud noise coming from the rear of the vehicle
අපි සැවොම හොඳින් සැලසුම් කරන ලද සුඛෝපභෝගී මෝටර් රථයක් අගය කරන අතර MAZDA 3 එවැනි උදාහරණයකි. MAZDA 1920 දී ආරම්භ කරන ලද අතර 1931 දී ජපානයට මුලින්ම හඳුන්වා දෙන ලදී. දැන් Mazda 3 පරම්පරා හතරක් ඇත. මේ අතරින් CarsGuide හි අපි තුන්වන පරම්පරාවට අයත් MAZDA 3 2017 විශ්ලේෂණය කරමින් සිටිමු.
Mazda 3 hatchback, Sedan වර්ග දෙකෙන්ම වෙළඳපලේ පවතිනවා.Front view ගැන කතා කරන විට, halogen headlight, automatic on/off headlight, daytime running light සහ gloss-black grill ඇත. MAZDA ලාංඡනය මෙම grill එකේ center එකේ දක්නට ලැබේ. ඉදිරිපස disc-ventilated brake එකතු කර ඇත.අඟල් 16 alloy wheel තමයි මේ වාහනේ තියෙන්නේ. body color දොර හැන්ඩ්ල් මෙන්ම motorized සහ heated side mirror MAZDA 3 2017 වාහනේ තියෙනවා.
2.0-ලීටර් 4-සිලින්ඩර එන්ජිමක් MAZDA 3 බලගන්වයි. මෙම එන්ජිම අශ්වබල 152.9 ක් නිපදවන අතර, 200 Nm ක ව්යවර්ථයක් ඇත.හය-වේග අත්පොත සම්ප්රේෂණය එන්ජිමට සම්බන්ධ කර ඇත. මීට අමතරව, මෙම වාහනයේ ඉදිරිපස රෝද ධාවන ලක්ෂණ ඇත.
එය තත්පර 8.1 කින් පැයට කිලෝමීටර 0 සිට 100 දක්වා වේගවත් වන අතර උපරිම වේගය පැයට කිලෝමීටර 134 කි. ඉන්ධන පරිභෝජනය කිලෝමීටර 100 කට ලීටර් 6.5 කි. ඉතින් මේ වාහනය පාවිච්චි කරලා අපිට කිලෝමීටර් 785ක් යන්න පුළුවන් මොකද මේකේ ඉන්ධන ටැංකියේ ගැලුම් 51ක් තියෙනවා.
MAZDA 3 හි ආරක්ෂාව සම්බන්ධයෙන් ගත් කල, අධිවේගී මාර්ග ආරක්ෂාව සඳහා වන රක්ෂණ ආයතනය 2017 MAZDA 3 වෙත එහි ඉහළම පිළිගැනීමක් ලබා දී ඇත, "Top Safety Pick+." එය සියලුම IIHS බිඳවැටීම් පරීක්ෂණවල ඉහළම ලකුණු ලබා ගත්තේය. මේ ආකාරයෙන් ගෞරව සහ ඉහළ ශ්‍රේණිගත කිරීම් දිනා ගැනීමේ පදනම වන්නේ MAZDA 3 හි ආරක්ෂාවයි. රියදුරුගේ සහ මගීන්ගේ ගැටීමකදී ආරක්ෂාව සඳහා එයාර් බෑග් හයක් සවිකර තිබේ.
මෙම කරුණු මනසේ තබාගෙන, MAZDA 3 එකක් මිලදී ගැනීම කිසිසේත්ම අපහසු දෙයක් නොවේ, මන්ද මෙම වාහනය නවීන පෙනුමක්, සුඛෝපභෝගී අභ්‍යන්තරයක් සහ නැවත නැවතත් ඔප්පු කර ඇති කැපී පෙනෙන ආරක්ෂණ ශ්‍රේණිගත කිරීම් ලබා දී ඇති බැවිනි.මෙම සියලු තොරතුරු සමඟ, CarsGuide හි අපගේ විශේෂඥයින් MAZDA 3 සඳහා 10 න් 8.3 ක සමස්ත ශ්‍රේණිගත කිරීමක් ලබා දෙයි.
Mazda 3 2017 වාසි
හැසිරවීමට පහසුය
ගුණාත්මක අභ්යන්තරය
භාවිතා කිරීමට පහසු තොරතුරු රසාස්වාදය පද්ධතිය
ඉහළ ආරක්ෂාව
Mazda 3 2017 අවාසි
පසුපස ආසනවල සීමිත ඉඩකඩ
ඇරඹුම් විවෘත කිරීම කුඩා වේ
පසුපස දර්ශන කැමරා ගැටළු
සමහර අවස්ථාවල දී, boot නිසි ලෙස විවෘත හා වැසීම සිදු නොවේ
Mazda 3 2017 Gardes
2.0-liter 4-cylinder engine
6-speed manual or6-speed automatic transmission
6-inch alloywheels
Cloth upholstery
18-inch alloy wheels
Leather-wrapped steering wheel and shift knob
Dual-zoneautomatic climate control
2.5-liter 4-cylinder engine
Adaptive headlights
LED taillights
Power sliding moon roof
Frequently Asked Questions (FAQs)
Is the Mazda 3 a good / reliable car?
As per our experts' review and rating, the Mazda 3 has scored 8.3 out of 10. To find out more about whether the Mazda 3 is well-suited to your specific needs, make sure to read our full review on it.
What factors should I consider when buying a used Mazda 3?
Here are some important factors you should consider before buying a used Mazda 3 car:
Price / budget & financing
Vehicle maintenance history & reputation
Pre-purchase inspection & test drive
Ownership and vehicle title
Insurance
Lifestyle compatibility