Ford Mustang 2016 Review

06 Sep, 2023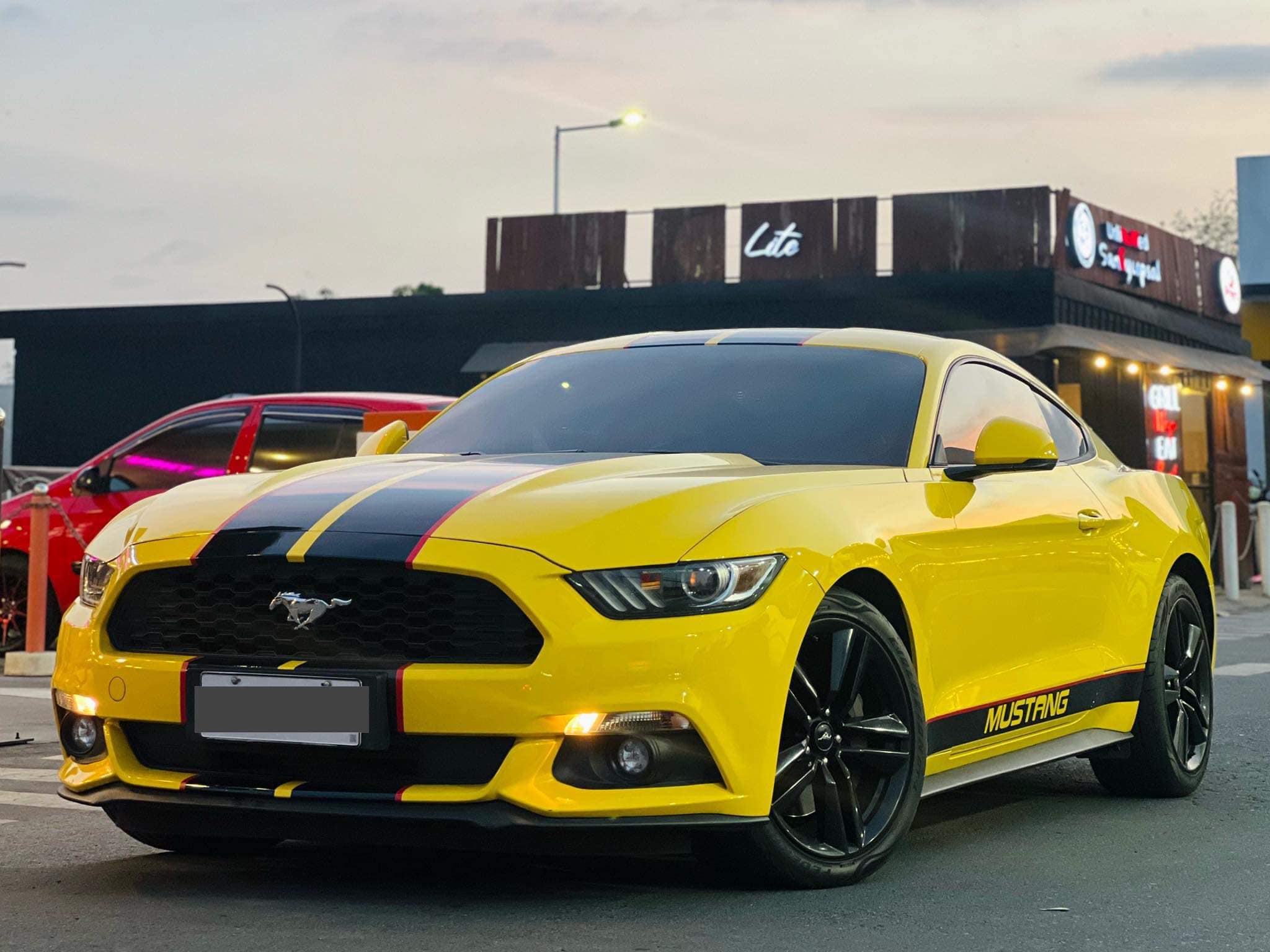 When most people think of an American car, they think of the Mustang. The Mustang is a classic vehicle icon. Today we're going to speak about the Ford Mustang.
The Mustang is an American car produced by Ford. When it comes to Ford, it is a motor firm that designs, manufactures, and sells cars, trucks, sport utility vehicles, and electric vehicles. So, today on CarsGuide, we will be reviewing the Ford Mustang 2016, which is part of the Ford Mustang 6th generation.
Exterior Design
Let's first see how the front view is designed to get a smart look for the exterior of this Ford Mustang. Although the vehicle we are talking about is a Ford Mustang, there is hardly a Ford logo on it. The Mustang pony logo is everywhere. And we get to see a longer bonnet and the signature grill. We can also see rain sensing wipers in the front.
When it comes to the side view, we can definitely say that the Ford Mustang is a longer vehicle. Also, we get 19-inch alloy wheels on this vehicle. You can see the power side mirrors.
When talking about the suspension of the Ford Mustang, it has a standard four-wheel independent suspension as well as a standard front and rear stabilizer bar. The signature tailgate design can be seen at the back of the vehicle.
Also, you can see the pony logo. We also get to see dual exhaust tips at the rear of this Ford Mustang.
Since the Ford Mustang is a vehicle in the sport coupe segment, it should have a ground clearance between 135-140 mm. So, this vehicle has been given a ground clearance of 137 mm.
The Mustang has a fairly large boot space of 408 liters. But since the boot opening is small, it is difficult to load anything big. The boot lip of this vehicle is also very high. If necessary, if the rear seats are folded forward, the boot capacity can be increased. This vehicle also has a repair kit. If necessary, enough space has been provided to fit even a spare wheel under this boot floor.
Interior Design
Usually, when we look at the exterior of a vehicle we see or buy, and visualize its interior. Let's see if the interior of the Ford Mustang has been designed to match the exterior.
Talking about the driver cabin of the Mustang, good entertainment features have been provided. We can see the features of Bluetooth, two USB ports, SYNC 3 touch-screen infotainment system, and 6 total speakers in the interior.
The glove box is quite big. There is also the user manual above. There are two cup holders in the middle and a lot of space in the center armrest console box. It has a light, a USB port and a power outlet. The doors have fairly large door bins. If needed, these can also be used as bottle holders.
When talking about the front seats, we can see comfortable seats with good space and sporty bucket seats. These seats have a good holder. The front seats have been designed in such a way that they are suited even for a long journey. The special thing is that these seats have heating and cooling functions. The other thing is that the front seats have 6-way power adjustment. Good leg and headroom are seen.
A 3-spoke chrome design steering wheel is given to this vehicle. There are cruise control and display menu buttons on the left side of the steering wheel. Then there are audio voice control buttons on the right side. Also, this steering wheel has got a paddle shift option.
The meter console of the vehicle has a sporty look. There is a tachometer on the left and a speedometer on the right. In the display in the middle, you can see the general warning messages as well as the information of the internal system of the car. Mostly the interior of this Ford Mustang is made of plastic. However, materials like leather and chrome have been used to give the interior an up-market look.
Talking about the passenger cabin, you have to fold the front seats to enter the passenger cabin. Therefore, for a tall person, it may be difficult to get in and out of the passenger cabin. Also, leg and headroom are not enough. But if the front seats are slightly forward, an average person can use these rear seats to go a short distance.
Actually, the interior of this Ford Mustang vehicle has been given a design unique to the Mustang itself.
Performance
A 4 cyl Ecoboost 2.3 l Turbo engine powers this vehicle. This engine produces 310 horsepower and produces 474 Nm of torque.
The engine is linked to a 6-speed manual transmission. This car is rear wheel drive.
This Mustang takes only 5.3 seconds to accelerate from 0 to 100 km/h. The car consumes 12.7 gallons of petrol every 100 kilometers. Because its fuel tank capacity is 61 gallons, it can travel 480 kilometers.
Ride Quality
We are capable of driving the Ford Mustang even on rocky roads.
This vehicle has a turning radius of 12.2 meters. As a result, turning normally necessitates a lot of room. However, for a sports car, the ride comfort is excellent.
Safety & Technology
When manufacturing and buying any vehicle, safety is something that must be considered. Now let's see what level of safety is in this Ford Mustang. Talking about airbags in this vehicle, dual front side-mounted airbags are provided.
4-wheel ABS helps prevent the vehicle from slipping by automatically pumping the brake while keeping constant pressure on the brake pedal.
This vehicle has a tire pressure monitoring system. Therefore, you will be informed when the tire pressure is too low, or when it can cause unsafe driving conditions. Also, if the light in this system is illuminated, it means that the tires are under-inflated and thus a tire failure may occur.
The Ford manufacturer has also given the feature known as Dusk sensing headlamps to this vehicle. These dusk sensing headlamps are installed close to the rain sensor behind the internal mirror of the vehicle. This detects light level. Therefore, when light is low, dipped headlights are automatically turned on. For example, you can take driving at night or driving in the evening.
Ford Mustang 2016 Price in Sri Lanka
As per the ikman's historical price data, the avg. price of used Ford Mustang 2016 is LKR 70,500,000.
Ford Mustang 2016 Pros
Attractive cabin

Potent engine lineup

Easy to handle

Providing a smooth ride

High safety
Ford Mustang 2016 Cons
Bounce when on a bumpy road

The rear seats are quite small

Poor fuel economy

Engine failure
බොහෝ අය ඇමරිකන් මෝටර් රථයක් ගැන සිතන විට, ඔවුන් Mustang ගැන සිතති. Mustang යනු සම්භාව්‍ය වාහන නිරූපකයකි. අද අපි කියන්න යන්නේ Ford Mustang ගැන.
Mustang යනු Ford විසින් නිෂ්පාදනය කරන ලද ඇමරිකානු මෝටර් රථයකි. ෆෝඩ් සම්බන්ධයෙන් ගත් කල, එය මෝටර් රථ, ට්‍රක් රථ, ක්‍රීඩා උපයෝගිතා වාහන සහ විදුලි වාහන සැලසුම් කිරීම, නිෂ්පාදනය කිරීම සහ විකිණීම සිදු කරන මෝටර් රථ සමාගමකි. ඉතින්, අද CarsGuide හි, අපි Ford Mustang 6 වන පරම්පරාවේ කොටසක් වන Ford Mustang 2016 සමාලෝචනය කරන්නෙමු.
අපි මුලින්ම බලමු කොහොමද මේ Ford Mustang රථයේ බාහිර පෙනුමට ස්මාර්ට් පෙනුමක් ලැබෙන විදියට ඉදිරිපස දසුන නිර්මාණය කරලා තියෙන්නේ කියලා. අපි මේ කතා කරන වාහනය Ford Mustang රථයක් වුවත් එහි Ford ලාංඡනයක් නොමැති තරම්. Mustang pony ලාංඡනය සෑම තැනකම තිබේ. තවද අපට දිගු බොනට් එකක් සහ signature grill එකක් දැකගත හැකිය.
පැති දසුන ගැන කතා කරන විට, Ford Mustang දිගු වාහනයක් බව අපට නිසැකවම පැවසිය හැකිය. ඒ වගේම මේ වාහනයට 19-inch alloy wheel ලැබෙනවා. ඔබට power side mirror දැකිය හැකිය.
Ford Mustang යනු Sport Coupe කාණ්ඩයේ වාහනයක් බැවින්, එය 135-140 mm අතර ground clearance තිබිය යුතුය. ඉතින් මේ වාහනයට මිලිමීටර් 137ක ground clearance එකක් දීලා තියෙනවා.
Ford Mustang සතුව ලීටර් 408 ක තරමක් විශාල boot space එකක් ඇත. හැබැයි boot opening එක පොඩි නිසා ලොකු දෙයක් load කරන්න අමාරුයි. මේ වාහනේ boot lip එකත් ගොඩක් උසයි. අවශ්ය නම්, පසුපස ආසන ඉදිරියට නැවී ඇත්නම්, boot space වැඩි කළ හැකිය. මෙම වාහනයේ අලුත්වැඩියා කට්ටලයක් ද ඇත. අවශ්‍ය නම්, මෙම ඇරඹුම් තට්ටුව යට අමතර රෝදයක් පවා සවි කිරීමට ප්‍රමාණවත් ඉඩක් ලබා දී ඇත.
මෙම වාහනයට 3-spoke chrome design steering wheel ලබා දී ඇත. steering wheel එකේ වම් පැත්තේ cruise control සහ display menu button ඇත. ඊට පස්සේ දකුණු පැත්තේ audio and voice control button තියෙනවා. ඒ වගේම මේ steering wheel එක paddle shift කියන option එකකුත් ලැබිලා තියෙනවා.
වාහනයේ meter console ක්‍රීඩා පෙනුමක් ඇත. වම් පසින් ටැකෝමීටරයක් සහ දකුණු පසින් ස්පීඩෝමීටරයක් ඇත. මැද ඇති සංදර්ශකය තුළ, ඔබට සාමාන්ය අනතුරු ඇඟවීමේ පණිවිඩ මෙන්ම මෝටර් රථයේ අභ්යන්තර පද්ධතියේ තොරතුරු ද දැකිය හැකිය. බොහෝවිට මෙම Ford Mustang රථයේ අභ්‍යන්තරය ප්ලාස්ටික් වලින් සාදා ඇත. කෙසේ වෙතත්, අභ්යන්තරයට ඉහළ වෙළඳපල පෙනුමක් ලබා දීම සඳහා leather සහ chrome වැනි ද්රව්ය භාවිතා කර ඇත.
Ford Mustang 2016 වාසි
ආකර්ශනීය කුටිය
බලගතු එන්ජින් පෙළගැස්ම
හැසිරවීමට පහසුය
Smooth ride එකක් ලබා දේ
ගැටිති සහිත මාර්ගයක සිටින විට පිම්මක්
පසුපස ආසන තරමක් කුඩා ය
මිල ඉතා අධිකයි
Ford Mustang 2016 Grades
3.7-liter V6 engine
6-speed manual transmission
18-inch alloy wheels
Rearview camera
2.3-liter turbocharged 4-cylinder engine
6-speed manual transmission (or automatic)
18-inch alloy wheels
Dual exhaust with chrome tips
5.0-liter V8 engine
6-speed manual transmission
Hood vents
Dual exhaust with quad tips
Ford Mustang 2016 Gallery
Frequently Asked Questions (FAQs)
Is the Ford Mustang a good / reliable car?
As per our experts' review and rating, the Ford Mustang has scored 8.1 out of 10. To find out more about whether the Ford Mustang is well-suited to your specific needs, make sure to read our full review on it.
What factors should I consider when buying a used Ford Mustang?
Here are some important factors you should consider before buying a used Ford Mustang car:
Price / budget & financing
Vehicle maintenance history & reputation
Pre-purchase inspection & test drive
Ownership and vehicle title
Insurance
Lifestyle compatibility
Ford Mustang Cars

Auto parts for Ford Cars