Peugeot 5008 2018 Review

03 Sep, 2023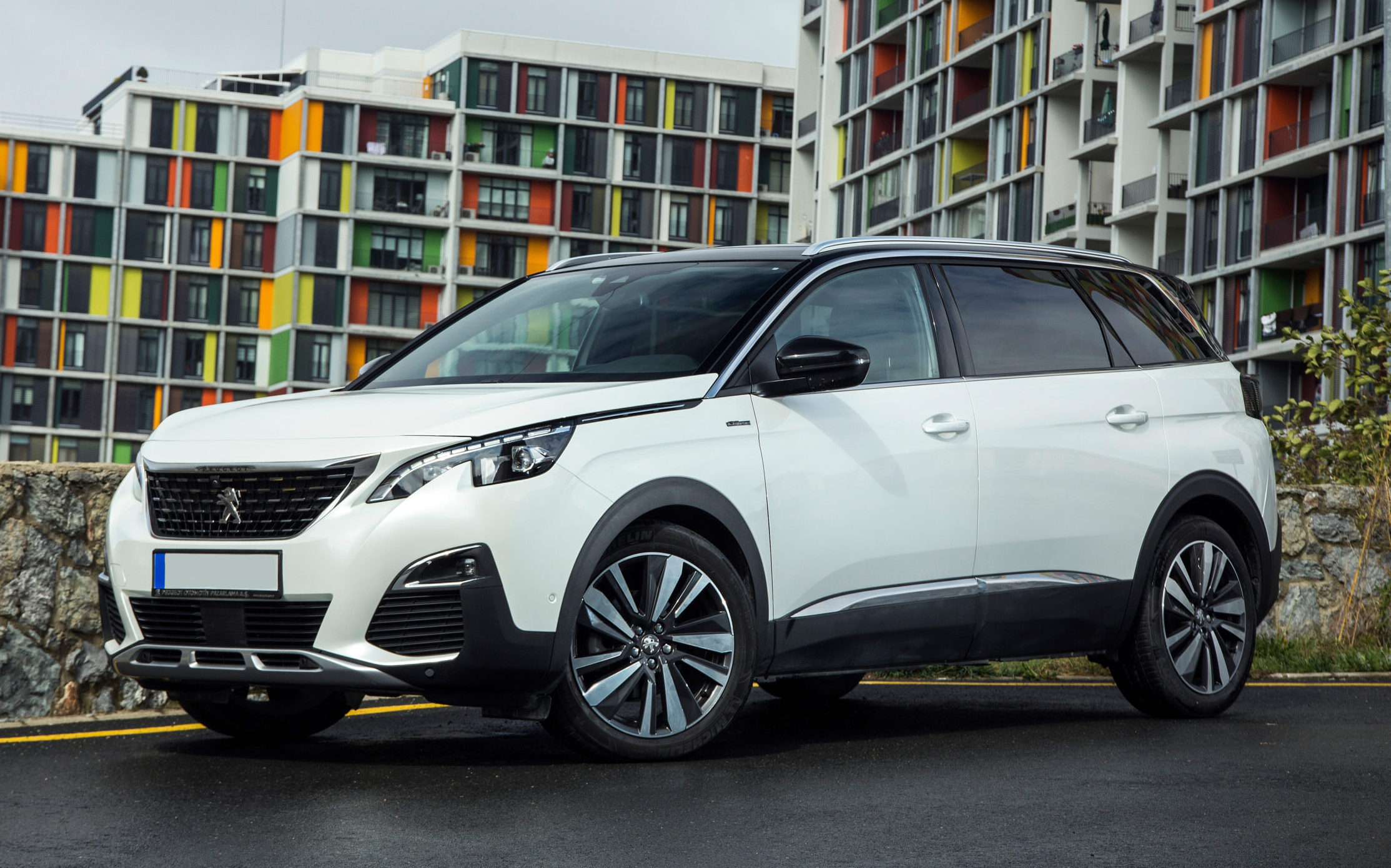 If you're in the market for a versatile and stylish SUV, the Peugeot 5008 2018 might be your ideal choice. In this review, we'll explore the features, specifications, and the pros and cons of the Peugeot 5008 2018 model to help you decide if it's the right fit for your needs.
Exterior Design
The Peugeot 5008 2018 boasts a distinctive and elegant exterior design that sets it apart from the competition. Its bold lines and striking front grille make a strong visual statement on the road. With a ground clearance that suits both urban and light off-road driving, this SUV offers practicality along with style.
Interior Design
Step inside the Peugeot 5008 2018, and you'll find a blend of sophistication and advanced technology. The interior is spacious and versatile, making it perfect for families or those who need extra cargo space. The dashboard is well-designed, featuring user-friendly controls and an intuitive infotainment system.
Comfort and Space
The Peugeot 5008 2018 offers comfortable seating for up to seven passengers, depending on the configuration you choose. The front seats are supportive and adjustable, ensuring a pleasant driving experience. However, taller passengers might find the third-row seats less accommodating during longer journeys.
Technology
This SUV comes equipped with modern technology features, including a large touchscreen infotainment system. Depending on the trim level, you can enjoy connectivity options like Apple CarPlay and Android Auto, which allow seamless integration with your smartphone.
Performance
Under the hood, the Peugeot 5008 2018 typically houses a range of efficient engines that strike a balance between performance and fuel economy. The SUV handles well in various driving conditions, from city streets to highways, thanks to its responsive steering and comfortable ride quality.
Safety
Peugeot prioritizes safety, and the 5008 2018 is no exception. It comes with a comprehensive set of safety features, including multiple airbags, ISOFIX mounting points, and advanced driver assistance systems such as autonomous emergency braking and lane departure warning.
The Peugeot 5008 2018 is a compelling choice for those seeking a stylish and practical SUV. Its distinctive design, comfortable interior, and modern technology features make it a strong contender in its class. While it may have some limitations in terms of third-row seating comfort and infotainment usability for some users, it compensates with its overall value and versatility.
Peugeot 5008 2018 Pros
Distinctive exterior design

Spacious and versatile interior

Modern technology features

Balanced performance and fuel efficiency
Peugeot 5008 2018 Cons
Limited comfort in the third-row seats for taller passengers

Infotainment systems may not be as user-friendly for some individuals
2018 Peugeot 5008 යනු මධ්‍යම ප්‍රමාණයේ SUV එකක් වන අතර එය ආසන 5 හෝ 7 වින්‍යාසයන්ගෙන් ලබා ගත හැකිය. එය අශ්වබල 165ක් සහ lb-ft 190ක ව්‍යවර්ථයක් නිපදවන ලීටර් 1.6ක turbocharged පෙට්‍රල් එන්ජිමකින් බලගන්වයි. මෙම එන්ජිම 6-වේග ස්වයංක්‍රීය ගියරයකට සම්බන්ධ කර ඇත. 5008 තත්පර 9.5 කින් පැයට සැතපුම් 0 සිට 60 දක්වා වේගවත් කළ හැකි අතර උපරිම වේගය පැයට සැතපුම් 125 කි.
Peugeot 5008 2018 distinctive සහ elegant exterior design එකකින් යුක්තයි. එහි bold lines සහ prominent front grill පාරේ ප්‍රබල දෘශ්‍ය ප්‍රකාශයක් කරයි. නාගරික සහ සැහැල්ලු මාර්ගයෙන් පිටත රිය පැදවීම යන දෙකටම ගැලපෙන ground clearance සමඟින්, මෙම SUV මාදිලිය සමඟ ප්‍රායෝගිකත්වය ලබා දෙයි.
Peugeot 5008 2018 තුළට පිවිසෙන්න, එවිට ඔබට sophistication සහ advanced technology එකේ සම්මිශ්‍රණයක් විදිහට මේ වාහනය හදුන්වන්න පුලුවන්. අභ්යන්තරය ඉඩකඩ සහිත සහ බහුකාර්ය වන අතර, එය ප්‍රමාණවත් තරම් ඉඩක් තමන්ගේ බඩුබාහිරාදිය රැගෙන යාමට පුලුවන්. dashboard එක හොඳින් සැලසුම් කර ඇති අතර, user-friendly controls සහ intuitive infotainment system එකකින් සමන්විත වේ.මෙහි touchscreen infotainment පද්ධතියක් ඇතුළු නවීන තාක්‍ෂණික අංගයන්ගෙන් සමන්විත වේ. trim මට්ටම මත පදනම්ව, ඔබට Apple CarPlay සහ Android Auto වැනි අනෙකුත් විශේෂාංග දැකිය හැකිය.
Peugeot ආරක්ෂාවට ප්‍රමුඛත්වය දෙන අතර 5008 2018 ද ව්‍යතිරේකයක් නොවේ. එය බහු වායු බෑග්, ISOFIX සවි කිරීම් ස්ථාන සහ ස්වයංක්‍රීය හදිසි තිරිංග සහ මංතීරු පිටවීමේ අනතුරු ඇඟවීම වැනි උසස් රියදුරු ආධාරක පද්ධති ඇතුළුව පුළුල් ආරක්‍ෂිත විශේෂාංග සමූහයක් සමඟ පැමිණේ.
Peugeot 5008 2018 වාසි
සුවිශේෂී බාහිර නිර්මාණය
ඉඩකඩ සහිත සහ බහුකාර්ය අභ්යන්තරය
නවීන තාක්ෂණික විශේෂාංග
සමතුලිත කාර්ය සාධනය සහ ඉන්ධන කාර්යක්ෂමතාව
Peugeot 5008 2018 අවාසි
උස මගීන් සඳහා තුන්වන පේළියේ ආසනවල සීමිත සුවපහසුව
තොරතුරු රසාස්වාදය පද්ධති සමහර පුද්ගලයන් සඳහා පරිශීලක-හිතකාමී නොවිය හැක
Peugeot 5008 2018 Grades
8-inch touchscreen infotainment system
Apple CarPlay and Android Auto compatibility
Dual-zone automatic climate control
Rear parking sensors
12.3-inch digital instrument cluste
Keyless entry and ignition
Adaptive cruise control
Leather upholstery
Panoramic sunroof
LED headlights and taillights
Wireless smartphone charging
Nappa leather upholstery
Driver massage function
Focal premium sound system
Hands-free tailgate opening
Peugeot 5008 2018 Gallery
Frequently Asked Questions (FAQs)
Is the Peugeot 5008 a good / reliable car?
As per our experts' review and rating, the Peugeot 5008 has scored 8 out of 10. To find out more about whether the Peugeot 5008 is well-suited to your specific needs, make sure to read our full review on it.
What is the price of the Peugeot 5008?
The price range of the Peugeot 5008 in Sri Lanka is LKR
16.0 Mn
to
17.5 Mn
. To compare prices of the Peugeot 5008, based on the condition, mileage and year of manufacture, check out the Peugeot 5008 listings on ikman
for sale
.
What is the maximum power and maximum torque of the Peugeot 5008?
In the Peugeot 5008, the maximum power is 165 ps and maximum torque is 25 kgm.
What is the riding capacity of the Peugeot 5008?
The riding capacity of the Peugeot 5008 is 7 Seater.
What is the engine capacity of the Peugeot 5008?
The engine capacity of the Peugeot 5008 is 1598 cc.
What factors should I consider when buying a used Peugeot 5008?
Here are some important factors you should consider before buying a used Peugeot 5008 car:
Price / budget & financing
Vehicle maintenance history & reputation
Pre-purchase inspection & test drive
Ownership and vehicle title
Insurance
Lifestyle compatibility
Peugeot 5008 2018 Specifications
| | |
| --- | --- |
| Model | Peugeot 5008 |
| Launch Year | 2018 |
| Origin Country | France |
| Body Type | SUV/4X4 |
| Doors | 5 |
| Riding Capacity | 7 Seater |
| Model Code | ABA-P875G01 |
| Overall Length | 4640 mm |
| Overall Width | 1840 mm |
| Overall Height | 1650 mm |
| Wheelbase | 2840 mm |
| Tread Front | 1580 mm |
| Tread Rear | 1585 mm |
| Interior Length | 0 mm |
| Interior Width | 0 mm |
| Interior Height | 0 mm |
| Weight | 1550 kg |
| Engine Model | - |
| Maximum Power | 165 ps |
| Maximum Power | 121 kw |
| Maximum Power | 6000 rpm |
| Max. Torque KGM | 25 kgm |
| Max. Torque Nm | 240 Nm |
| Max. Torque RPM | 0 rpm |
| Engine Capacity | 1598 cc |
| Bore | 77 |
| Stroke | 85.8 |
| Compression Ratio | 10.2 |
| Fuel Tank Capacity | 56 L |
| Min. Turning Radius | 5.8 |
| Tires Size Front | 225/55 R18 |
| Tires Size Rear | 225 |
| Driving Wheel | FF |