Hyundai Grand i10 2017 Review

11 Jul, 2023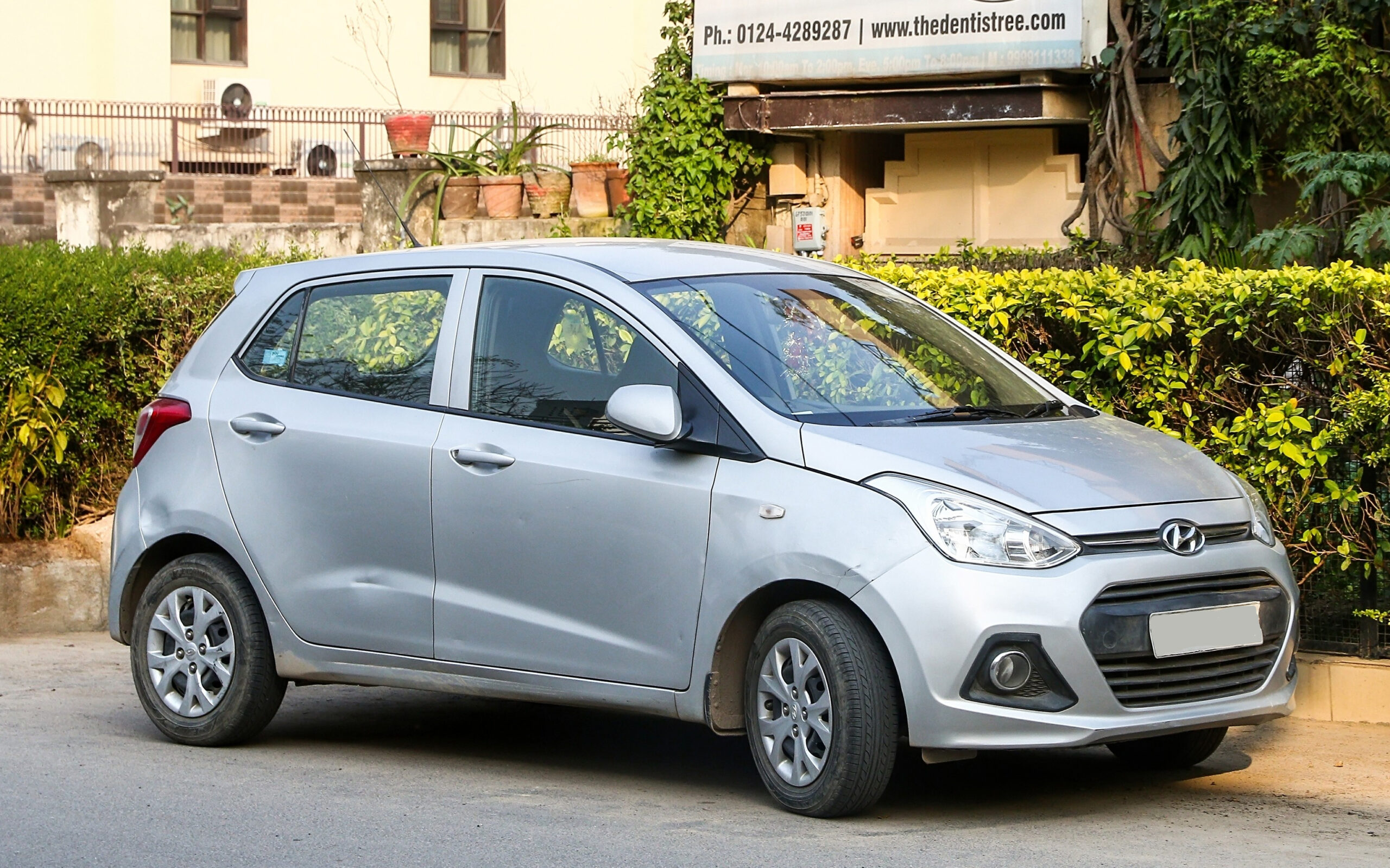 Some feel that by switching from a manual vehicle to an automatic, the sheer driving pleasure of a manual one is lost forever. Even though there are automated manual transmissions like an auto gear shift, they do not provide the same convenience as auto or the control and pleasure of a manual. However, the vehicles with both of these facilities are either expensive or less fuel-efficient. In this light, CarsGuide features the Hyundai Grand i10 2017 model, which serves as an affordable and innovative solution to this dilemma.
Exterior Design:
The 2017 Hyundai Grand i10 is a hatchback vehicle. When discussing the outside appearance of this vehicle, we can observe large halogen headlights. There is also a grille designed for the recently introduced cascade version. The benefit of this is that the new cascade design grille has been utilized in such a way that the engine receives adequate air intake.
The ground clearance of this car stands at 165mm. The car has also been designed to present a sporty appearance, with 14-inch alloy wheels.
Interior Design:
The interior of the Hyundai Grand i10 2017 vehicle is designed in two colours. An adjustable power steering wheel with audio, phone, and bluetooth controls, a superb 2-DIN music system C with D/MP3 player, USB connector, AUX-in & speakers, 1 GB of internal memory, and a center console with AC controls are also available. It also includes circular air-conditioning vents, a rear parcel compartment, bottle and cup holders, map pockets, storage space, sun visors, help grips, and a single rear air-conditioning vent.
In terms of seating, 5 people can sit and ride comfortably.
There are also features such as strong air conditioning, power windows, an adjustable steering column, a rear boot opener and fuel-filler, a smart-key and push-button start combo, a cooled glove box, and rear parking sensors.
Performance:
The Hyundai Grand i10 vehicle is available with both petrol and diesel engines. The 1197cc, 1.2L, 16V DOHC, 4-cylinder, 16-valve, Kappa 2 petrol engine with VTVT technology produces 80 bhp at 6000 rpm and 114 Nm at 4000 rpm and is paired with a five-speed manual gearbox and a four-speed automatic transmission. The 1.1L, 3-cylinder CRDi, U2 diesel engine produces 69 horsepower and 160 Nm of torque. It is linked to a five-speed manual transmission.
The Hyundai Grand i10's ARAI-certified mileage is 18.9 kmpl for the petrol variant and 24 kmpl for the diesel type. However, under typical use, this is projected to be reduced by 2-4 kmpl.
Ride Quality:
The Hyundai Grand i10 offers excellent ride quality. It can turn sharply and travel even on rough roads due to its turning radius of 4.8 and good ground clearance. Furthermore, even when driving on potholed roads, the bumping is minimal. In fact, you can have a good, pleasant ride for a lower cost.
Safety and Technology:
For maximum passenger safety, the Hyundai Grand i10 2017 includes ABS, Dual Airbags, Smart-key and push-button start combo, fog lamps, rear seat belts, rear wiper and defogger, remote central locking, and rear parking sensors.
Hyundai Grand i10 2017 Price in Sri Lanka
The price of the Hyundai Grand i10 2017 in Sri Lanka is in the range of LKR 4.4 Mn to 4.8 Mn. However, the most recent market price indications can be found on ikman.
As the per the ikman's price historical data, the avg. price of used Hyundai Grand i10 2017 is LKR 4,522,500.
Hyundai Grand i10 Pros
Driving is very easy

Equipped with many new technical features

Good drivability engine

Good fuel consumption

Good refinement
Hyundai Grand i10 Cons
Lifeless steering wheel

The infotainment system is too small

Poor Global NCAP Crash Test Rating

Expensive Premium for Magna

Cabin is not very comfortable
Manual වාහනයක තියෙන රියදුරු පීඩනය Auto එකකට මාරු වුණාම නැතිවෙලා යයි කියලා බොහෝදෙනෙකුගේ හැඟීමයි.මේ පහසුකම් දෙකම තියෙන වාහනයක් හෙව්වොත් එක්කෝ මිලෙන් අධිකයි එහෙම නැත්නම් fuel efficiency එක අඩුයි. මේ කිසිම ගැයලුවක් නැති සුපුරිම වාහයනක් ගැන තමයි CarsGuide තුළින් මේ කියන්නේ.ඒ තමයි Hyundai Grand i10 2017 වාහනය.
Hatchback වාහනයක් වෙන Grand i10 එකේ exterior ගැන කතාකරද්දී sporty look මේ වාහනේට ගෙන්න ඔවුන් සැලසුම් කරලා තියෙනවා.14 inches alloy wheels තමයි මේ වාහනේ තියෙන්නේ.Front view එකේ තරමක් විශාල halogen headlights දැකගන්න පුලුවන්.165 mm හොඳ ground clearance මේ වාහනේ තියෙනවා.256 liters හොඳ boot-space එකකින් Grand i10 සමන්විතයි.
Interior එක colors දෙකකින් තමයි design කරලා තියෙන්නේ.Audio,calls,bluetooth වගේ දේවල් control කරන්න පුලුවන් adjustable power steering wheel එකක් මේ වාහනේ දකින්න පුලුවන්.Bottle/cup holders,rear parcel compartment,sun visors help grips සහ single rear air condoning vent වලින්ද Grand i10 සමන්විතයි.
පසුපස ආසන වල පහසුවෙන් 3කුට අසුන්ගෙන යන්න පුලුවන්.Petrol සහ diesel engine දෙකෙන්ම ලබා ගන්න පුලුවන්.1.2 liter 4-cylinder petrol engine එක සහ 1.1 liter 3-cylinder diesel engine එකකින් තමයි මේ වාහනය සමන්විත වන්නේ.උපරිම ආරක්ෂාවක් සපයන Grand i10 වාහනය, ABS, dual air bags ඇතුළු standard safety features රැසකින් සමන්විතය.යන ගමන කරදරයක් නැතුව සැපපහසුවට යන්න පුලුවන් hatchback එකක් විදිහට Grand i10 එක හදුන්වන්න පුලුවන්.
Hyundai Grand i10 2017 ශ්‍රී ලංකාවේ මිල
ශ්‍රී ලංකාවේ Hyundai Grand i10 2017 හි මිල 4.4 Mn සිට 4.8 Mnදක්වා පරාසයක පවතී. කෙසේ වෙතත්, නවතම වෙළඳපල මිල ගණන් ikman වෙත පිවිසීමෙන් සොයාගත හැකිය.
Hyundai Grand i10 Grades
Body-colored bumpers
Manual air conditioning
Front power windows
Central locking
Body-colored door handles and mirrors
Keyless entry
Power-adjustable outside mirrors
Rear AC vents
Steering-mounted audio controls
Projector headlamps
LED daytime running lights
Push-button start with smart key
Automatic climate control
Height-adjustable driver seat
Hyundai Grand i10 Gallery
Frequently Asked Questions (FAQs)
Is the Hyundai Grand i10 a good / reliable car?
As per our experts' review and rating, the Hyundai Grand i10 has scored 7.3 out of 10. To find out more about whether the Hyundai Grand i10 is well-suited to your specific needs, make sure to read our full review on it.
What is the price of the Hyundai Grand i10?
The price range of the Hyundai Grand i10 in Sri Lanka is LKR
4.4 Mn
to
4.8 Mn
. To compare prices of the Hyundai Grand i10, based on the condition, mileage and year of manufacture, check out the Hyundai Grand i10 listings on ikman
for sale
.
What factors should I consider when buying a used Hyundai Grand i10?
Here are some important factors you should consider before buying a used Hyundai Grand i10 car:
Price / budget & financing
Vehicle maintenance history & reputation
Pre-purchase inspection & test drive
Ownership and vehicle title
Insurance
Lifestyle compatibility
Hyundai Grand i10 Cars

Auto parts for Hyundai Cars