Hyundai Eon 2015 Review

16 Jul, 2023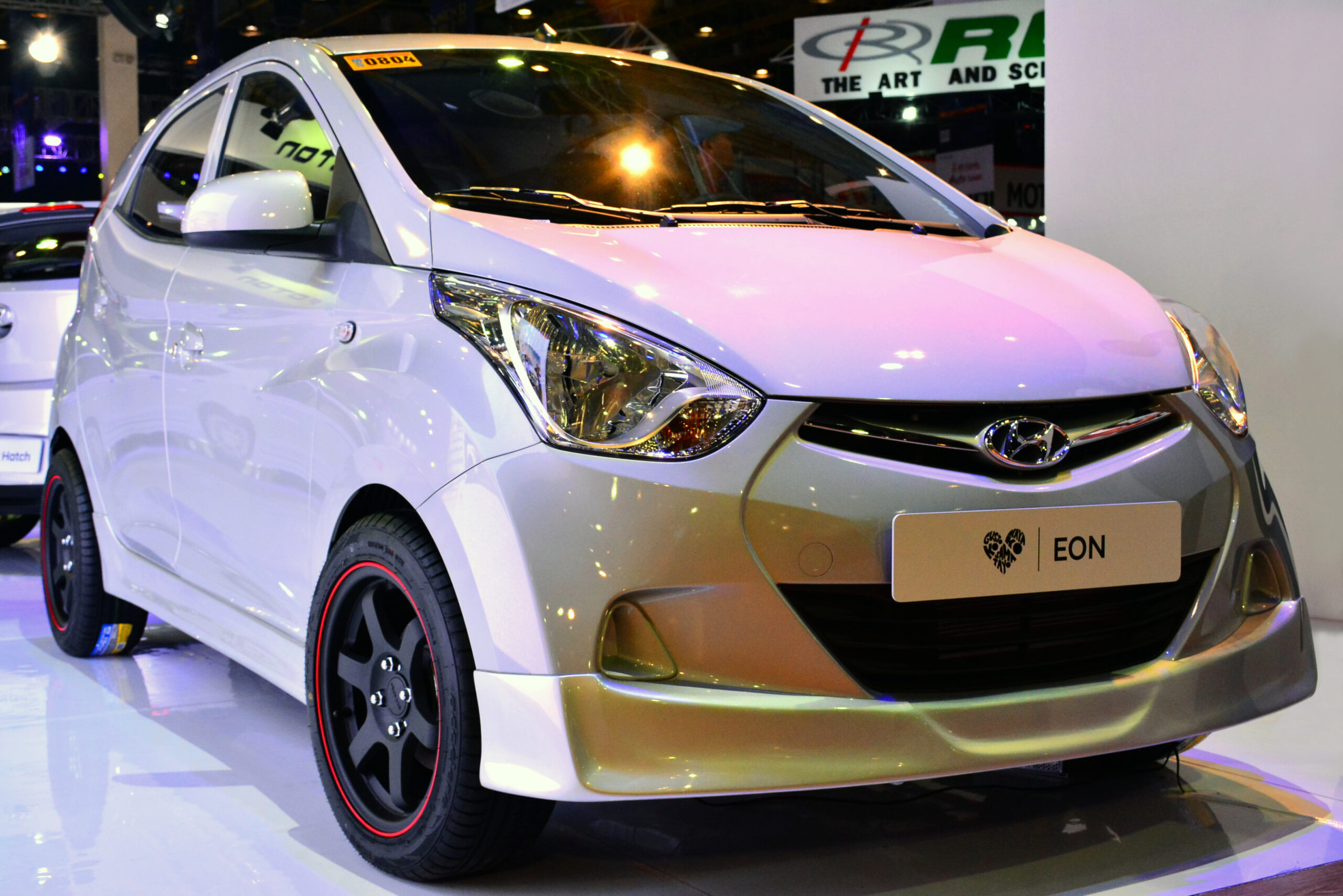 Can a car drive over potholes without bumping? Can you make the trip more comfortable? Yes, it really is simple, and the reason for that is the 2015 Hyundai Eon. Hyundai introduced the 2015 Eon with careful consideration of safety, performance, and comfort in mind. The CarsGuide crew will now review this ride.
Exterior Design
Swept back headlamps, front fog lamps, and eight spoke wheel covers are part of the Hyundai Eon exterior. Additionally, there are body-colored exterior mirrors.
Anyone who looks at the front of this vehicle will notice a sporty touch. This is due to the roof antenna on the front of the vehicle.
Furthermore, the appearance has been designed to complement the extra-large reflectors, rear combo lamps, and LED stop lights positioned on the vehicle's roof. Overall, this vehicle appears to be incredibly impressive, dynamic, and exciting. The Hyundai Eon has 170 mm of ground clearance and a wheelbase of 2380 mm.
Interior Design
When it comes to the interior, the three-spoke steering wheel, the curvy center console system, and the dual-tone interior with metal finish door handles give a luxurious feeling to this specific model. Its steering wheel is manufactured with no change in height or width. The rationale behind this is that you may adjust the steering wheel to fit your height.
In reality, the Hyundai Eon is a vehicle designed with your requirements and desires in mind. Its seat has also been comfortably constructed so that you can ride even on long journeys. This model has a total of five seats.
The climate control system regulates the cabin's temperature, coldness, and ventilation. The gauge cluster is three-barreled, and the 2-din audio system is excellent. When it comes to the seats, they are extremely comfortable, also providing adequate back and thigh support. It comes with a dashboard and floor console storage space that can be utilized to keep beverages, map holders, phones, paperwork, and other items in the front door, completing the needs of passengers while traveling.
The boot space is 215 liters, which is quite considerable.
The Hyundai Eon gives us the impression of driving a large vehicle with a well-designed interior. It also provides a cool atmosphere inside while providing a decent view all around.
Performance
The Hyundai Eon is powered by an 814cc three-cylinder petrol SOHC engine. The highest torque produced by this engine is 74.92 Nm.
This amount of power is sufficient, given its weight of approximately 725 kg. Another feature is that this engine is mated to a five-speed manual transmission. The power and torque outputs are adequate, and there is no turbo lag. It also works great with the air conditioner turned on.
Its fuel tank capacity is 32 liters. This vehicle travels from 0 to 100 mph in less than 11.6 seconds, making it the quickest vehicle in its class. The automobile can also reach 100 kilometers per hour in 19.08 seconds.
Ride Quality
The suspension contributes to a comfortable ride at slow and mid-range speeds. When we drive a vehicle on a bumpy road with potholes, we usually feel uneasy. You swing here and there because you can't stay in one place. This Hyundai Eon is different. We can easily travel without bouncing, regardless of whether or not there are potholes or bumps.
Safety and Technology
The string floor panel, side doors, and strong radiator support panel ensure the passengers' safety. The low entrance key and central locking system are also security elements.
There is an airbag for the driver to keep you safe on the road.
If you want to drive this car straight, keep your hands firmly on the steering wheel. Otherwise, the automobile may move somewhat. The NCAP rating is two stars
Hyundai Eon 2015 Price in Sri Lanka
The price of the Hyundai Eon 2015 in Sri Lanka is in the range of LKR 2.8 Mn to 3.3 Mn. However, the most recent market price indications can be found on ikman.
As per the ikman's historical price data, the avg. price of used Hyundai Eon 2015 is LKR 2,862,761.
Hyundai Eon Pros
Good fuel efficiency

Long battery life

Good fuel economy

Comfortable interior

Engine vibrations are low
Hyundai Eon Cons
Available only in petrol

After the speed exceeds 110 km/h, the stability is slightly reduced

Imbalance of the vehicle when going in a straight line

Poor performance of the gearbox

Increased vibration of the gear shaft
Eon එකත් hyundai ප්‍රසිද්ධ fluidic design එකට හදපු වාහනයක්.Body design එකටම integrate කරලා තියෙන wrap-around headlights, ත්‍රිකෝණාකාර fog lights වාහනෙට ලස්සන පෙනුමක් ගෙනල්ලා දීලා තියෙනවා.මේක අයිති වෙන්නේ Datsun Redi Go, Suzuki Alto, Renault KWID වගේ වාහන අයත් වෙන 800cc entry-level budget car segment එකට.නමුත් වාහනේ exterior finish එක,underbody එක,interior එක වගේ දේවල් බැලුවම අනෙක් budget car වලට වඩා quality එක finish එක අතින් ඉදිරියෙන් තියෙන වාහනයක් තමයි Hyundai Eon කියලා කියන්නේ.
Eon වාහනේ හොඳ interior එකක් තියෙනවා වගෙම වටේම හොඳ visibility එකක් තියෙනවා.මේකේ තියෙන two-tone colors වාහනේ dashboard එකේ,දොරවල්වල, පාවිච්චි කරලා තියෙන විදිහ මේ වාහනෙට ගොඩක් upmarket look එකක් ගෙනවා.මේ තියෙන dashboard එකේ layout එක දොරවල් වල design එක,handles,storage compartment වගේ බොහෝ දේවල් ඉතා අලංකාරව design කරලා තියෙනවා.මේ සම්පුර්ණම interior එක වගේ plastic වලින් හදලා තියෙන්නේ.නමුත් මෙකේ plastic quality එක, fit and finish එක segment එකේ අනිත් වාහන වලට වඩා ගොඩක් ඉදිරියෙන් තියෙන්නෙ.මේක manual transmission වාහනයක්.තමන්ට අවශ්‍ය විදිහට steering wheel එක උස්සන්න හෝ පහත් කරගැනීමේ හැකියාව මේ වාහනේ තියෙනවා.Child-lock සමන්විත වාහනයක් මේක.වාහනයේ sound quality එක සාමාන්‍ය මට්ටමේ පවතින්නේ.
170mm ground clearance එකක් මේ වාහනේ තියෙනවා.215 litres සාමාන්‍ය මට්ටමක boot space එකක් තියෙනවා.පිටුපස ආසන නවා ඒම ප්‍රමාණය වැඩි කරගන්න පුලුවන්.වාහන පුරුදු වෙන කෙනෙකුට පුරුදු වෙන්න පුලුවන් හොඳ වාහනයක් තමයි Hyundai Eon කියන්නේ.gear lever එක ටිකක් තද ගතියක් තියෙනවා.නමුත් gearbox එකේ rough ගතියෙක් හෝ gear දානවිට හිර වීමක් සිදුවෙන්නේ නැහැ.මේකේ තියෙන්නේ 3-cylinder 814cc 9-valve SOHC engine එකක්.Vibration එහෙම ගොඩක් අඩුයි.Engine oil සෑම 5000 KM වරක් මාරු කරන්න අවශ්‍යයි.ලීටර 32ක පමණ petrol tank එකක් Hyundai Eon 2015 car එකට තියෙනවා.
Hyundai Eon 2015 ශ්‍රී ලංකාවේ මිල
ශ්‍රී ලංකාවේ Hyundai Eon 2015 හි මිල 2.8 Mn සිට 3.3 Mnදක්වා පරාසයක පවතී. කෙසේ වෙතත්, නවතම වෙළඳපල මිල ගණන් ikman වෙත පිවිසීමෙන් සොයාගත හැකිය.
Hyundai Eon Grades
0.8L 3-cylinder petrol engine
Manual transmission
Front power windows
Body-colored bumpers
Body-colored door handles
Manual transmission
Front power windows
Remote keyless entry
Power steering
nternally adjustable outside mirrors
Central locking
Front power windows
Frequently Asked Questions (FAQs)
Is the Hyundai Eon a good / reliable car?
As per our experts' review and rating, the Hyundai Eon has scored 7.3 out of 10. To find out more about whether the Hyundai Eon is well-suited to your specific needs, make sure to read our full review on it.
What is the price of the Hyundai Eon?
The price range of the Hyundai Eon in Sri Lanka is LKR
2.8 Mn
to
3.3 Mn
. To compare prices of the Hyundai Eon, based on the condition, mileage and year of manufacture, check out the Hyundai Eon listings on ikman
for sale
.
What factors should I consider when buying a used Hyundai Eon?
Here are some important factors you should consider before buying a used Hyundai Eon car:
Price / budget & financing
Vehicle maintenance history & reputation
Pre-purchase inspection & test drive
Ownership and vehicle title
Insurance
Lifestyle compatibility