Honda Civic 2019 Review

31 May, 2023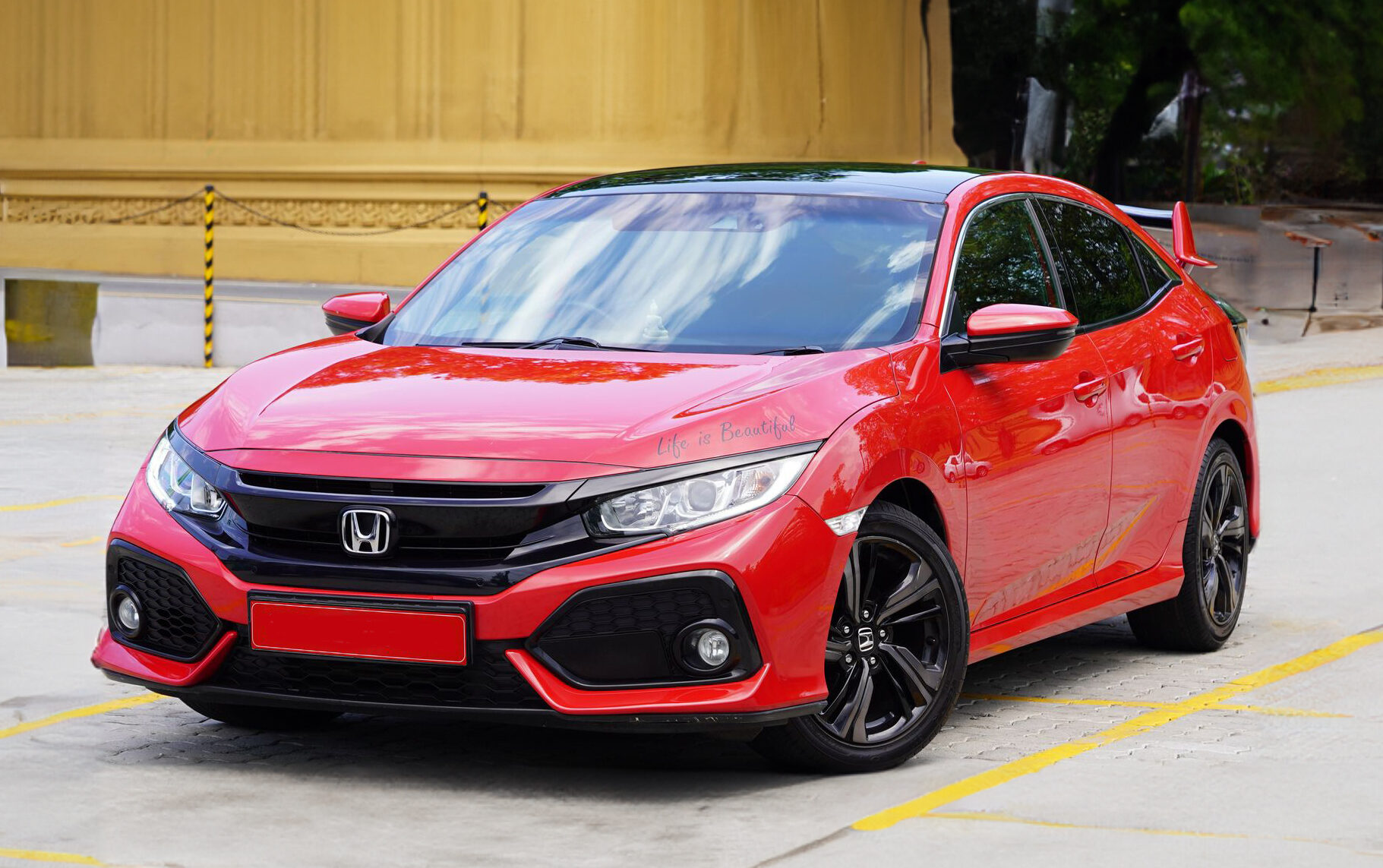 The Honda Civic is a renowned compact sedan that has gained popularity worldwide for its reliability, performance, and advanced features. In this review, we will explore the Honda Civic and its suitability for the Sri Lankan market. Known for its sporty design, comfortable interior, and engaging driving experience, the Civic has been a favorite among car enthusiasts. Let's delve into the details and evaluate its key aspects.
Exterior Design:
The Honda Civic features a sleek and aerodynamic design that effortlessly captures attention on the road. Its sharp lines, bold grille, and stylish alloy wheels contribute to its sporty appearance. The Civic's low and wide stance enhances its visual appeal while also providing stability during high-speed maneuvers. With its attention to detail and premium finishing, the Civic offers an appealing exterior design.
Interior Design:
The cabin is spacious and well-designed, providing ample room for both the driver and passengers. The seats are comfortable, offering excellent support during long journeys. The dashboard layout is intuitive, with controls and instrumentation within easy reach. Depending on the grade, the Civic may feature a touchscreen infotainment system with smartphone integration, enhancing connectivity and entertainment options.
Performance:
The Honda Civic delivers an engaging and dynamic driving experience. It is equipped with a range of engine options, including a 1.5-liter turbocharged engine, which offers a balance between power and fuel efficiency. The Civic's responsive acceleration and agile handling make it a joy to drive, whether in city traffic or on the open road. The car's suspension system effectively absorbs bumps and ensures a comfortable ride, while its precise steering and strong braking capability inspire confidence behind the wheel.
Ride Quality:
The Honda Civic offers a refined and comfortable ride quality. Its suspension system is well-tuned to deliver a smooth and controlled ride, even on rough surfaces. The cabin remains quiet, thanks to effective sound insulation, providing a serene environment for passengers. The Civic's supportive seats and ergonomic design contribute to a comfortable ride, making it suitable for both short commutes and long journeys.
Safety and Technology:
Safety is a priority in the Honda Civic, which comes equipped with a comprehensive range of safety features. These include multiple airbags, ABS with EBD, stability control, and a rearview camera for enhanced visibility and parking assistance. Higher grades may offer advanced safety features such as adaptive cruise control and lane-keeping assist, promoting safer and more confident driving. The Civic also incorporates technology features like touchscreen infotainment systems with smartphone integration, providing convenience and entertainment options.
Honda Civic 2019 Price in Sri Lanka
As per the ikman's 3 months price data, the avg. price of used Honda Civic 2019 is LKR 12,148,000.
Honda Civic Pros
Sporty and attractive design

Comfortable and spacious interior

Engaging driving dynamics

Advanced safety features

Variety of engine options

Modern technology features
Honda Civic Cons
Higher grades may be more expensive

Limited rear-seat legroom for taller passenger

Limited powertrain options

Low-set rear seat may make getting in and out of the car difficult for elderly passengers
Honda Civic කියලා කියන්නේලොව පුරා ජනප්‍රියත්වය ලබා ඇති coupe, sedan සහ hatchback version තුනම තියෙන මෝටර් රථයක්. නමුත් CarsGuide තුළින් අපි කතා කරන Honda Civic 2019 මේ වාහනය අයිති වෙන්නේ sedan කාර් එකක් සමානව දිග වුණාට hatchback version එකට. Honda Civic එකේ තියෙන sporty design එක, comfortable interior,සහ engaging driving experience එක නිසාම ගොඩාක් දෙනෙක් මේ වාහනය ගන්න පෙළඹෙනවා. වාවාහනය තුළ අසුන් ගත් ගමන්ම ඔබට මෙහි ඇති වෙනසත් එක්ක, වෙනස්ම හැඟීමක් දැනෙන එක නම් නවත්තන්න බැහැ. මොකද මේක ඇත්තටම වාහන පදින්න දැඩි ආසාවක් තියෙන අය සඳහාම නිර්මාණය වුණ car එකක්. අපි බලමු Honda Civic එකේ තියෙන සුවිශේෂිතා මොනවද කියලා.
එළියේ පෙනුම
Honda civic 2019 exterior එක ගැන කතාකරන කොට SR model variant එකට තමයි මේක අයිති වෙන්නේ.මේ Honda Civic එකේ අපිට fog lights බලාගන්න පුලුවන්. Daytime running light එකක් තියෙනවා. ඒ වගේම safety package, Honda sensing package, radar Sensor සහසහ camera senses තියෙනවා. ඊළඟට signal light, dim light සහ full light බලාගන්න පුලුවන්. මේ full Light එක දාපුහම daytime running light එකේ full elimination එකක් බලා ගන්න පුලුවන්කම ලැබෙනවා. මේ headlight එකට එන්නේ halogen light, මේකේ LED Version එන එකකුත් තියෙනවා. මේ headlight ඇතුලේ crum design එකක් ඇවිත් තියෙනවා. මේ වාහනේ ඉස්සරහ පෙනුම හරිම අකර්ශනියයි, ඒ වගේම Honda Civic වාහන වල පිටිපස්ස sporty look එක වැඩිපුර පෙන විදිහට අනෙක් වාහන වලට වඩා විශේෂව නිර්මාණය කරලා තියෙනවාතියෙනවා. ඉස්සරහ රෝදේ ගැන කියනවා නම් මේකට ඇවිල්ලා තියෙන්නේතියෙන්නේ අඟල් 16ක alloy wheel එකක්. හොඳ grip එකකුත් තියෙනවා.ඉස්සරහට ඇවිල්ලා තියෙන්නේ black colour finishing එකක්. Honda Civic sedan version වල ඉස්සරහ finishing එක silver colour එකෙන් තමයි එන්නේ.
ඇතුළේ පෙනුම
Design එක ගත්තම creative interior එකක් තමයි මේ වාහනේටතියෙන්නේ.පිටිපස්සේ දොරේ crown design handle එකක් තියෙනවා .ඒ වගේම door pocket එකක්, speaker එකක් තියෙනවා. ඉස්සර දොරට ගියාම bottle holder එකක් තියෙනවා. ඉස්සර door එකේ සාමාන්‍ය විදිහටම shutter lock, shutter controls button ටික තියෙනවා. driving seat එකේ වාඩි වුණාම දැනෙන්නේ බිම වැඩි වුනා හා සමානව. Key එක දාපුහම digital display එක open වෙනවා. මැද meter එකේ tachometer එකේ Speed එක. Seat belt එක පෙන්නවා. Digital gauge gasket එකක් තමයි තියෙන්නේ. වම් පැත්තේ temperate එක පෙන්නවා. දකුණු පැත්තේ fuel Meter එක. Steering wheel එකේ වම් පැත්තේ infotainment System එක පෙන්නනවා. Seat හරිම සැප පහසුයි. ඒ වගේම තමයි paddle shift function එක දීලා තියෙනවා. හොඳම දේ තමයි පිටිපස්සේ තුන්දෙනෙකුට වාඩි වෙන්න පුලුවන් පහසුකම තියෙනවා.
Safety
මේ වාහනේට safety innovation වල N-Cap වෙතින් දෙන award එකක් හිමිවෙලා තියෙනවා. safety එකට NCap වෙතින් five stars ලැබිලා තියෙනවා. Air bag 8ක් තියෙනවා. ඒ නිසා safety ගැන නම් බය වෙන්න දෙයක් ඇත්තෙම නැහැ.
ඉතින් ඔයාට කිසිම බයක් නැතුව පවුලේ හැමෝමත් එකක්ම ආරක්ෂිතව ගමනක් යන්න ඕනේ නම් ඔයා ගන්නම ඕනේ වාහනයක් තමයි Honda Civic කියන්නේ.
Honda Civic 2019 ශ්‍රී ලංකාවේ මිල
ikman හි මාස 3ක මිල දත්ත වලට අනුව සාමාන්‍යය Honda Civic 2019 හි මිල රුපියල් 12,148,000 වේ.
Honda Civic Grades
Power Steering
Central Locking
Front Power Windows
Dual Front Airbags
Keyless Entry
LED Daytime Running Lights
Auto Headlights
Leather upholstery
LED headlights
Sunroof
Adaptive cruise control
Lane-keeping assist
Honda Civic Photo Gallery
Honda Civic Video Review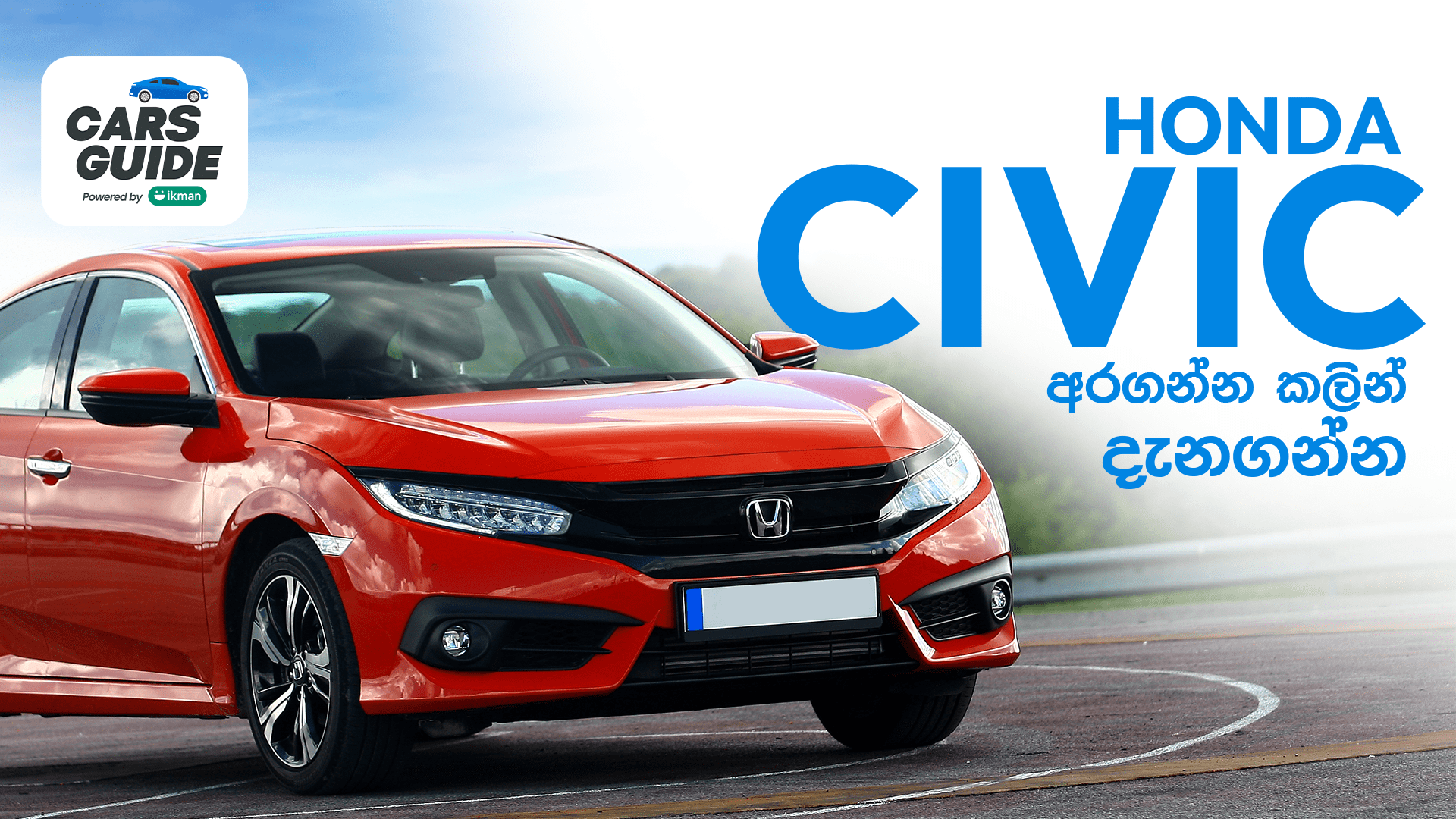 31 May, 2023 - Here it is - our in-depth review of the much-loved HONDA CIVIC! 🚗🔥 Can the Honda Civic match up to your expectations and does it live up to the hype? You're about to find out! Stick around with our experts as they take a deep dive into the features, specifications, design, performance, driving experience, pros and cons of this popular sporty sedan! 🚗🔍
Frequently Asked Questions (FAQs)
Is the Honda Civic a good / reliable car?
As per our experts' review and rating, the Honda Civic has scored 8.7 out of 10. To find out more about whether the Honda Civic is well-suited to your specific needs, make sure to read our full review on it.
What is the price of the Honda Civic?
The price range of the Honda Civic in Sri Lanka is LKR
12.0 Mn
to
13.3 Mn
. To compare prices of the Honda Civic, based on the condition, mileage and year of manufacture, check out the Honda Civic listings on ikman
for sale
.
What is the maximum power and maximum torque of the Honda Civic?
In the Honda Civic, the maximum power is 173 ps and maximum torque is 22 kgm.
What is the riding capacity of the Honda Civic?
The riding capacity of the Honda Civic is 5 Seater.
What is the engine capacity of the Honda Civic?
The engine capacity of the Honda Civic is 1496 cc.
What factors should I consider when buying a used Honda Civic?
Here are some important factors you should consider before buying a used Honda Civic car:
Price / budget & financing
Vehicle maintenance history & reputation
Pre-purchase inspection & test drive
Ownership and vehicle title
Insurance
Lifestyle compatibility
Honda Civic 2019 Specifications
| | |
| --- | --- |
| Model | Honda Civic |
| Launch Year | 2019 |
| Origin Country | Japan |
| Body Type | Saloon/Sedan |
| Doors | 4 |
| Riding Capacity | 5 Seater |
| Model Code | DBA-FC1 |
| Overall Length | 4650 mm |
| Overall Width | 1800 mm |
| Overall Height | 1415 mm |
| Wheelbase | 2700 mm |
| Tread Front | 1545 mm |
| Tread Rear | 1565 mm |
| Interior Length | 1930 mm |
| Interior Width | 1525 mm |
| Interior Height | 1160 mm |
| Weight | 1300 kg |
| Engine Model | L15B |
| Maximum Power | 173 ps |
| Maximum Power | 127 kw |
| Maximum Power | 5500 rpm |
| Max. Torque KGM | 22 kgm |
| Max. Torque Nm | 220 Nm |
| Max. Torque RPM | 0 rpm |
| Engine Capacity | 1496 cc |
| Bore | 73 |
| Stroke | 89.4 |
| Compression Ratio | 10.6 |
| Fuel Tank Capacity | 47 L |
| Min. Turning Radius | 5.3 |
| Tires Size Front | 215/55R16 93V |
| Tires Size Rear | 215 |
| Driving Wheel | FF |