Toyota Fortuner 2013 Review

17 Aug, 2023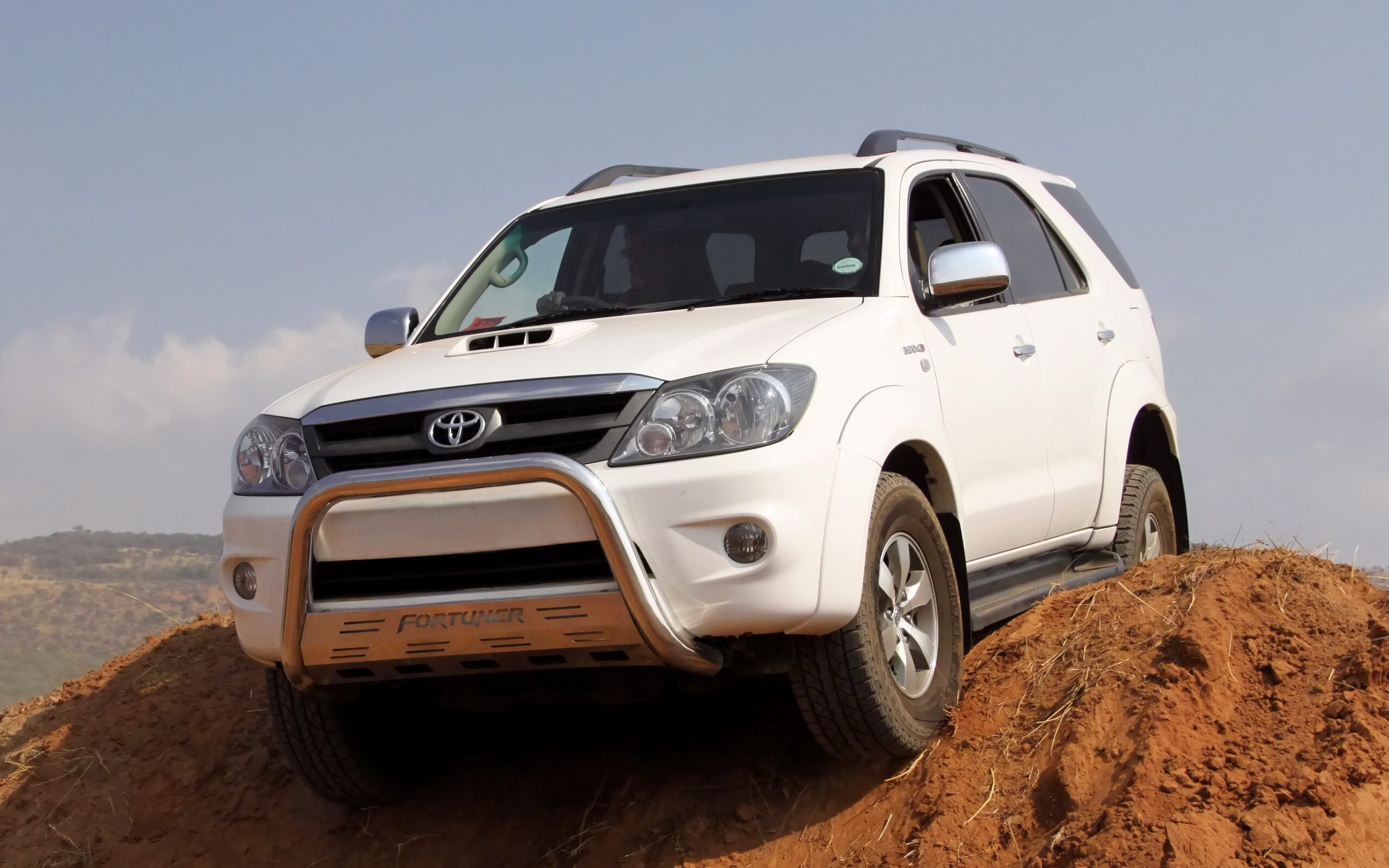 The Toyota Fortuner 2013 is a rugged and capable SUV that offers a blend of off-road prowess and on-road comfort. It is known for its robust build quality and reliability, making it a popular choice among SUV enthusiasts.
Exterior Design:
The Toyota Fortuner boasts a muscular and commanding presence on the road. It features a bold front grille, stylish headlights, and a high ground clearance, which gives it an imposing stance. The 2013 model comes with alloy wheels, adding a touch of sophistication to its overall design.
Interior Design:
Step inside the Toyota Fortuner 2013, and you'll find a spacious and comfortable cabin. It offers seating for up to seven passengers, making it an ideal choice for families and those who require extra seating capacity. The interior is well-designed and features high-quality materials, providing a premium feel. The Fortuner also offers ample cargo space, allowing you to carry your belongings with ease.
Performance:
The Toyota Fortuner 2013 is equipped with a capable engine that provides sufficient power and performance. The exact specifications may vary depending on the specific engine option and market, so it's important to refer to the available engine choices in your region. The Fortuner is known for its reliable performance both on and off the road, making it suitable for adventurous journeys and daily commuting alike.
Safety and Technology:
The Toyota Fortuner prioritizes safety and comes equipped with various safety features to ensure the well-being of its occupants. These may include airbags for the driver and passengers, ABS, and electronic stability control. Additionally, the Fortuner offers advanced technology features such as a multimedia system with navigation, Bluetooth connectivity, and auxiliary inputs for enhanced convenience and entertainment.
Toyota Fortuner 2013 Price in Sri Lanka
As per the ikman's 3 months price data, the avg. price of used Toyota Fortuner 2013 is LKR 15,725,000.
Toyota Fortuner 2013 Pros
Spacious and versatile interior

Strong off-road capabilities

Reliability and durability

Towing capacity
Toyota Fortuner 2013 Cons
Stiff ride quality

Limited fuel efficiency

Limited engine options
Toyota Fortuner යනු 2004 දී ප්‍රථම වරට හඳුන්වා දුන් mid-size SUV රථයකි. 2013 මාදිලිය Fortuner හි second generation වන අතර එය එන්ජින් විකල්ප දෙකකින් ලබා ගත හැකි විය: 2.7L 4-සිලින්ඩර් එන්ජිමක් සහ 3.0L V6 එන්ජිමක්. එන්ජින් දෙකම 5-speed automatic transmission සමඟ යුගලනය කර ඇත.
2013 Fortuner එහි ruggedness සහ off-road capabilities සඳහා ප්‍රසිද්ධය. එය 220 mm high ground clearance එකකින් සහ 4WD පද්ධතියකින් සමන්විත වන අතර එමඟින් දුෂ්කර භූමිවලට මුහුණ දීමේ හැකියාව ඇත. Fortuner යනු සුවපහසු සහ ඉඩකඩ සහිත SUV රථයක් වන අතර මගීන්ට සහ භාණ්ඩ ප්‍රවාහනයට 296 litres ප්‍රමාණයක් ඕනෑ තරම් ඉඩකඩ ඇත.
Toyota Fortuner 2013හි bold සහ attractive exterior design එකක් ඇත. එහි විශාල grill එකක්, swept-back headlights සහ muscular body එකක් දකින්න පුලුවන්. Toyota Fortuner සුදු, කළු, රිදී සහ රතු ඇතුළු විවිධ වර්ණවලින් ලබාගත හැකිය.
Toyota Fortuner 2013 හි ඉඩකඩ සහිත සහ සුවපහසු interior එකක් ඇත. ඉදිරිපස ආසන well-padded සහ supportive වන අතර, දෙවන පේළියේ legroom සඳහා ඕනෑ තරම් ඉඩකඩ ඇත. තුන්වන පේළිය වැඩිහිටි කෙනෙක්ට යන්න ටිකක් අපහසුයි.නමුත් එය ළමයින් සඳහා භාවිතා කළ හැකිය. Fortuner හි interior එක quality materials වලින් නිමවා ඇති අතර, climate control, power windows සහ locks, සහ sunroof වැනි සුවපහසු ස්ථානයක් බවට පත් කරන features ගණනාවක් එහි ඇත.
Toyota Fortuner 2013 Price in Sri Lanka
As per the ikman's 3 months price data, the avg. price of used Toyota Fortuner 2013 is LKR 15,725,000.
Toyota Fortuner 2013 Grades
17-inch alloy wheels
Halogen headlamps
Front fog lamps
Keyless entry
Fabric upholstery
Manual air conditioning
Power windows
Power-adjustable mirrors
Audio system with CD player and MP3 compatibility
USB and auxiliary input
Bluetooth connectivity
ABS (Anti-lock Braking System)
EBD (Electronic Brakeforce Distribution)
Dual front airbags
Stability control
Traction control
Chrome exterior accents
Side steps
Roof rails
Rear spoiler
Automatic climate control
Rear air conditioning vents
Leather-wrapped steering wheel
Multi-information display
Reverse camera
18-inch alloy wheels
HID headlamps
LED daytime running lights
Leather upholstery
Power-adjustable driver's seat
Heated front seats
Keyless start
Satellite navigation, premium audio system
Rear parking sensors
Toyota Fortuner 2013 Photo Gallery
Frequently Asked Questions (FAQs)
Is the Toyota Fortuner a good / reliable car?
As per our experts' review and rating, the Toyota Fortuner has scored 7.3 out of 10. To find out more about whether the Toyota Fortuner is well-suited to your specific needs, make sure to read our full review on it.
What is the price of the Toyota Fortuner?
The price range of the Toyota Fortuner in Sri Lanka is LKR
15.0 Mn
to
16.8 Mn
. To compare prices of the Toyota Fortuner, based on the condition, mileage and year of manufacture, check out the Toyota Fortuner listings on ikman
for sale
.
What factors should I consider when buying a used Toyota Fortuner?
Here are some important factors you should consider before buying a used Toyota Fortuner car:
Price / budget & financing
Vehicle maintenance history & reputation
Pre-purchase inspection & test drive
Ownership and vehicle title
Insurance
Lifestyle compatibility