Suzuki Spacia 2018 Review

05 Sep, 2023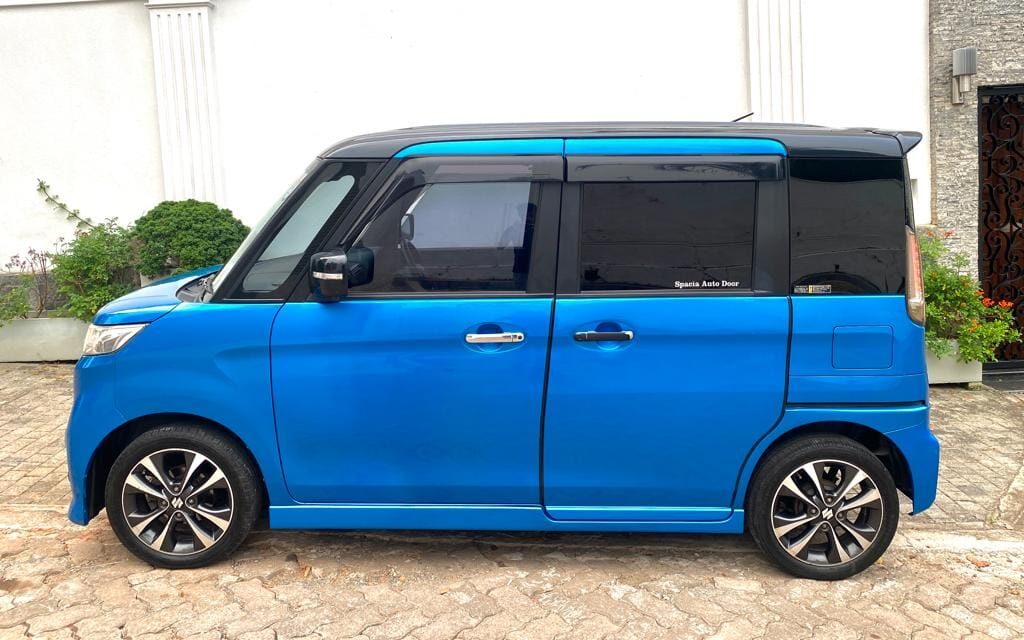 DO you like spacious family vehicles? Then you should get a Suzuki Spacia. This car is in the Japanese height class Mini Wagon family vehicle category. In Japan, Suzuki is a well-known auto and motorcycle maker. The Suzuki Spacia 2018 vehicle, which is a member of the first generation of the Suzuki Spacia, is what CarsGuide is evaluating for you today.
Exterior Design
At first glance, the Suzuki Spacia vehicle looks more like a van than a car. So, let's see how the exterior of this vehicle is designed. When talking about the front view of the vehicle, you can see a good wide windscreen and a good height has been given to the bonnet. Talking about the headlights, we don't see LED lights, but Halogen lights instead, including the signal lights. This vehicle is not provided with fog lights. You can see the Suzuki logo in the middle. The radiator of this vehicle comes with wide louvers, allowing good air intake.
Coming to the side view, the most important thing is the rear doors. We can see power sliding doors on both sides of the back. This is a special feature of the Suzuki Spacia vehicle. We can physically open the doors as well as from a distance using the remote. Because the back doors are electric, even an elderly person can open and shut them without difficulty.
The rear view of the vehicle presents the boot opening as a very large one, along with a wiper and a windshield washer. The rear windscreen is quite large. A spoiler and an antenna have been given to this vehicle. The ground clearance of the Suzuki Spacia vehicle is 150 mm. So, a ground clearance like this is very important for a country like Sri Lanka.
The boot space can be increased or decreased by moving the rear seats forward and backward in this vehicle. Or you can get a big flat boot space by folding the rear seats completely. If necessary, you can fold the front passenger seat and carry something long. A special cut has been provided in the boot of this vehicle to load a bicycle without the wheels slipping. By lifting the boot floor, we can also see another storage box which does not come with a spare wheel. But you get a tire repair kit.
Interior Design
Now, let us first talk about the driver cabin of the Suzuki Spacia. As soon as we enter this vehicle, we can see a little sporty look because the doors, dashboard and air vents have been given a red plastic finish and has two levels. A stripe design has been given to the lower level. The upper compartment has to be opened, like a suitcase. There is a cup holder and a storage box as a drawer below. The glove box has also been given good space. In addition, you can see many more storage spaces throughout the dashboard.
Also, you can see a shopping hook. Both doors have two door pockets and a fairly good bottle holder. A storage box can be observed by lifting the passenger seat. It can be taken out like a shopping basket. The vehicle's hybrid battery is under that storage box.
If we talk about the seats, they provide good comfort. Since both seats are joined together, you can get a good space. If needed, there is an armrest that can be lowered. A storage box can also be found in the armrest. You can also adjust the height of the driver's seat in this vehicle. The driver cabin has good leg and headroom.
Due to the curved mirrors, you can take a good look at the things around the vehicle while parking. This vehicle gets a windshield projection type head up display. This shows many things like vehicle speed, energy flow, RPM, safety system details and air conditioner information. The driver can easily adjust the position and brightness of the display. The meter console has a clear speedometer and a LCD information system. The steering wheel has multi-function options. The other thing is that this vehicle has an automatic climate control. Because of the air vents on the roof, it seems to be dual ac. But this has nothing to do with the air conditioner system, but an air circulator. This will spread the coolness of the vehicle throughout the cabin.
When talking about the passenger cabin of the Suzuki Spacia, the doors do not come with door pockets. But the bottle holder has been included. Shutters can be opened and closed and there is a roller sunshade. The passenger cabin has got a qater pocket. Since there is a power outlet and things like phones and tabs may be stored in the pocket, even charge them.
The passenger seats are really comfortable. Even three passengers can fit in the back. However, there is better comfort for two. Good leg and headroom have been provided to the driver cabin as well as the passenger cabin.
Because the seats of this vehicle are fixed slightly above the ground, you may get the sensation of sitting in an ordinary chair. And because the roof is a little high, it gives a slightly open feeling. So, this Suzuki Spacia is a very good vehicle that offers a comfortable interior with a total of four seats, two front and two rear seats each.
Performance
The Suzuki Spacia has a petrol engine, a three-cylinder, 660cc RO6A producing 64 horsepower and 95 Nm of torque.
It offers a unique power mode. The engine gains the power of the electric motor when it is depressed. The CVT system is evolving as well. It also makes it simpler to accelerate quickly and climb mountains. However, the battery's low power prevents it from being utilized for an extended period of time.
A liter of fuel typically covers 20 to 25 kilometers. Since the fuel tank has a 27-liter capacity, it is able to travel far.
Ride Quality
No matter how expensive or comfortable a car may be, if we cannot enjoy a smooth ride, we should certainly consider our options carefully before making a purchase. The Suzuki Spacia, however, offers a comfortable ride. The driver and occupants can see the entire outside world thanks to the large windscreen.
Additionally, at least in the cabin, the sound of the engine and ambient noises can be heard.
This car's turning radius is 4.4 meters. You can therefore go on difficult roads and turn with less clearance. In light of these factors, the Suzuki Spacia's ride quality is generally good.
Safety & Technology
Let's have a look at how the designers of this Suzuki Spacia thought about the safety features that must be included in a vehicle.
The Spacia's safety kit is built around a monocular camera and a laser radar. The twin sensor auto brake system warns about oncoming vehicles and pedestrians. In addition, the car automatically brakes to avoid an accident or lessen potential damage.
Furthermore, lane departure warning informs you when you leave the lane. When there is an obstruction in front of the car or when the accelerator is accidentally stepped on, the start restraint feature helps to notify the driver without accelerating the vehicle. High beam assist also helps in auto-heading or dimming based on the vehicles approaching at night. Further, if the car in front passes without the driver's attention while the vehicle is stopped in traffic, the driver will be warned.
The back sensor can notify the driver if there is an obstacle and he or she accidentally reverses, and auto brake can be used if necessary. This car is equipped with four airbags, ABS, EBD, and electronic stability control as safety features.
However, due to the vehicle's height, there is some body roll. This vehicle, on the other hand, has a 3-star safety rating.
Suzuki Spacia 2018 Price in Sri Lanka
As per the ikman's 3 months price data, the avg. price of used Suzuki Spacia 2018 is LKR 6,233,000.
Suzuki Spacia 2018 Pros
Comfortable cabin

Having sliding power doors at the back

Ground clearance suitable for Sri Lanka

Minimizing outside noise into the cabin

Being able to turn in less space
Suzuki Spacia 2018 Cons
Engine problems

Difficulty shifting gears

Electrical problems

Absence of fog lights

Slight body roll
ඔබ ඉඩකඩ සහිත පවුල් වාහන වලට කැමතිද? එහෙනම් Suzuki Spacia එකක් ගන්න ඕන. මෙම මෝටර් රථය Japanese high class Mini Wagon වාහන කාණ්ඩයට අයත් වේ. ජපානයේ Suzuki යනු ප්‍රසිද්ධ මෝටර් රථ සහ යතුරුපැදි නිෂ්පාදකයෙකි. Suzuki Spacia හි පළමු පරම්පරාවේ සාමාජිකයෙකු වන Suzuki Spacia 2018 වාහනය ගැනයි මේ තොරතුරු.
බැලූ බැල්මට Suzuki Spacia වාහනය කාර් එකකට වඩා වෑන් එකක් වගේ. එහෙනම් අපි බලමු කොහොමද මේ වාහනයේ exterior කොටස නිර්මාණය කරලා තියෙන්නේ කියලා. වාහනයේ exterior පෙනුම ගැන කතා කරන විට, ඔබට හොඳ පුළුල් windscreen එකක් දැක ගත හැකි අතර bonnet එකට හොඳ උසක් ලබා දී ඇත. headlights ගැන කතා කරන විට, අපට LED lights නොපෙනේ, නමුත් ඒ වෙනුවට halogen lights, signal lights ඇතුළුව. මෙම වාහනයට fog lights සපයා නැත. ඔබට මැදින් සුසුකි ලාංඡනය දැකිය හැකිය. මෙම වාහනයේ රේඩියේටරය පුළුල් ලූවර් සමඟ එන අතර හොඳ වාතය ලබා ගැනීමට ඉඩ සලසයි.
වාහනයේ rear view එක, wipers සහ windshield washers සමඟ boot opening එක ඉතා විශාල එකක් ලෙස ඉදිරිපත් කරයි. පසුපස වින්ඩ්ස්ක්‍රීන් එක තරමක් විශාලයි. මේ වාහනයට ස්පොයිලර් එකකුයි ඇන්ටනාවකුයි දීලා තියෙනවා. Suzuki Spacia වාහනයේ බිම් නිෂ්කාශනය මිලිමීටර් 150 කි. ඉතින් මේ වගේ ground clearance එකක් ලංකාව වගේ රටකට ගොඩක් වැදගත්.
Suzuki Spacia වාහනේ ඇතුල අපිට පොඩි ස්පෝටි ලුක් එකක් පේනවා මොකද දොරවල්, ඩෑෂ්බෝඩ්, air vents රතු පාට plastic finish එකක් දීලා ලෙවල් දෙකකින් යුක්ත නිසා. පහළ මට්ටමට තීරු මෝස්තරයක් ලබා දී ඇත. ඉහළ මැදිරිය සූට්කේස් එකක් මෙන් විවෘත කළ යුතුය. පහතින් cup holder සහ storage box ඇත. මීට අමතරව, ඔබට උපකරණ පුවරුව පුරා තවත් බොහෝ storage spaces දැකිය හැකිය. එසේම, ඔබට shop hook දැකිය හැකිය. දොරවල් දෙකේම door pocket දෙකක් සහ bottle holder එකක් ඇත.
Spacia හි monocular කැමරාවක් සහ laser radar එකක් වටා ගොඩනගා ඇත. dual-sensor automatic braking system එක ඉදිරියෙන් එන වාහන සහ පදිකයින් ගැන අනතුරු අඟවයි. ඊට අමතරව, අනතුරක් වළක්වා ගැනීමට හෝ සිදුවිය හැකි හානිය අවම කිරීමට මෝටර් රථය ස්වයංක්‍රීයව තිරිංග කරයි.
තවද, ඔබ මංතීරුවෙන් පිටවන විට මංතීරු පිටවීමේ අනතුරු ඇඟවීම ඔබට දන්වයි. මෝටර් රථය ඉදිරිපිට බාධාවක් ඇති වූ විට හෝ අහම්බෙන් ඇක්සලරේටරය පෑගී ඇති විට, Start Restraint feature එක වාහනය වේගවත් නොකර රියැදුරුට දැනුම් දීමට උපකාරී වේ. තවද, රථවාහන තදබදයේ වාහනය නතර කර තිබියදී ඉදිරියෙන් ඇති මෝටර් රථය රියදුරුගේ අවධානයෙන් තොරව ගමන් කළහොත් රියදුරුට අනතුරු අඟවනු ලැබේ.
එබැවින්, Suzuki Spacia ගැන සාකච්ඡා කිරීමේදී සලකා බැලිය යුතු කරුණු මේවාය. විදුලි බලය ස්ලයිඩින් දොරවල් සහ ආරක්ෂිත සංවේදක නිසා, එය පැරණි සඳහා පවා ගමන් සඳහා වඩා හොඳ විකල්පයක් බවට සැකයක් නැත.
Suzuki Spacia 2018 වාසි
සුවපහසු කුටිය
Sliding Power දොරවල් තිබීම
ශ්‍රී ලංකාවට සුදුසු බිම් නිෂ්කාශනය
ඇතුළට පිටතින් එන ශබ්ද අවම වීම
Suzuki Space 2018 අවාසි
එන්ජින් ගැටළු
ගියර් මාරු කිරීමේ අපහසුතාව
fog lights නැත
Suzuki Spacia 2018 Grades
1.2L 4-cylinder engine
10-speed CVT
Hybrid battery pack
Halogen headlights
5-inch wheels
Automatic climate control
7-inch touchscreen infotainment system with Apple CarPlay and Android Auto
Rearview camera
16-inch wheels
LED headlights
Leather-wrapped steering wheel
Heated front seats
Suzuki Spacia 2018 Gallery
Frequently Asked Questions (FAQs)
Is the Suzuki Spacia a good / reliable car?
As per our experts' review and rating, the Suzuki Spacia has scored 7.6 out of 10. To find out more about whether the Suzuki Spacia is well-suited to your specific needs, make sure to read our full review on it.
What factors should I consider when buying a used Suzuki Spacia?
Here are some important factors you should consider before buying a used Suzuki Spacia car:
Price / budget & financing
Vehicle maintenance history & reputation
Pre-purchase inspection & test drive
Ownership and vehicle title
Insurance
Lifestyle compatibility