Nissan Sunny 2007 Review

09 Oct, 2023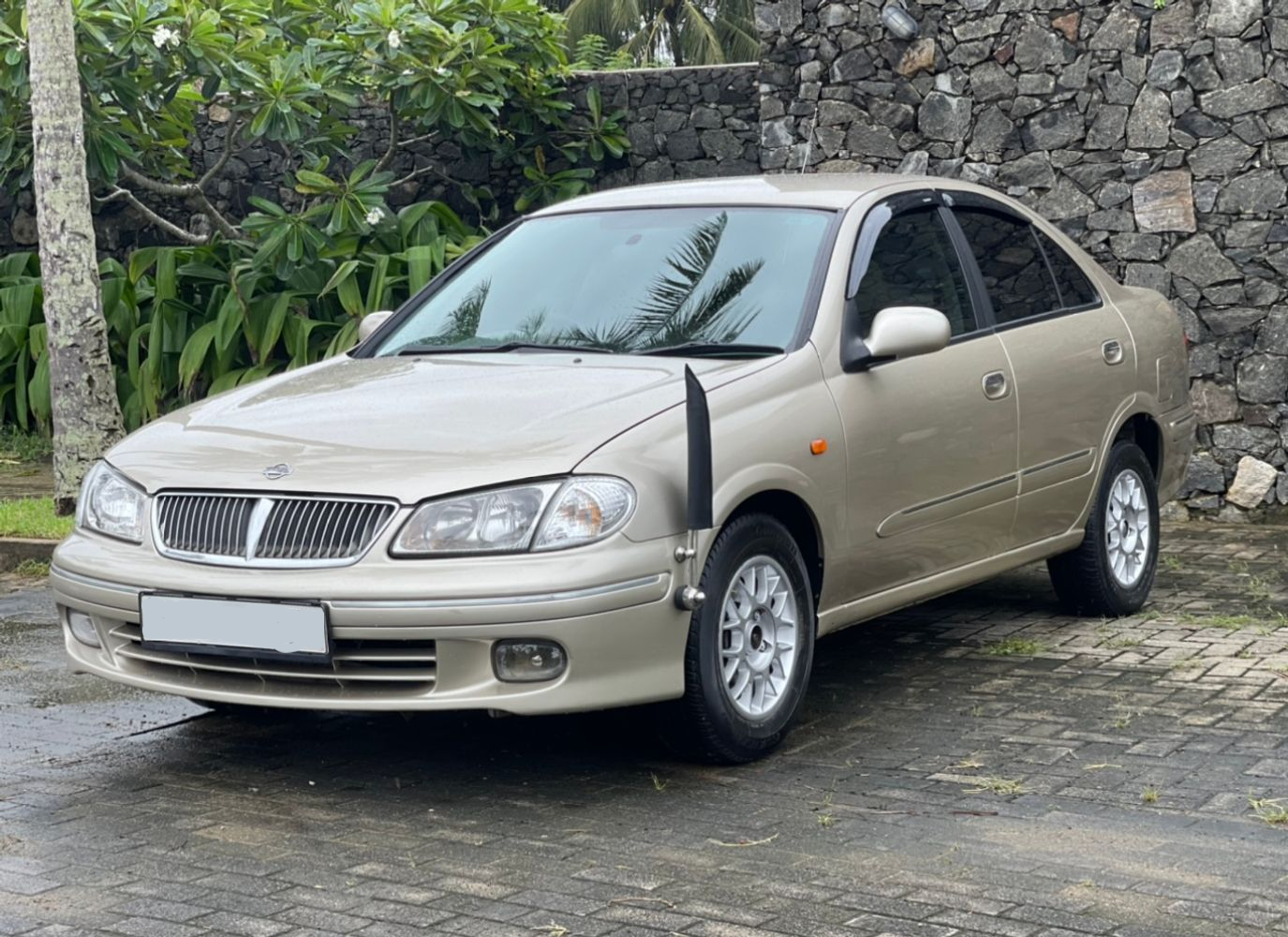 When we think of Nissan, we think of a variety of vehicles. However, today we are discussing the Nissan Sunny, which appears to be a decent vehicle at first glance. The Nissan Sunny is a car manufactured by Nissan, the Japanese automaker. So, to date, four generations of Nissan Sunny have been produced. The Sunny 2007, which belongs to the Nissan Sunny's second generation, is the vehicle that CarsGuide is evaluating for you today.
Exterior Design
Let's start with the exterior of the Nissan Sunny, which is the first thing people notice about it.The Nissan badge can be seen in the middle of the chrome grill in the front of this automobile. Adjustable headlights and fog lights are also included.
The front brakes are of the disc type. When it comes to suspension, the front utilizes a MacPherson Strut suspension. The front of this car has been intended to provide a good first impression.
In the side perspective, we can notice the 15-inch alloy wheels. The total length is 4455 mm. We can also see coloured glass. However, there is no roof carrier, sun roof, or side stepper in this vehicle.
The Nissan badge may be seen at the back, but does not have fog lights or a windshield wiper. It has a drum brake in the back. When it comes to suspension, Torsion Bar suspension is available.
Nissan Sunny belongs to the sedan category. Hence, the average ground clearance for this vehicle is 165 mm. As a result, the Nissan Sunny has the same 165 mm ground clearance as the other models.
When it comes to the boot, this car has a capacity of 490 liters. In comparison to other vehicles, this is a good amount of space.
Interior Design
There are two fabric seats in the driver's cabin with plenty of leg and headroom.
A leather steering wheel is seen. Vanity mirrors have been installed on both the driver and passenger sides. On both doors, there are large door bins and a standard-sized glove box. There is a tachometer, an electronic multi-tripmeter, and a digital odometer visible.
When it comes to entertainment and communication, amenities such as a CD player, speakers, integrated 2DIN audio, USB & Auxiliary input, and Bluetooth connectivity are available.
When you enter the passenger compartment, you will notice three fabric seats. These have been outfitted with headrests. When only two passengers are present, the middle seat can be used as an armrest. If necessary, it also features two cup holders. Although less in comparison to the driver's cabin, there is adequate leg and headroom. However, the headroom is insufficient for a really tall individual. AC vents have also been installed in the rear. As a result of these factors, the Nissan Sunny features a usually comfortable interior.
Performance
A 1.6 Liter 4-cylinder engine powers the Nissan Sunny. This engine has a power output of 105 horsepower. And the engine produces 146 Nm of torque.
The 1.6-liter four-cylinder engine is coupled to either a manual or automatic transmission. This car is equipped with front wheel drive.
This vehicle accelerates from 0 to 100 km/h in 9.5 seconds. A top speed of 180 km/h is possible. Nissan Sunny's fuel consumption is 5.1 liters per 100 kilometers. So, because the petrol tank capacity is 41 gallons, you can travel 804 kilometers.
Ride Quality
When discussing the Nissan Sunny's ride, wind noise can be heard to some extent within the cabin. However, this car can provide us with a comfortable ride in general.
It has a turning radius of 5.3 meters. As a result, it may be turned in limited space.
Safety & Technology
In terms of safety, the driver and passengers are protected by a driver airbag, a passenger airbag, front side airbags, and rear side airbags in the event of a collision.
ABS, EBD, Brake assist, Crash sensor, Day and night rear view mirror, Rear camera, Engine check alert, and Engine immobilizer are among the safety features. However, the Nissan Sunny lacks safety features such as stability control, tire pressure monitoring, traction control, and Xenon lighting.The Nissan Sunny, on the other hand, gets a 4-star safety rating.
Nissan Sunny 2007 Price in Sri Lanka
As per the ikman's historical price data, the avg. price of used Nissan Sunny 2007 is LKR 3,352,500.
Nissan Sunny 2007 Pros
Good fuel economy

Decent look

The air conditioner cools the cabin quickly

Large boot space

High quality interior
Nissan Sunny 2007 Cons
Slow acceleration

Hearing wind noise inside the cabin

Relatively high fuel consumption

When shifting gears, the car jerks a bit
Nissan Sunny 2007 අවාසි
මන්දගාමී ත්වරණය
කුටිය ඇතුළත සුළං ශබ්දය ඇසීම
එන්ජිමේ විශාල ශබ්දය
Nissan ගැන සිතන විට අපට විවිධ වාහන මතක් වේ. කෙසේ වෙතත්, අද අපි සාකච්ඡා කරන්නේ බැලූ බැල්මට විනීත වාහනයක් ලෙස පෙනෙන Nissan Sunny ගැනයි. Nissan Sunny යනු ජපානයේ මෝටර් රථ නිෂ්පාදකයෙකු වන Nissan විසින් නිෂ්පාදනය කරන ලද මෝටර් රථයකි. ඉතින් අද වන විට නිසාන් සනී පරම්පරා හතරක් නිෂ්පාදනය කර ඇත. Nissan Sunny සමාගමේ දෙවන පරම්පරාවට අයත් Sunny 2007 මෝටර් රථය CarsGuide විසින් අද ඔබ වෙනුවෙන් ඇගයීමට ලක් කරන වාහනයයි.
මෙම මෝටර් රථයේ ඉදිරිපස ඇති chrome grill එක මැද නිසාන් ලාංඡනය දැකිය හැකිය. සකස් කළ හැකි headlight සහ foglight ද ඇතුළත් වේ.
ඉදිරිපස තිරිංග තැටි වර්ගයකි. අත්හිටුවීම සම්බන්ධයෙන් ගත් කල, ඉදිරිපස MacPherson Strut අත්හිටුවීම භාවිතා කරයි. මෙම මෝටර් රථයේ ඉදිරිපස හොඳ පළමු හැඟීම ලබා දීමට අදහස් කර ඇත.
පැති දෘෂ්ටිකෝණයෙන්, අපට අඟල් 15 මිශ්‍ර රෝද දැකිය හැකිය. සම්පූර්ණ දිග 4455 මි.මී. වර්ණ වීදුරු ද අපට දැකිය හැකිය. කෙසේ වෙතත්, මෙම වාහනයේ වහල වාහකයක්, හිරු වහලක් හෝ පැති ස්ටෙපර් නොමැත.
1.6 ලීටර් 4-සිලින්ඩර එන්ජිමක් Nissan Sunny බලගන්වයි. මෙම එන්ජිම අශ්වබල 105 ක බලයකින් යුක්ත වේ. තවද එන්ජිම 146 Nm ව්යවර්ථයක් නිපදවයි.
1.6-ලීටර් හතරේ සිලින්ඩර එන්ජිම අතින් හෝ ස්වයංක්‍රීය සම්ප්‍රේෂණයකට සම්බන්ධ වේ. මෙම මෝටර් රථය ඉදිරිපස රෝද ධාවකයකින් සමන්විත වේ.
මෙම වාහනය තත්පර 9.5 කින් පැයට කිලෝමීටර 0 සිට 100 දක්වා වේගවත් වේ.
පැයට කිලෝමීටර 180 ක උපරිම වේගයක් ලබා ගත හැකිය. Nissan Sunny හි ඉන්ධන පරිභෝජනය කිලෝමීටර 100 කට ලීටර් 5.1 කි. ඉතින් පෙට්‍රල් ටැංකියේ ධාරිතාව ගැලුම් 41ක් නිසා කිලෝමීටර් 804ක් යන්න පුළුවන්.
ආරක්ෂාව සම්බන්ධයෙන් ගත් කල, රියදුරුට සහ මගීන්ට රියදුරු එයාර් බෑගයක්, මගී වායු බෑගයක්, ඉදිරිපස පැත්තේ එයාර් බෑග් සහ පසුපස පැත්තේ එයාර් බෑග් එකක ගැටීමකදී ආරක්‍ෂා කෙරේ.
ABS, EBD, Brake assist, Crash sensor, දිවා රාත්‍රී පසුපස දර්ශන දර්පණය, පසුපස කැමරාව, එන්ජින් පිරික්සුම් ඇඟවීම්, සහ එන්ජින් ප්‍රතිශක්තිකරණය වැනි ආරක්ෂක අංගයන් වේ. කෙසේ වෙතත්, Nissan Sunny හි ස්ථාවරත්වය පාලනය කිරීම, ටයර් පීඩනය නිරීක්ෂණය කිරීම, කම්පන පාලනය සහ Xenon ආලෝකය වැනි ආරක්ෂිත විශේෂාංග නොමැත.
Nissan Sunny 2007 වාසි
හොඳ ඉන්ධන economy
විශාල ඇරඹුම් අවකාශය
උසස් තත්ත්වයේ අභ්යන්තරය
Nissan Sunny 2007 Cons
Slow acceleration
Hearing wind noise inside the cabin
Relatively high fuel consumption
Loud sound of the engine
Nissan Sunny 2007 Grades
1.8-liter 4-cylinder engine
6-speed manual transmission or 4-speed automatic transmission
Dual front airbags
15-inch steel wheels
Power windows and locks
Keyless entry
Cruise control
Nissan Sunny 2007 Gallery
Frequently Asked Questions (FAQs)
Is the Nissan Sunny a good / reliable car?
As per our experts' review and rating, the Nissan Sunny has scored 8.6 out of 10. To find out more about whether the Nissan Sunny is well-suited to your specific needs, make sure to read our full review on it.
What factors should I consider when buying a used Nissan Sunny?
Here are some important factors you should consider before buying a used Nissan Sunny car:
Price / budget & financing
Vehicle maintenance history & reputation
Pre-purchase inspection & test drive
Ownership and vehicle title
Insurance
Lifestyle compatibility