Mercedes-Benz C200 2018 Review

13 Nov, 2023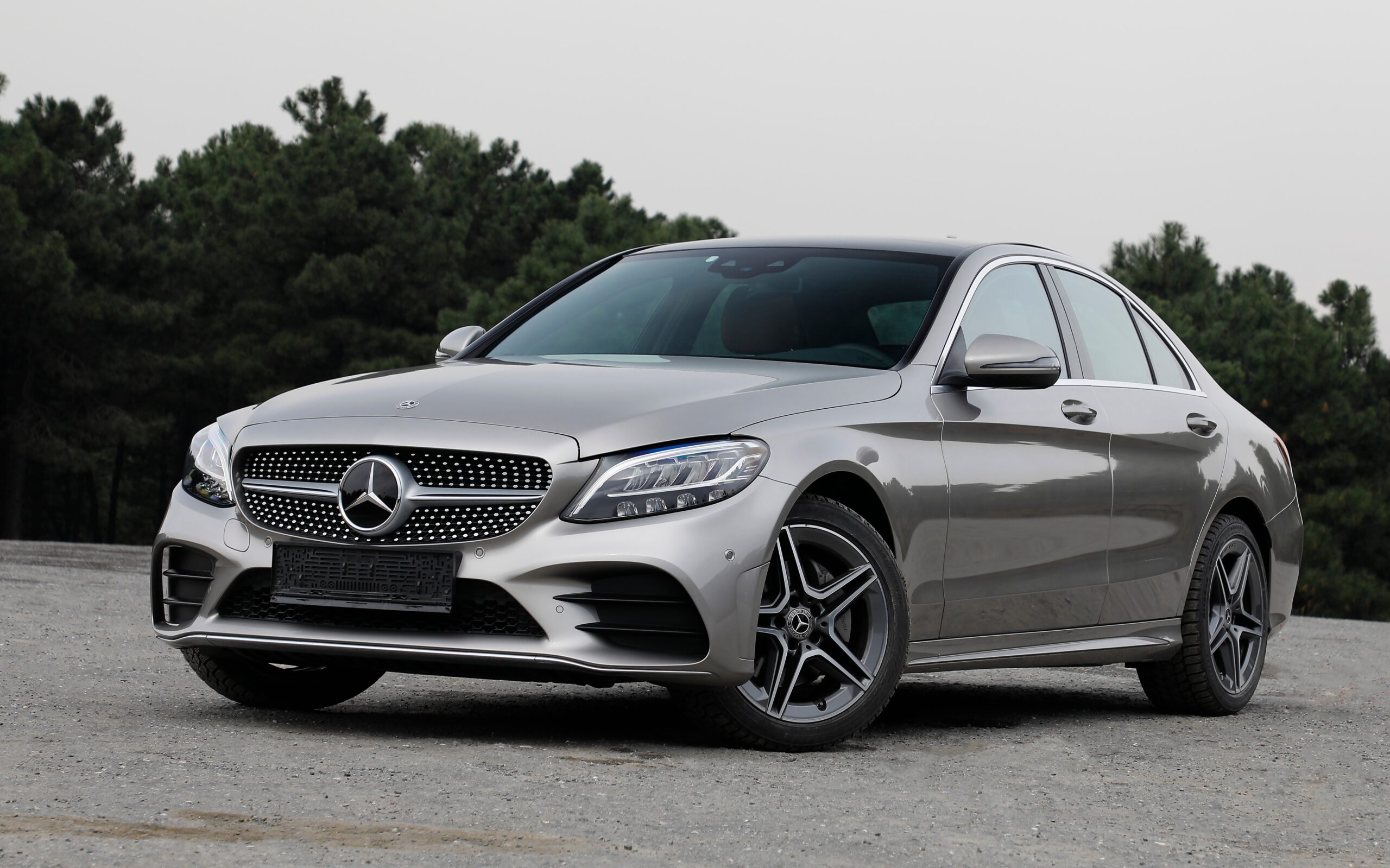 The Mercedes-Benz C-Class is a line of compact executive cars that have been a staple in Mercedes-Benz's portfolio since 1993. As of 2018, the C-Class was in its fourth generation (W205), which debuted in 2014. This generation is known for its refined styling, advanced technology, and improved performance.
Exterior Design
The 2018 Mercedes-Benz C200 features a sleek and modern design that aligns with the brand's contemporary aesthetics. The car's ground clearance is typical for a luxury sedan, about 120 to 130 mm, which is sufficient for most urban and well-maintained roads in Sri Lanka, but caution is advised on rougher terrains.
Interior Design
The interior of the C200 is luxurious and well-crafted, with high-quality materials and a sophisticated design. The boot space in the 2018 model is around 480 liters, providing ample storage for daily use and longer trips.
Performance
Powered by a 2.0-liter turbocharged engine, the C200 offers a good balance of performance and efficiency. It's well-suited for city driving and highway cruising, offering a refined and responsive driving experience.
Ride Quality
The C200 provides a comfortable and smooth ride, with a suspension system designed to absorb road imperfections effectively. The car also handles well, offering a dynamic driving experience typical of the Mercedes-Benz brand.
Safety & Technology
In terms of safety and technology, the 2018 C200 comes equipped with advanced features such as driver assistance systems, a high-quality infotainment system, and robust safety features including multiple airbags, stability control, and advanced driver aids.
Mercedes Benz C200 2018 Price in Sri Lanka
As per the ikman's 3 months price data, the avg. price of used Mercedes Benz C200 2018 is LKR 25,237,500.
Mercedes Benz C200 2018 Pros
Luxurious and high-quality interior

Good balance between performance and efficiency

Advanced safety and technology features
Mercedes Benz C200 2018 Cons
Ground clearance may not be suitable for all Sri Lankan road conditions

High cost of ownership and maintenance

Some features might require additional packages
Mercedes-Benz C-Class යනු 1993 සිට Mercedes-Benz හි ප්‍රධානතම අංගයක් වූ compact executive මෝටර් රථ පෙළකි. 2018 වන විට, C-Class එහි සිව්වන පරම්පරාවේ (W205) විය, එය 2014 දී ආරම්භ විය. පරම්පරාව එහි refined design සහිතව, උසස් තාක්ෂණය සහ වැඩිදියුණු කළ කාර්ය සාධනය සඳහා ප්‍රසිද්ධ වාහනයක් විදිහට නිෂ්පාදනය විය.
2018 Mercedes-Benz C200 ආකර්ෂණීය බාහිර පෙනුමකින් සමන්විත වන අතර sleek සහ modern design එකක් දකින්න පුලුවන්. මෝටර් රථයේ බිම් නිෂ්කාශනය සාමාන්‍යයෙන් මිලිමීටර් 120 සිට 130 දක්වා වූ සුඛෝපභෝගී සෙඩාන් රථයක් සඳහා වන ඉතා හොඳ බිම් නිෂ්කාශනයකින් සමන්විතයි.අතර එය ශ්‍රී ලංකාවේ බොහෝ නාගරික සහ හොඳින් නඩත්තු කරන ලද මාර්ග සඳහා ප්‍රමාණවත් වේ.C200 අභ්යන්තරය සුඛෝපභෝගී සහ හොඳින් සකස් කර ඇති අතර උසස් තත්ත්වයේ ද්රව්ය සහ නවීන මෝස්තරයක් ඇත. 2018 මාදිලියේ ඇරඹුම් ඉඩ ප්‍රමාණය ලීටර් 480ක් පමණ වන අතර දෛනික භාවිතය සහ දිගු ගමන් සඳහා ප්‍රමාණවත් ගබඩාවක් සපයයි.
2.0-ලීටර් ටර්බෝචාජ් කරන ලද එන්ජිමකින් බල ගැන්වෙන C200 හොඳ කාර්ය සාධනයක් සහ කාර්යක්ෂමතාවයක් ලබා දෙයි. එය පිරිපහදු කළ සහ ප්‍රතිචාරාත්මක රිය පැදවීමේ අත්දැකීමක් ලබා දෙමින් නගර රිය පැදවීම සහ අධිවේගී මාර්ගයේ ගමන් කිරීම සඳහා හොඳින් ගැලපේ.ආරක්ෂාව සහ තාක්‍ෂණය සම්බන්ධයෙන් ගත් කල, 2018 C200 driver assistance systems, high-quality infotainment system සහ multiple airbag, stability control සහ උසස් රියදුරු ආධාර ඇතුළු ශක්තිමත් ආරක්ෂණ විශේෂාංග වැනි උසස් විශේෂාංග වලින් සමන්විත වේ.
Mercedes Benz C200 2018 ශ්‍රී ලංකාවේ මිල
ikman හි මාස 3ක මිල දත්ත වලට අනුව සාමාන්‍යය Mercedes Benz C200 2018 හි මිල රුපියල් 25,237,500 වේ.
Mercedes Benz C200 2018 වාසි
සුඛෝපභෝගී සහ උසස් තත්ත්වයේ අභ්යන්තරය
කාර්ය සාධනය සහ කාර්යක්ෂමතාව අතර හොඳ සමබරතාවයක්
උසස් ආරක්ෂණ සහ තාක්ෂණික විශේෂාංග
Mercedes Benz C200 2018 අවාසි
ශ්‍රී ලංකාවේ ඇතැම්මාර්ග තත්ත්වයන් සඳහා බිම් නිෂ්කාශනය සුදුසු නොවිය හැක
නඩත්තු කිරීමේ අධික පිරිවැය
සමහර විශේෂාංග වලට අමතර පැකේජ අවශ්‍ය විය හැක
Mercedes Benz C200 2018 Grades
Mercedes Benz C200
C200 Base
Standard MB infotainment system
LED headlights
Reversing camera
Parking assist
Mercedes Benz C200
AMG Line
AMG body styling
Sports suspension
Upgraded interior trim
Sports seats
Mercedes Benz C200 2018 Gallery
Frequently Asked Questions (FAQs)
Is the Mercedes Benz C200 a good / reliable car?
As per our experts' review and rating, the Mercedes Benz C200 has scored 8.2 out of 10. To find out more about whether the Mercedes Benz C200 is well-suited to your specific needs, make sure to read our full review on it.
What factors should I consider when buying a used Mercedes Benz C200?
Here are some important factors you should consider before buying a used Mercedes Benz C200 car:
Price / budget & financing
Vehicle maintenance history & reputation
Pre-purchase inspection & test drive
Ownership and vehicle title
Insurance
Lifestyle compatibility