Mahindra KUV 100 2022 Review

23 Aug, 2023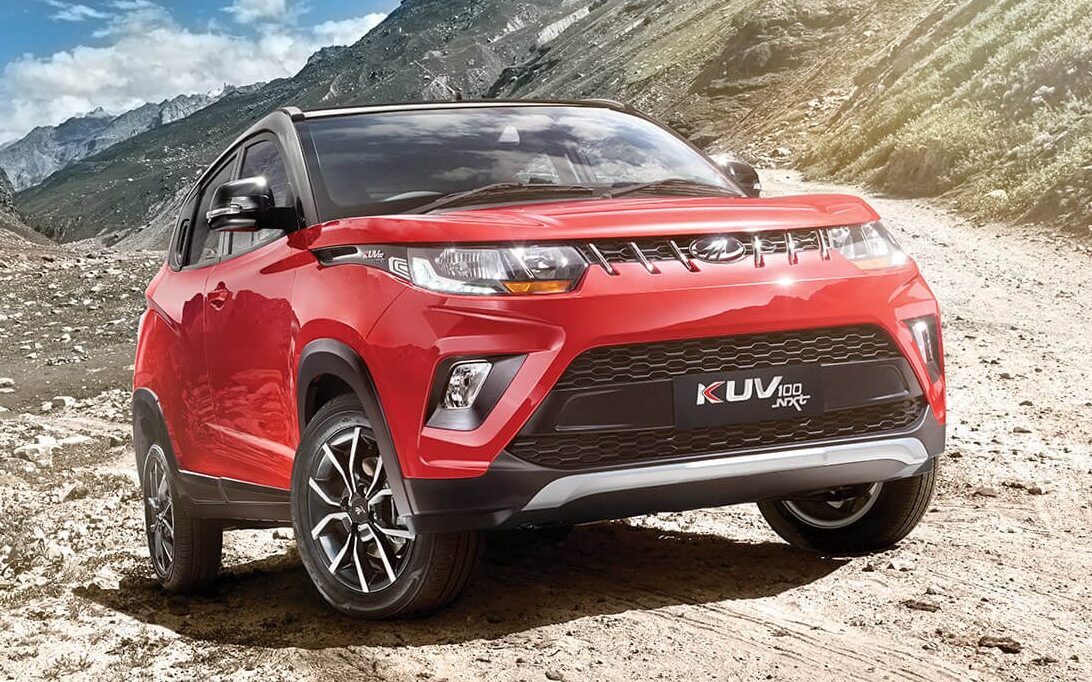 We all like vehicles that look good and provide a comfortable ride. So now we're going to talk about such a vehicle. This is the Mahindra KUV 100, a compact little sport utility vehicle manufactured by Mahindra & Mahindra. In January 2016, the first KUV 100 car was introduced, Mhindra's entry-level vehicle for the growing tough hatchback segment. So, today CarsGuide is going to provide you a review of the Mahindra KUV 100 2022 car.
Design of the Exterior
The exterior of the Mahindra KUV 100 presents a sophisticated appearance.
In the front perspective of this vehicle, we can notice fog lights and adjustable headlights. The driver can have a little illuminated vision by shifting the headlight beams up and down.
The vehicle's side view reveals power adjustable side mirrors.
We can see window wipers, washers, and defoggers in the back. When you use this window defogger, a wire grid visible as tiny lines inside the glass is activated.
This vehicle is equipped with 15-inch alloy wheels. These offer a 2-tone finish and a stylish diamond cut.
The average ground clearance for hatchback vehicles is 168 mm. However, the ground clearance of this Mahindra KUV 100 Hatchback is 170 mm. The boot has a capacity of 243 liters. However, by folding the back seats, we can expand the boot space to 473 liters.
Design of Interiors
As soon as we step inside, we notice the luxury gray interior. When it comes to the driver cabin of this vehicle, the infotainment system with 17.8 cm touchscreen, bluetooth audio and handsfree phone, USB ports, and AUX ports have given the interior a high level of technology. We can also notice an Electronic Temperature Control Panel. You can also view the air conditioner and the heater. The steering wheel is powered by electricity that can be tilted. When it comes to the seats in the driver's cabin, there are three of them.
When there is no one in the middle seat, it can be used as a dual cup holder or as an armrest. There is sufficient legroom and headroom. As a result, even in the middle seat, a passenger can ride comfortably.
There are three fabric seats in the passenger area as well. If no one is using the middle seat, it can also be used as an armrest or a dual cup holder. There is enough legroom and headroom in both the front and back seats. As a result, we can comfortably transport six persons in this Mahindra KUV 100 vehicle.
Performance
A 1.2-liter mFALCON petrol engine powers this car. This engine produces 61 kW of power and 115 Nm of torque.The Mahindra KUV 100 has a 5-speed manual transmission.
This vehicle consumes 4.6 gallons of gasoline per 100 kilometers. Because its fuel tank size is 35 liters, you can drive for 760 kilometers.
Ride Quality
The vehicle is easy to drive, and the steering wheel is light. The vehicle's low-speed ride is modest. Because the vehicle performs effectively even in traffic, you may drive with ease. It has a minimum turning radius of 5.05 m.
Technology and security
Dual airbags have been installed to protect the driver and passenger in the event of a crash.
This vehicle's Anti-lock Braking System and Electronic Brake-force Distribution assure the safety of everyone inside. EBD controls the brake force applied to each wheel. The wheel speed, vehicle speed, and engine RPM are all displayed here. EBD, or Electronic Brake-force
Distribution, regulates the amount of braking force supplied to each wheel. Speed sensors calculate the wheel speed, car speed, and engine RPM. When the wheel speed does not match the car's speed, EBD reduces skidding.
Aside from that, the child safety locks, speed detecting automatic door locks, anti-slip clips, and anti-theft security alarm in the rear doors prove the safety of the Mahindra KUV 100 car. This car has also received a 7 out of 10 safety rating.
Mahindra KUV 100 2022 Price in Sri Lanka
As per the ikman's 3 months price data, the avg. price of used Mahindra KUV 100 2022 is LKR 5,305,715.
Mahindra KUV 100 2022 Pros
Spacious interior

Stylish design in comparison to other hatchbacks

Be effective in traffic scenarios

High interior technology

Low fuel consumption
Mahindra KUV 100 2022 Cons
Loud engine noise

Air noise inside the vehicle

Difficulty shifting gears

Small rearview mirror

Fuel lid not opening correctly
අපි හැමෝම කැමතියි හොඳ පෙනුමක් ඇති සහ සුවපහසු ගමනක් සපයන වාහන. ඉතින් දැන් අපි කියන්න යන්නේ එවැනි වාහනයක් ගැනයි. මෙය Mahindra & Mahindra විසින් නිෂ්පාදනය කරන ලද subcompact sport utility වාහනයක් වන Mahindra KUV 100 වේ. 2016 ජනවාරි මාසයේදී පළමු KUV100 මෝටර් රථය හඳුන්වා දෙන ලදී, වර්ධනය වන hatchback කාණ්ඩය සඳහා Mahindra හි ප්‍රවේශ මට්ටමේ වාහනය. ඉතින්, CarsGuide ඔබට කියන්නේ Mahindra KUV 100 2022 මෝටර් රථය පිළිබඳ සමාලෝචනයක්.
Mahindra KUV 100 හි බාහිර පෙනුම නවීන පෙනුමක් ලබා දෙයි.මෙම වාහනයේ ඉදිරිපස fog lights සහ adjustable headlight දැකිය හැකිය. headlight beam ඉහළට සහ පහළට මාරු කිරීමෙන් රියදුරුට තරමක් ආලෝකමත් දසුනක් ලබා ගත හැකිය.
අපට පිටුපසින් ජනෙල් වයිපර්, වොෂර් සහ ඩිෆෝගර් දැකිය හැකිය. ඔබ මෙම window defogger භාවිතා කරන විට, වීදුරුව ඇතුළත කුඩා රේඛා ලෙස පෙනෙන වයර් ජාලයක් ක්‍රියාත්මක වේ.
මෙම වාහනය අඟල් 15ක ඇලෝයි වීල් වලින් සමන්විතයි. මේවා 2-tone නිමාවක් සහ හැඩකාර දියමන්ති කප්පාදුවක් පිරිනමයි.
Hatchback වාහන සඳහා සාමාන්‍ය බිම් නිෂ්කාශනය මිලිමීටර් 168 කි. කෙසේ වෙතත් මෙම Mahindra KUV 100 Hatchback රථයේ බිම් නිෂ්කාශනය මිලිමීටර් 170 කි.Boot capacity ලීටර් 243 කි. කෙසේ වෙතත්, පිටුපස ආසන නැවීමෙන්, අපට boot space ලීටර් 473 දක්වා පුළුල් කළ හැකිය.
මෙම වාහනයේ driver cabin ගැන කතා කරන විට, 17.8 cm touchscreen සහිත infortainment system, බ්ලූටූත් ශ්‍රව්‍ය සහ හෑන්ඩ්ස්ෆ්‍රී දුරකථන, USB port සහ AUX port අභ්‍යන්තරයට ඉහළ තාක්‍ෂණයක් ලබා දී ඇත. අපට ඉලෙක්ට්‍රොනික උෂ්ණත්ව පාලන පැනලයක් ද දැකිය හැකිය. ඔබට වායු සමීකරණ සහ තාපකය ද නැරඹිය හැකිය. සුක්කානම් රෝදය බලගන්වන්නේ ඇලවිය හැකි විදුලි බලයෙනි. රියදුරු කුටියේ ආසන ගැන කතා කරන විට, ඒවායින් තුනක් තිබේ.
Mhindra KUV 100 සඳහා වන වාහන විස්තරය මෙයයි. ඇත්ත වශයෙන්ම, මෙම මෝටර් රථය සෙඩාන් වලට වඩා අඩු මිලකි. තවද, ප්රධාන කාමරය බොහෝ විට සෙඩාන් රථයකට වඩා ඉහළ බැවින්, උස මිනිසුන්ට පවා සුවපහසු ලෙස ගමන් කළ හැකිය. එය හොඳ visibility එකක් ද ඇත.
Mahindra KUV 100 2022 ශ්‍රී ලංකාවේ මිල
ikman හි මාස 3ක මිල දත්ත වලට අනුව සාමාන්‍යය Mahindra KUV 100 2022 හි මිල රුපියල් 5,305,715 වේ.
Mahindra KUV 100 2022 වාසි
ඉඩකඩ සහිත අභ්යන්තරය
අනෙකුත් හැච්බැක් වලට සාපේක්ෂව හැඩකාර මෝස්තරය
රථවාහන තදබදයකදී ඵලදායී වේ
ඉහළ අභ්යන්තර තාක්ෂණය
අඩු ඉන්ධන පරිභෝජනය
Mahindra KUV 100 2022 අවාසි
විශාල එන්ජින් ශබ්දය
වාහනය ඇතුළත වායු ශබ්දය
ගියර් මාරු කිරීමේ අපහසුතාව
කුඩා පසුපස දර්පණය
ඉන්ධන පියන නිවැරදිව විවෘත නොවේ
Mahindra KUV 100 2022 Grades
Front power windows
Manual air conditioning
Tilt-adjustable steering
Gear shift indicator
Body-colored door handles
Audio system with Bluetooth/USB/Aux
Rear parking sensors
Electrically adjustable ORVMs
Body-colored bumpers
Wheel arch cladding
Roof rails
Steering-mounted audio controls
Mahindra KUV 100 2022 Gallery
Frequently Asked Questions (FAQs)
Is the Mahindra KUV 100 a good / reliable car?
As per our experts' review and rating, the Mahindra KUV 100 has scored 6.3 out of 10. To find out more about whether the Mahindra KUV 100 is well-suited to your specific needs, make sure to read our full review on it.
What factors should I consider when buying a used Mahindra KUV 100?
Here are some important factors you should consider before buying a used Mahindra KUV 100 car:
Price / budget & financing
Vehicle maintenance history & reputation
Pre-purchase inspection & test drive
Ownership and vehicle title
Insurance
Lifestyle compatibility