Lexus LX570 2011 Review

01 Nov, 2023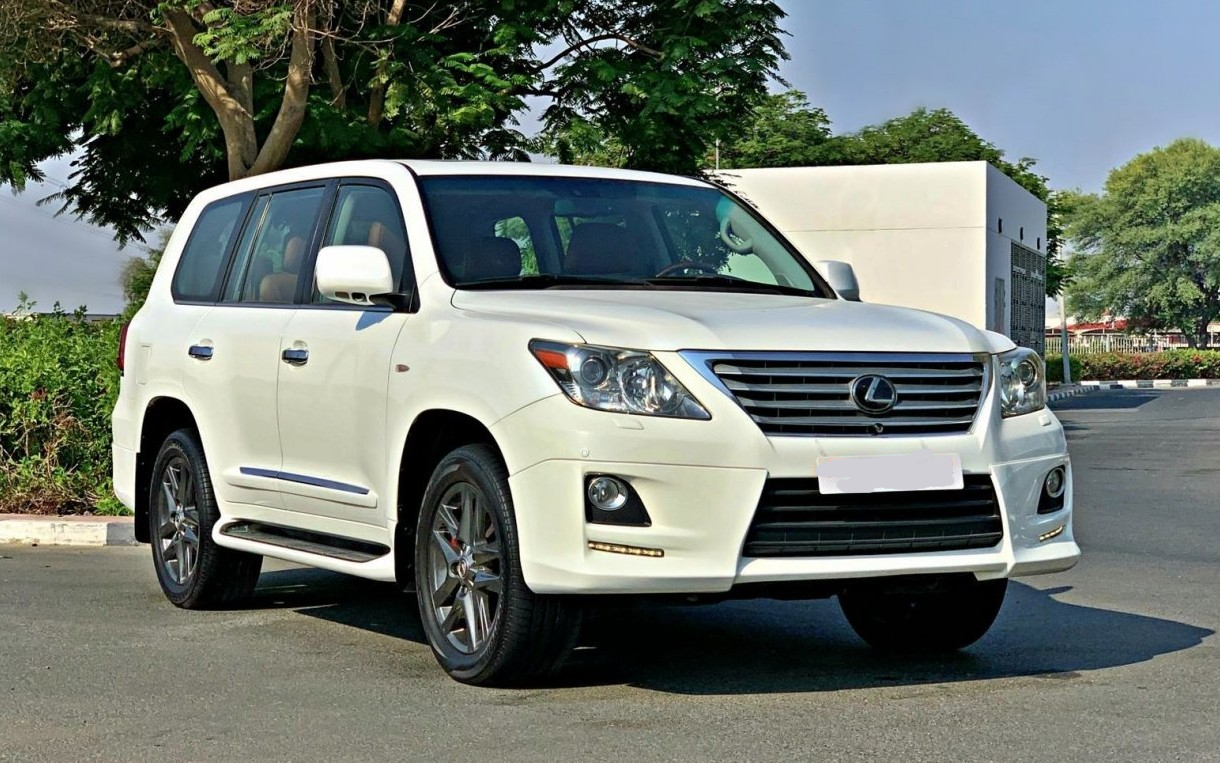 In general, compared to vehicles designed for on-road use, the comfort in off-road vehicles is slightly less. However, there are some vehicles that handle on-road and off-road with good comfort. One such vehicle is the Lexus LX570. According to Lexus, 'LX' stands for 'Luxury Crossover'. Actually, this vehicle can be categorized as a luxury vehicle of Toyota. When talking about these Lexus vehicles, they range from small sedans to full-size SUVs. Lexus is manufactured with high values ​​of reliability and durability. So today, CarsGuide will review for you, the Lexus LX, Third Generation Lexus LX570 2011.
Exterior Design
When we see a vehicle, we instantly see its exterior. Therefore, it is very important to design the exterior well for us to be interested in a vehicle. Let's first see if the exterior of the Lexus LX570 has been designed with these things in mind.
When talking about the front view of the vehicle, the first thing we see is a chrome grill. This chrome grill provides good protection to the engine. Also, body-color bumpers can be seen. When talking about the front lights of this vehicle, we can see fog lights, halogen headlights, automatic headlights and adaptive swiveling headlights, including headlight washers.
Coming to the side of the vehicle, chrome door handles can be seen. Also, you can see the side mirrors with the body color itself. These side mirrors are made to be auto dimmed. Talking about the sunroof, it comes with a power glass sunroof. We can also see two roof rail crossbars and 20 inch 10-spoke liquid-graphite finish alloy wheels on this vehicle.
The Lexus LX570 has LED taillights. The other thing is, you can see the rear window defroster. Actually, when talking about the rear view of this vehicle, we can see a solemn look at a glance. The ground clearance of a vehicle is the minimum distance between the lower end of the vehicle body or chassis and the road. Generally, the higher the ground clearance of a vehicle, the better, because it reduces the chance of scraping the underside.
So, because the Lexus LX570 has a ground clearance of 235 mm, there is nothing to worry about the underside.
This vehicle comes with a boot space of 349 liters. In addition, the boot capacity can be increased up to 710 liters by folding the seats in the 3rd row and up to 1962 liters by folding the seats in both the 3rd and 2nd rows.
So compared to other vehicles, this space is very good. Because in other vehicles with three seat rows, the boot capacity cannot be increased by folding the seats in both the 2nd and 3rd rows.
Interior Design
As soon as we enter this vehicle, we see a leather and wood trimmed interior. Generally, manufacturers use wood trim for the interior of a vehicle to provide a smooth shape to the components. However, wood trimming a vehicle is a job that costs a lot of money. This is used only for expensive cars. Therefore, the interior of Lexus LX450 vehicle presents a luxurious look. Mark Levinson audio system, Mark Levinson 19-speaker surround sound system, 6-disc DVD/CD changer, two wireless headphones, DVD-audio and DVD-video playback as well as a 9-inch-wide liquid crystal display screen are included in the Lexus LX570.
So, we can say that the interior has been designed in such a way that the vehicle is equipped with high technology from these things. A heated steering wheel and leather seats can be observed. The front of the vehicle has been designed so that the driver and the front passenger get a comfortable ride throughout the journey. Because it has good legroom and good headroom. In addition, you can see a good storage area.
The passenger space comes with six seats, three each in the 2nd and 3rd rows. Since the 2nd row has generally been given good legroom and good headroom, the passengers traveling in the 2nd row can also get a comfortable ride. But the 3rd row does not have that much legroom. As there is usually good headroom, we can use the 3rd row as well. So, this Lexus LX570 is designed for eight people.
Performance
The Lexus LX570 is powered by a 5.7-liter V8 engine. And this engine gives an output of 383 hp, along with a torque of 403 lb.-ft.
The vehicle's engine is connected to a 6-speed automatic transmission and is a four-wheel drive type.
To accelerate from 0 to 60 mph, this vehicle takes 7.2 seconds. And the top speed is 220 km/h. The fuel consumption of the vehicle is 14.8 liters per 100 km. Since its fuel tank capacity is 80 liters, you can drive for 540 km.
Ride Quality
Anyone can see that the Lexus LX570 is noticeably comfortable and a good ride guaranteed. This vehicle can provide good comfort on-road as well as off-road.
Safety & Technology
Now let's see how safety, which is the most important thing in any vehicle, has been provided to the Lexus LX570 vehicle.
Several types of airbags can be found in this vehicle to protect the driver and passengers from accidents that may happen in a front crash or side crash. These are front side airbags, knee airbags, rear side airbags and side-curtain airbags.
Apart from that, we can see anti-lock brakes, alarm system, brake assist, rear view camera and first aid kit. The most important thing is that this vehicle includes a hill descent control system and hill start assist system. Hill descent control system here is a cruise control system that uses traction control technology with antilock brakes. When moving down a slope, this system continuously adjusts the braking pressure to control slippage and maintain a preset speed. Next, the hill start assist system is a feature that automatically activates when you press and release the brake while holding the brake pressure in a hilly place. Also, this vehicle has won a four-star safety rating.
Lexus LX450 2011 Price in Sri Lanka
The price of the Lexus LX450 2011 in Sri Lanka is in the range of LKR 12.0 Mn to 17.0 Mn. However, the most recent market price indications can be found on ikman.
Lexus LX570 2011 Pros
Being a good off-roader vehicle

Luxury and comfortable interior

Mark Levinson sound system

Slightly higher ground clearance

Good safety
Lexus LX570 2011 Cons
Insufficient space in the 3rd row

Poor fuel economy

Engine problems

Air suspension

Water pump failure
සාමාන්‍යයෙන් on-road එකට හදපු වාහන වලට සාපේක්ෂව off-road වාහන වල සැප පහසුව ටිකක් අඩුයි. නමුත් සමහර වාහන තියෙනවා on-road සහ off-road හොඳ සුවපහසුවකින් හසුරුවන. එවැනි එක් වාහනයක් වන්නේ Lexus LX570 ය. Lexus ට අනුව, 'LX' යනු 'Luxury Crossover' යන්නයි. ඇත්තටම මේ වාහනය Toyota සමාගමේ luxury වාහනයක් ලෙස වර්ග කරන්න පුළුවන්. මෙම Lexus වාහන ගැන කතා කරන විට ඒවා කුඩා sedan රථවල සිට සම්පූර්ණ ප්‍රමාණයේ SUV දක්වා විහිදේ. Lexus නිෂ්පාදනය කරනු ලබන්නේ විශ්වසනීයත්වය සහ කල්පැවැත්මේ ඉහළ අගයන් සමඟිනි.
අපි වාහනයක් දුටු විට එහි බාහිර පෙනුම අපට ක්ෂණිකව පෙනේ. ඒ නිසා අපිට වාහනයක් ගැන උනන්දු වෙන්න බාහිර සැලසුම් කිරීම ඉතාම වැදගත්. අපි මුලින්ම බලමු Lexus LX570 එකේ බාහිර පෙනුම මේ දේවල් හිතේ තියාගෙන නිර්මාණය කරලා තියෙනවද කියලා.
වාහනයේ ඉදිරිපස පෙනුම ගැන කතා කරන විට අපට මුලින්ම පෙනෙන්නේ chrome grill එකක්. මෙම chrome grill එන්ජිමට හොඳ ආරක්ෂාවක් සපයයි. එසේම, body colored bumpers ද දැකිය හැකිය. මේ වාහනයේ ඉදිරිපස ලයිට් ගැන කතා කරන විට fog light, halogen headlight, automatic headlight සහ headlight washer ඇතුළු adaptive swiveling headlight අපට දැකගත හැකියි.
Sunroof එක ගැන කතා කරනවනම් මේක එන්නෙ power glass sunroof එකකින්. මෙම වාහනයේ වහල රේල් හරස් තීරු දෙකක් සහ අඟල් 20 ක 10-ස්පෝක් දියර-මිනිරන් නිමාවන මිශ්‍ර රෝද ද අපට දැකගත හැකිය.
මේ වාහනයට ඇතුළු වූ සැණින් අපට පෙනෙන්නේ leather සහ wood සරසන ලද අභ්‍යන්තරයකි. සාමාන්‍යයෙන්, නිෂ්පාදකයින් වාහනයක අභ්‍යන්තරය සඳහා wood trim භාවිතා කරන්නේ components වලට smooth shape ලබා දීම සඳහා ය.
කොහොම වුණත් වාහනයක් ලී කපන එක ලොකු වියදමක් යන වැඩක්. මෙය භාවිතා වන්නේ මිල අධික මෝටර් රථ සඳහා පමණි. එබැවින්, Lexus LX570 වාහනයේ අභ්යන්තරය සුඛෝපභෝගී පෙනුමක් ලබා දෙයි. Mark Levinson ශ්‍රව්‍ය පද්ධතිය, Mark Levinson 19-speaker surround sound system, 6-disc DVD/CD changer, wireless headphone දෙකක්, DVD-audio සහ DVD-video playback මෙන්ම 9-inch wide liquid crystal display screen ඇතුළත් වේ.
Lexus LX450 2011 ශ්‍රී ලංකාවේ මිල
ශ්‍රී ලංකාවේ Lexus LX450 2011 හි මිල 12.0 Mn සිට 17.0 Mnදක්වා පරාසයක පවතී. කෙසේ වෙතත්, නවතම වෙළඳපල මිල ගණන් ikman වෙත පිවිසීමෙන් සොයාගත හැකිය.
Lexus LX570 2011 වාසි
හොඳ off-roader වාහනයක් වීම
සුඛෝපභෝගී සහ සුවපහසු අභ්යන්තරය
Mark Levinson ශබ්ද පද්ධතිය
තරමක් වැඩි බිම් නිෂ්කාශනය
හොඳ ආරක්ෂාවක්
Lexus LX570 2011 අවාසි
3 වැනි පේළියේ ඉඩ ප්‍රමාණවත් නොවීම
දුර්වල ඉන්ධන කාර්යක්ෂමතාව
එන්ජින් ගැටළු
වායු අත්හිටුවීම
Lexus LX570 2011 Grades
20-inch alloy wheels
Adaptive suspension
Automatic xenon headlights
Wood interior trim
Rearview camera
Adaptive cruise control
Automatic wipers
Upgraded leather upholstery
Heated steering wheel
Upgraded parking camera system
Frequently Asked Questions (FAQs)
Is the Lexus LX450 a good / reliable car?
As per our experts' review and rating, the Lexus LX450 has scored 8.2 out of 10. To find out more about whether the Lexus LX450 is well-suited to your specific needs, make sure to read our full review on it.
What is the price of the Lexus LX450?
The price range of the Lexus LX450 in Sri Lanka is LKR
12.0 Mn
to
17.0 Mn
. To compare prices of the Lexus LX450, based on the condition, mileage and year of manufacture, check out the Lexus LX450 listings on ikman
for sale
.
What factors should I consider when buying a used Lexus LX450?
Here are some important factors you should consider before buying a used Lexus LX450 car:
Price / budget & financing
Vehicle maintenance history & reputation
Pre-purchase inspection & test drive
Ownership and vehicle title
Insurance
Lifestyle compatibility