Kia Sportage 2012 Review

21 Aug, 2023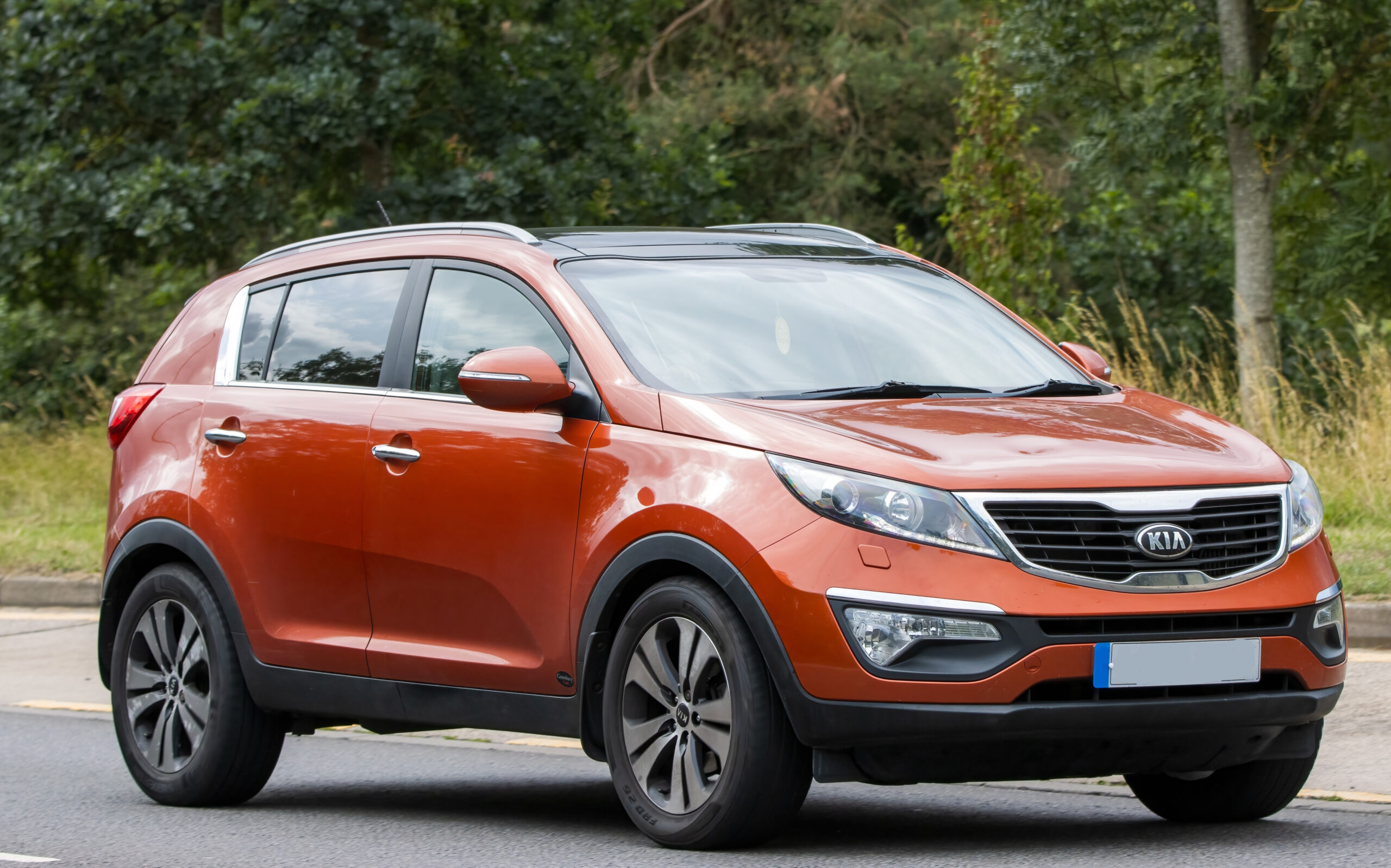 When we think of South Korea, the world's fifth largest car manufacturer comes to mind. This is a motor company by the South Korean manufacturer, Kia Motors. In 1957, the Kia motor company first started producing Honda-licensed small motorcycles. Five years later, they commenced producing small Mazda-licensed trucks. That way, Kia produced its first car in 1974.
So today we will discuss the Kia Sportage. So far, there are five generations of Kia Sportage. At CarsGuide today we review the Kia Sportage 2012, a 3rd generation SUV crossover. And it has been produced according to the European base. So, to understand in detail, the Kia Sportage 2012, let's go to the review.
Exterior Design
We can see the traditional look of a Kia vehicle from this Kia Sportage. Also, the exterior can be seen in several colours. Let's first see how the front view is designed. Fog lights can be seen in the Kia Sportage. What these fog lights do is to help increase our visibility when the road ahead is less clear due to bad weather conditions. Because fog lights are installed below the headlights, you can completely prevent damage to your ride from rain, fog, and dust. We can see automatic headlights in this vehicle. When the amount of light received by the illuminance sensor in the Kia Sportage falls below a certain level, the headlights turn on automatically. The front of the vehicle has a silver-coated black grill. This grill is indicated by the 'tiger nose' design.
Next, we are going to discuss the side view of the vehicle. There are metal-painted door handles. It can be notified of the side mirrors from the body-color of this vehicle. Also, the power can be adjusted with integrated turn signals attached to mirrors on the exterior.
There are two roof rails on the roof rack of the vehicle.
The rear view of the Kia Sportage vehicle is designed with a rounded look. Rear window defroster can be seen. This vehicle has 21-inch alloy wheels. And the ground clearance of the vehicle is 172 mm.
The vehicle has a boot space of 564 liters. If necessary, there is a chance to fold the three rear seats and increase the boot capacity.
Interior Design
The interior of the Kia Sportage has been designed similar to its exterior. You can see a black interior.There are five leather seats. The drive cabin has good legroom and headroom. Talking about the passenger cabin, it is designed in such a way that three people can fit it. Because there is no floor hump, the middle seat passenger can sit easily. The passenger cabin also generally has good legroom and headroom. Also, since the passenger cabin has got a good armrest, two passengers can travel comfortably. Manual seat adjustments are seen. But there is an electronic number adjustment in the driver's seat.
What we see in this vehicle is a multi function steering wheel. You can see the buttons needed to control the set up. Also, we can adjust this steering wheel as per our requirement.
Talking about the meter panel of the vehicle, the tachometer, speedometer, fuel gauge and engine temperature have been obtained from normal analog meters. The odometer, outside temperature, and fuel consumption level can be monitored through a digital display.
The glove box is also big in size. Also, there is considerable storage space under the front armrest. Therefore, we can also use the space available from this armrest.
Generally, there is a good sound system. Also, standard USB port and Bluetooth can be seen.
Performance
The Kia Sportage is powered by a 2.4 liter inline 4-cylinder engine. This engine gives an output of 176 hp. It also provides a torque of 200 Nm.
A six-speed manual transmission is found in this vehicle.The fuel type of this vehicle is Diesel. Fuel consumption is 7.5 liters per 100 km. So, since the fuel tank capacity is 55 liters, you can drive 733 km according to this capacity. The engine of the Kia Sportage vehicle can take you from 0 to 60 miles in 6.1 seconds. This vehicle has also got all-wheel drive facility.
Ride Quality
If we talk about the ride of the Kia Sportage, it gives us a really good ride. Because we can travel without any obstacle even on a rough road or a hilly road.
But there may be problems with the windshield of this vehicle. However, if it is a comfortable ride.Since the turning radius is 17.3 m, good stability can be maintained.
Safety & Technology
There are three types of airbags in the Kia Sportage. Front-impact airbags, side impact airbags and overhead airbags are the three types. This provides protection to the driver and passengers in case of frontal crash or side impact collision.We can see pretensioners in this vehicle. What these seat belt pretensioners do is to automatically tighten the seat belt in the event of a collision and protect us.
Kia Sportage 2012 Price in Sri Lanka
As per the ikman's 3 months price data, the avg. price of used Kia Sportage 2012 is LKR 7,653,572.
Kia Sportage Pros
Ability to go on hilly, rough roads

Comfortable interior

Standard USB port and Bluetooth

Seat belt pretensioners

Good ground clearance
Kia Sportage Cons
Engine problems

Transmission issues

Air condition problems

Windshield issues
දකුණු කොරියාව ගැන සිතන විට අපගේ මතකයට එන්නේ ලොව පස්වන විශාලතම මෝටර් රථ නිෂ්පාදකයාය. මෙය දකුණු කොරියානු නිෂ්පාදක Kia Motors හි මෝටර් රථ සමාගමකි. 1957 දී Kia මෝටර් රථ සමාගම මුලින්ම Honda බලපත්‍ර සහිත කුඩා යතුරුපැදි නිෂ්පාදනය ආරම්භ කළේය. වසර පහකට පසු, ඔවුන් small Mazda licensed truck නිෂ්පාදනය ආරම්භ කළහ. ඒ ආකාරයට Kia සිය පළමු මෝටර් රථය 1974 දී නිෂ්පාදනය කළේය.
ඉතින් අද අපි Kia Sportage ගැන කතා කරමු. මේ වන විට Kia Sportage හි generation පහක් ඇත. CarsGuide හිදී අද අපි Kia Sportage 2012, 3rd generation SUV crossover එක ගැනයි මේ කියන්නේ.තවද එය යුරෝපීය පදනමට අනුව නිෂ්පාදනය කර ඇත.
Kia වාහනයක සාම්ප්‍රදායික පෙනුම මේ Kia Sportage එකෙන් අපිට දකින්න පුළුවන්. එසේම බාහිර පෙනුම වර්ණ කිහිපයකින් දැකිය හැකිය. අපි මුලින්ම බලමු ඉදිරිපස දර්ශනය නිර්මාණය කර තිබෙන්නේ කෙසේද කියා. Kia Sportage හි fog light දැකිය හැකිය. මේ fog lights වලින් කරන්නේ අයහපත් කාලගුණික තත්ත්වයන් නිසා ඉදිරි මාර්ගය පැහැදිලි නැති විට අපගේ දෘශ්‍යතාව වැඩි කිරීමට උපකාර කිරීමයි. Fog lights හෙඩ් ලයිට් වලට යටින් සවිකර ඇති නිසා වැස්සෙන්, මීදුමෙන්, දූවිල්ලෙන් ඔබේ ගමනට සිදුවන හානිය සම්පූර්ණයෙන්ම වළක්වා ගන්න පුළුවන්. මෙම වාහනයේ automatic headlamp අපට දැකගත හැකිය. Kia Sportage හි ඇති illuminance sensor මගින් ලැබෙන ආලෝක ප්‍රමාණය යම් මට්ටමකට වඩා අඩු වූ විට, headlight ස්වයංක්‍රීයව දැල්වෙයි. වාහනයේ ඉදිරිපස රිදී ආලේපිත කළු පැහැති grill එකක් ඇත. මෙම grill එක 'tiger nose' මෝස්තරයෙන් දැක්වේ.
Kia Sportage වාහනයේ rounded look එකක් rear view එකේ නිර්මාණය කර ඇත. පසුපස කවුළු defroster දැකිය හැක. මෙම වාහනයේ 21 inch alloy wheels ඇත. තවද වාහනයේ ground clearance එක මිලිමීටර් 172 කි.
වාහනයේ boot space එක ලීටර් 564 කි. අවශ්‍ය නම්, පසුපස ආසන තුන නැමීමට සහ ඇරඹුම් ධාරිතාව වැඩි කිරීමට අවස්ථාවක් තිබේ.
Kia Sportage 2012 ශ්‍රී ලංකාවේ මිල
ikman හි මාස 3ක මිල දත්ත වලට අනුව සාමාන්‍යය Kia Sportage 2012 හි මිල රුපියල් 7,653,572 වේ.
Kia Sportage වාසි
කඳු සහිත, රළු මාර්ගවල ගමන් කිරීමේ හැකියාව
සුවපහසු අභ්යන්තරය
ඉතා හොඳ ground clearance එකක් තිබීම
Kia Sportage අවාසි
එන්ජින් ගැටළු
සම්ප්රේෂණ ගැටළු
වායු සමීකරණ ගැටළු
වින්ඩ්ෂීල්ඩ් ගැටළු
Kia Sportage Grades
16-inch alloy wheels
Full power accessories
Keyless entry
Cloth upholstery LX
Rear privacy glass
17-inch alloy wheels
Rear center armrest
Cargo cover
Automatic headlights
Fog lights
Chrome exterior trim
Leather-wrapped steering wheel
Frequently Asked Questions (FAQs)
Is the Kia Sportage a good / reliable car?
As per our experts' review and rating, the Kia Sportage has scored 7.7 out of 10. To find out more about whether the Kia Sportage is well-suited to your specific needs, make sure to read our full review on it.
What is the price of the Kia Sportage?
The price range of the Kia Sportage in Sri Lanka is LKR
7.0 Mn
to
8.0 Mn
. To compare prices of the Kia Sportage, based on the condition, mileage and year of manufacture, check out the Kia Sportage listings on ikman
for sale
.
What factors should I consider when buying a used Kia Sportage?
Here are some important factors you should consider before buying a used Kia Sportage car:
Price / budget & financing
Vehicle maintenance history & reputation
Pre-purchase inspection & test drive
Ownership and vehicle title
Insurance
Lifestyle compatibility