Honda CRZ 2013 Review

25 Oct, 2023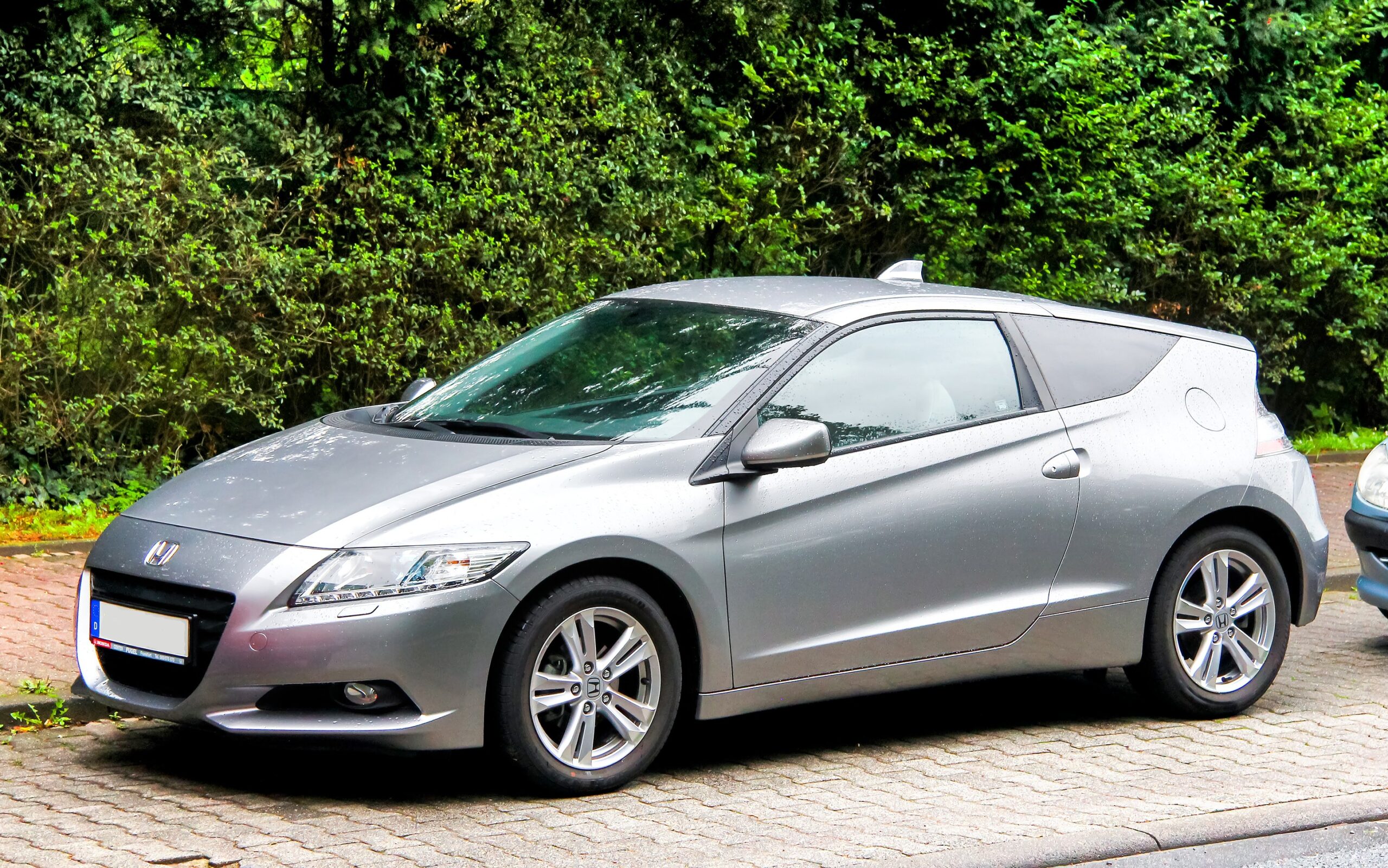 Honda is a Japanese automobile manufacturer that was founded in 1948. At the moment, we see several types of Honda vehicles on our roads. Among these, we are discussing today the Honda CRZ, which was recently produced and, while not a sporty automobile, has a sporty appearance. The Honda CRZ debuted as a concept vehicle during the 2007 Tokyo Motor Show. So, CarsGuide is examining the Honda CRZ, 2013.
Exterior Design
When it comes to the exterior design of the Honda CRZ, the front lights include Daytime running lights, Projector lighting, and Halogen headlights. There are no apparent fog lights. The Honda symbol is designed in chrome above the grill. Windshield wipers are variable intermittent.
On the side, there are 16-inch alloy wheels. It only has two doors. There is a keyless entry option. The door handles are body color. Side mirrors in body color with folding power and integrated turn indicators are included. You can also view power windows. This is colored glass. In addition, we can see the fuel filling door on the side of this car, which may be pushed and released. This vehicle is 1605 mm in length.
In the back, you can see the Fin-type roof-mounted antenna. The windshield wiper and washer are visible. LED brake lights are included. The Honda insignia may be seen on the tailgate. In addition, the CRZ logo appears on one side of the back and the Hybrid logo appears on the other.
When it comes to the boot area of the Honda CRZ, it has a capacity of 25 liters. This is a rather small boot space.
Because the Honda CRZ belongs to the hatchback sector, it should have an average ground clearance of 168 mm. However, the producers have specified a ground clearance of 145 mm.
Interior Design
When it comes to the interior of the Honda CR Z, a simple driver's cabin has been provided. There are two mesh sports seats in this that can Reclining Front Seat Backs. For the driver's seat, manual height adjustments are available. Seats, although being situated very near to the ground, often provide adequate legroom. There is also plenty of headroom.
On the passenger side, there is a spacious glove compartment. Only the driver's side has vanity mirrors. In the center console, there are two cup holders. In the meter console, there is a digital speedometer and a tachometer. A paddle shifter is positioned on the steering wheel which can be tilted and telescopically adjusted. This steering wheel has a cruise controller and an audio controller. Small door bins are located on each door.
There is a six-speaker CD audio system, USB and Bluetooth connectivity, automatic climate control, and a 12 Volt power outlet.
Performance
The Honda CRZ is powered by a 1.5-liter inline four-cylinder engine with a gasoline-electric hybrid powertrain. This produces 130 horsepower and 140 Newton-meters of torque.
You can extract the most power out of the battery pack for 5 seconds by pushing the S+ button on the steering wheel.
There is a six-speed manual transmission available. This car is also equipped with front wheel drive.
This car has a top speed of 209 km/h. The fuel usage is 2.8 gallons per 100 kilometers. The gasoline tank capacity is 10.6 gallons.
Ride Quality
We can have a good time with the Honda CRZ ride. Despite its sporty appearance, it lacks the nimble handling and quick acceleration that we anticipate from a sports car, because this isn't a fast car. On a twisty back road, though, you cannot drive very fast. In general, the Honda CRZ provides a comfortable ride.
Safety & Technology
When it comes to the Honda CRZ's safety, six airbags have been installed to protect both the driver and the passengers in the event of a collision or a side impact. There are two front airbags, as well as side and side-curtain airbags.
The Honda CRZ's safety features include ABS, EBD, electronic stability control, traction control, a backup camera, and stability control. This car also has safety features such as a tire pressure warning sensor and hill assist. When the tire pressure is too low, these tire pressure warning sensors alert the driver. If this system's light illuminates, it implies the tires are under-inflated, and a tire failure is possible. As a result, the Honda CRZ's safety rating is 7.0 out of 10.
Honda CRZ 2013 Price in Sri Lanka
As per the ikman's historical price data, the avg. price of used Honda CRZ 2013 is LKR 6,000,000.
Honda CRZ 2013 Pros
Quick steering wheel

Good fuel economy

Sporty look

High safety

The luxury looks of the interior
Honda CRZ 2013 Cons
Impairment of rear visibility

Excessive hearing of road noise

Small boot space

Low fuel efficiency
Honda යනු 1948 දී ආරම්භ කරන ලද ජපන් මෝටර් රථ නිෂ්පාදකයෙකි. මේ මොහොතේ, අපගේ මාර්ගවල Honda වාහන වර්ග කිහිපයක් අපට දැකගත හැකිය. මේ අතරින් අපි අද සාකච්ඡා කරන්නේ මෑතකදී නිෂ්පාදනය කරන ලද, ක්‍රීඩාශීලී මෝටර් රථයක් නොවුණත්, ක්‍රීඩා පෙනුමක් ඇති Honda CR Z ගැනයි. Honda CRZ 2007 ටෝකියෝ මෝටර් රථ ප්‍රදර්ශනයේදී සංකල්ප වාහනයක් ලෙස ආරම්භ විය. ඉතින්, CarsGuide Honda CR Z, 2013 පරීක්ෂා කරනවා.
Honda CRZ හි exterior design එක, daytime running light, projector light සහ halogen headlamp ඇතුළත් වේ. fog light නොමැත. Honda සංකේතය ග්‍රිල් එකට ඉහලින් ක්‍රෝම් වලින් නිර්මාණය කර ඇත. Windshield wipers විචල්ය අතරමැදි වේ.16-inch alloy wheel ඇත. එහි ඇත්තේ දොරවල් දෙකක් පමණි. keyless entry විකල්පයක් ඇත.
Honda CRZ එකේ boot area එක ගත්තම මේකේ ධාරිතාව ලීටර් 25ක්. මෙය තරමක් කුඩා boot space එකකි.Honda CR Z අභ්‍යන්තරය ගැන කතා කරන විට, සරල රියදුරු කුටියක් ලබා දී ඇත. Reclining Front Seat Backs කරන්න පුළුවන් Mesh sports seat දෙකක් මේකේ තියෙනවා. රියදුරු අසුන සඳහා, අතින් උස ගැලපුම් තිබේ.
Honda CR Z බලගන්වන්නේ පෙට්‍රල්-විදුලි හයිබ්‍රිඩ් පවර් ට්‍රේනයක් සහිත ලීටර් 1.5ක පේළි හතරේ සිලින්ඩර එන්ජිමකිනි. මෙය අශ්වබල 130 ක් සහ නිව්ටන්-මීටර් 140 ක ව්‍යවර්ථයක් නිපදවයි. සුක්කානම් රෝදයේ S+ බොත්තම එබීමෙන් ඔබට තත්පර 5ක් සඳහා බැටරි ඇසුරුමෙන් වැඩිම බලයක් ලබා ගත හැක.ස්පීඩ් හයක මැනුවල් ගියර් එකක් ඇත. මෙම මෝටර් රථය ඉදිරිපස රෝද ධාවකය ද සමන්විත වේ.
මෙම මෝටර් රථයේ උපරිම වේගය පැයට කිලෝමීටර 209 කි. ඉන්ධන භාවිතය කිලෝමීටර 100 කට ගැලුම් 2.8 කි. පෙට්‍රල් ටැංකියේ ධාරිතාව ගැලුම් 10.6 කි.Honda CRZ සවාරිය සමඟ අපට හොඳ කාලයක් ගත කළ හැකිය. එහි ක්‍රීඩා පෙනුම තිබියදීත්, ස්පෝර්ට්ස් මෝටර් රථයකින් අප අපේක්ෂා කරන වේගවත් හැසිරවීමක් සහ ඉක්මන් ත්වරණයක් එහි නොමැත, මන්ද මෙය වේගවත් මෝටර් රථයක් නොවන බැවිනි. කෙසේ වෙතත්, වංගු සහිත පසුපස පාරක, ඔබට ඉතා වේගයෙන් රිය පැදවිය නොහැක. සාමාන්යයෙන්, Honda CRZ සැප පහසු ගමනක් සපයයි.
ඉතින්, මෙය ක්‍රීඩා පෙනුමක් ඇති Honda CRZ පිළිබඳ සමාලෝචනයකි. ඔබ නොදැන සිටිය හැකි Honda CRZ ගැන ඉගෙන ගැනීමට මෙම සමාලෝචනය අත්‍යවශ්‍ය බව අපි විශ්වාස කරමු. සුඛෝපභෝගී පෙනුම සහ ප්‍රසන්න අභ්‍යන්තරය මෙම වාහනය හොඳ මිලදී ගැනීමක් බවට පත් කරයි. අපි Honda CRZ හි සම්මත මට්ටමේ ආරක්ෂාව ද අපේක්ෂා කළ හැක. මෙම සියලු තොරතුරු සමඟින්, CarsGuide හට Honda CRZ සඳහා 10 න් 7.0 ක සමස්ත ශ්‍රේණියක් පිරිනැමිය හැකිය.
Honda CRZ 2013 වාසි
හොඳ ඉන්ධන economy එක
ක්‍රීඩා පෙනුම
ඉහළ ආරක්ෂාව
අභ්‍යන්තරයේ සුඛෝපභෝගී පෙනුම
Honda CRZ 2013 අවාසි
පසුපස දෘශ්‍යතාව දුර්වල වීම
මාර්ගයේ ශබ්දය අධික ලෙස ඇසීම
කුඩා ඇරඹුම් අවකාශය
Swift acceleration ලබා නොගැනීම
Honda CRZ 2013 Grades
1.5-liter 4-cylinder hybrid engine
6-speed manual
CVT automatic transmission
LED taillights
16-inch alloy wheels withaerodynamic design
Heated mirrors
Leather-wrapped steering wheel
internet radio compatibility
Honda CRZ
EX with Navigation
Honda Satellite-Linked NavigationSystem with voice recognition
XM Satellite Radio
HondaLink featuring Aha compatibility
Frequently Asked Questions (FAQs)
Is the Honda CRZ a good / reliable car?
As per our experts' review and rating, the Honda CRZ has scored 7 out of 10. To find out more about whether the Honda CRZ is well-suited to your specific needs, make sure to read our full review on it.
What is the maximum power and maximum torque of the Honda CRZ?
In the Honda CRZ, the maximum power is 118 ps and maximum torque is 15 kgm.
What is the riding capacity of the Honda CRZ?
The riding capacity of the Honda CRZ is 4 Seater.
What is the engine capacity of the Honda CRZ?
The engine capacity of the Honda CRZ is 1496 cc.
What factors should I consider when buying a used Honda CRZ?
Here are some important factors you should consider before buying a used Honda CRZ car:
Price / budget & financing
Vehicle maintenance history & reputation
Pre-purchase inspection & test drive
Ownership and vehicle title
Insurance
Lifestyle compatibility
Honda CRZ 2013 Specifications
| | |
| --- | --- |
| Model | |
| Launch Year | 2013 |
| Origin Country | Japan |
| Body Type | Coupé/Sports |
| Doors | 3 |
| Riding Capacity | 4 Seater |
| Model Code | DAA-ZF2 |
| Overall Length | 4075 mm |
| Overall Width | 1740 mm |
| Overall Height | 1395 mm |
| Wheelbase | 2435 mm |
| Tread Front | 1515 mm |
| Tread Rear | 1500 mm |
| Interior Length | 1605 mm |
| Interior Width | 1430 mm |
| Interior Height | 1080 mm |
| Weight | 1170 kg |
| Engine Model | LEA |
| Maximum Power | 118 ps |
| Maximum Power | 87 kw |
| Maximum Power | 6600 rpm |
| Max. Torque KGM | 15 kgm |
| Max. Torque Nm | 144 Nm |
| Max. Torque RPM | 4800 rpm |
| Engine Capacity | 1496 cc |
| Bore | 73 |
| Stroke | 89.4 |
| Compression Ratio | 10.4 |
| Fuel Tank Capacity | 40 L |
| Min. Turning Radius | 5.0 |
| Tires Size Front | 195/55R16 87V |
| Tires Size Rear | 195 |
| Driving Wheel | FF |
Honda CRZ Cars

Auto parts for Honda Cars