BMW X3 2012 Review

03 Nov, 2023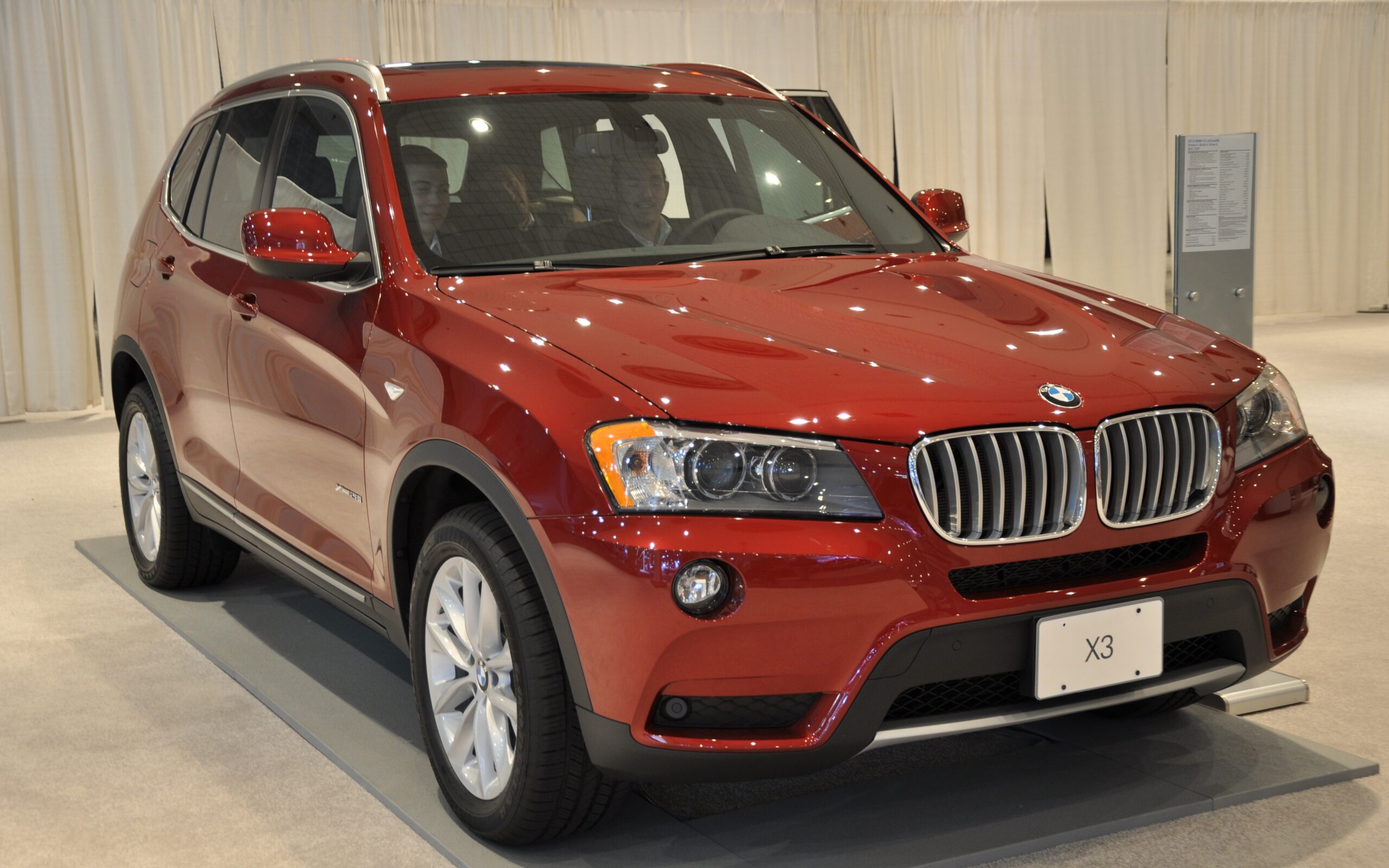 Introduced in 2003, the BMW X3 was one of the pioneers in the luxury compact SUV segment, setting standards in terms of performance and driving dynamics. The 2012 BMW X3 belongs to the second generation, which was launched in 2010. Known for its athletic stance, luxurious interiors, and BMW's renowned driving characteristics, the 2012 X3 cemented its position as one of the top contenders in its class.
Exterior Design
The 2012 BMW X3, with its recognizable kidney grille, exudes a matured sports utility vibe. The adaptive Xenon headlights, flanked by iconic BMW corona rings, give a sharp and aggressive look. The dynamic side lines and prominent wheel arches enhance its muscular stance. The standard 18-inch alloy wheels further add to the aesthetic. At the back, the twin exhaust pipes and the wraparound LED taillights are dominant features. Its aerodynamic design is evident, complemented by sleek roof rails. The X3 stands with a ground clearance slightly higher than many in its category, making it suitable for mild off-roading.
Interior Design
Inside the BMW X3, luxury meets functionality. Premium leather upholstery, wood accents, and brushed metal inserts elevate the cabin's feel. The driver's seat offers an elevated position for a commanding view of the road. The center console is driver-oriented, featuring the iDrive infotainment system with a sizable screen. This system provides access to navigation, media controls, and other vehicle settings. The multi-function steering wheel, equipped with paddle shifters, feels sturdy and responsive.
The cabin provides ample space for five passengers. The rear seats offer commendable legroom, and they can be split-folded to enhance the already generous boot space. Notably, the panoramic sunroof, if equipped, brings an airy feeling to the interior.
Performance
Powering the 2012 BMW X3 is a range of engine options, but the notable one is the xDrive28i, a 2.0-liter turbocharged four-cylinder engine producing 240 hp. Mated to an 8-speed automatic transmission, the X3 offers a balanced performance between efficiency and power. Its xDrive system, BMW's all-wheel-drive technology, ensures excellent traction in various conditions.
Ride Quality
The X3, known for its sporty dynamics, does not disappoint in terms of ride quality. The suspension system adeptly manages road imperfections while ensuring minimal body roll during turns. Steering feedback is precise, and the vehicle feels planted on highways and agile in city confines.
Safety & Technology
BMW has not skimped on safety for the 2012 X3. It's equipped with multiple airbags, ABS, Dynamic Stability Control, and more. The available parking sensors, rear-view camera, and lane departure warning further boost its safety credentials. Its high safety standards are affirmed with commendable ratings in various safety tests.
BMW X3 2012 Price in Sri Lanka
As per the ikman's 3 months price data, the avg. price of used BMW X3 2012 is LKR 12,700,000.
BMW X3 2012 Pros
Premium interior finishing

Spacious rear seats and cargo area

Balanced performance with good fuel efficiency

Advanced safety and tech features
BMW X3 2012 Cons
Premium pricing compared to some rivals

Some might find the ride firm on rough roads

Infotainment system has a steep learning curve
2003 දී හඳුන්වා දුන්, BMW X3 සුඛෝපභෝගී සංයුක්ත SUV කාණ්ඩයේ පුරෝගාමීන්ගෙන් එකක් වූ අතර, performance සහ driving dynamics අනුව ප්‍රමිතීන් සකස් කළේය. 2012 BMW X3 second generation අයත් වේ. එහි athletic stance, luxurious interior සහ BMW හි renowned driving characteristics සඳහා ප්‍රසිද්ධ වූ 2012 X3 එහි පන්තියේ ඉහළම තරඟකරුවන්ගෙන් එකක් ලෙස එහි ස්ථානය තහවුරු කළේය.
2012 BMW X3, එහි හඳුනාගත හැකි kidney grill සමඟ, mature sport utility vibe එකක් දකින්න පුලුවන්. අනුවර්තනය කරන ලද Xenon හෙඩ් ලයිට්, iconic BMW corona rings වලින් වටවී, sharp සහ aggressive පෙනුමක් ලබා දෙයි. Dynamic side line සහ prominent wheel arche එහි muscular stance එක තවත් වැඩි දියුණු කරයි. Standard 18-inch alloy wheel සෞන්දර්යය තවත් වැඩි කරයි. පිටුපසින්, dual exhaust pipe සහwrap-around LED taillight ප්‍රමුඛ ලක්ෂණ වේ. එහි aerodynamic design එක පැහැදිලිය. X3 එහි කාණ්ඩයේ බොහෝ ඒවාට වඩා මදක් ඉහළ බිම් නිෂ්කාශනයකින් යුක්ත වන අතර, එය මෘදු මාර්ගයෙන් පිටත ගමන් කිරීම සඳහා සුදුසු වේ.
BMW X3 ඇතුළත, සුඛෝපභෝගී ක්‍රියාකාරීත්වයක් සපුරාලයි. Premium leather upholstery, wood accents සහ brushed metal insert ඇතුළු කිරීම් cabin feel එක ඉහළ නංවයි. රියදුරු අසුන මාර්ගයේ අණ දෙන දර්ශනයක් සඳහා උස් ස්ථානයක් ලබා දෙයි. මධ්‍ය කොන්සෝලය රියදුරු-අභිමුඛ වන අතර, ප්‍රමාණයේ තිරයක් සහිත iDrive තොරතුරු රසාස්වාදය පද්ධතිය ඇතුළත් වේ. මෙම පද්ධතිය සංචාලනය, මාධ්‍ය පාලන සහ අනෙකුත් වාහන සැකසීම් වෙත ප්‍රවේශය සපයයි. පැඩල් ෂිෆ්ටර් වලින් සමන්විත බහු-ක්‍රියාකාරී සුක්කානම් රෝදය ශක්තිමත් සහ ප්‍රතිචාරාත්මක බවක් දැනේ.
BMW 2012 X3 ඉතා හොඳ ආරක්ෂකයෙකි. එය multiple airbag, ABS, Dynamic Stability Control, සහ තවත් දේවලින් සමන්විතය. parking sensor, rear view camera සහ මංතීරු පිටවීමේ අනතුරු ඇඟවීම එහි ආරක්ෂිත බව තවදුරටත් ඉහළ නංවයි. එහි ඉහළ ආරක්‍ෂිත ප්‍රමිතීන් විවිධ ආරක්‍ෂක පරීක්‍ෂණවලදී ප්‍රශංසනීය ශ්‍රේණිගත කිරීම් සමඟින් තහවුරු වේ.
BMW X3 2012 ශ්‍රී ලංකාවේ මිල
ikman හි මාස 3ක මිල දත්ත වලට අනුව සාමාන්‍යය BMW X3 2012 හි මිල රුපියල් 12,700,000 වේ.
BMW X3 2012 වාසි
වාරික අභ්යන්තර නිමාව
ඉඩකඩ සහිත පසුපස ආසන සහ භාණ්ඩ ප්‍රදේශය
හොඳ ඉන්ධන කාර්යක්ෂමතාවයක් සහිත සමබර කාර්ය සාධනයක්
උසස් ආරක්ෂණ සහ තාක්ෂණික විශේෂාංග
BMW X3 2012 අවාසි
නඩත්තුවට මිල අධිකයි
ලංකාවේ රළු පාරවල් වල යෑමේ අපහසුව
BMW X3 2012 Grades
3.0-liter inline-6 engine with around 240 horsepower
Eight-speed automatic transmission
Leatherette upholstery
Power-adjustable front seats
Dual-zone automatic climate control
3.0-liter turbocharged inline-6 with approximately 300 horsepower
Panoramic sunroof
Leather upholstery
Xenon headlights
Performance-oriented M Sport package
Sport-tuned suspensio
Sport Seats
M steering wheel
Sporty enhancements
Frequently Asked Questions (FAQs)
Is the BMW X3 a good / reliable car?
As per our experts' review and rating, the BMW X3 has scored 9 out of 10. To find out more about whether the BMW X3 is well-suited to your specific needs, make sure to read our full review on it.
What is the maximum power and maximum torque of the BMW X3?
In the BMW X3, the maximum power is 184 ps and maximum torque is 39 kgm.
What is the riding capacity of the BMW X3?
The riding capacity of the BMW X3 is 5 Seater.
What is the engine capacity of the BMW X3?
The engine capacity of the BMW X3 is 1995 cc.
What factors should I consider when buying a used BMW X3?
Here are some important factors you should consider before buying a used BMW X3 car:
Price / budget & financing
Vehicle maintenance history & reputation
Pre-purchase inspection & test drive
Ownership and vehicle title
Insurance
Lifestyle compatibility
BMW X3 2012 Specifications
| | |
| --- | --- |
| Model | BMW X3 |
| Launch Year | 2012 |
| Origin Country | Germany |
| Body Type | SUV/4X4 |
| Doors | 5 |
| Riding Capacity | 5 Seater |
| Model Code | LDA-WY20 |
| Overall Length | 4650 mm |
| Overall Width | 1880 mm |
| Overall Height | 1675 mm |
| Wheelbase | 2810 mm |
| Tread Front | 1615 mm |
| Tread Rear | 1630 mm |
| Interior Length | 0 mm |
| Interior Width | 0 mm |
| Interior Height | 0 mm |
| Weight | 1840 kg |
| Engine Model | N47D20C |
| Maximum Power | 184 ps |
| Maximum Power | 135 kw |
| Maximum Power | 4000 rpm |
| Max. Torque KGM | 39 kgm |
| Max. Torque Nm | 380 Nm |
| Max. Torque RPM | 0 rpm |
| Engine Capacity | 1995 cc |
| Bore | 0 |
| Stroke | 0.0 |
| Compression Ratio | 16.5 |
| Fuel Tank Capacity | 67 L |
| Min. Turning Radius | 5.7 |
| Tires Size Front | 225/60R17 |
| Tires Size Rear | 225 |
| Driving Wheel | - |
BMW X3 Cars

Auto parts for BMW Cars