BMW 530e 2017 Review

14 Jul, 2023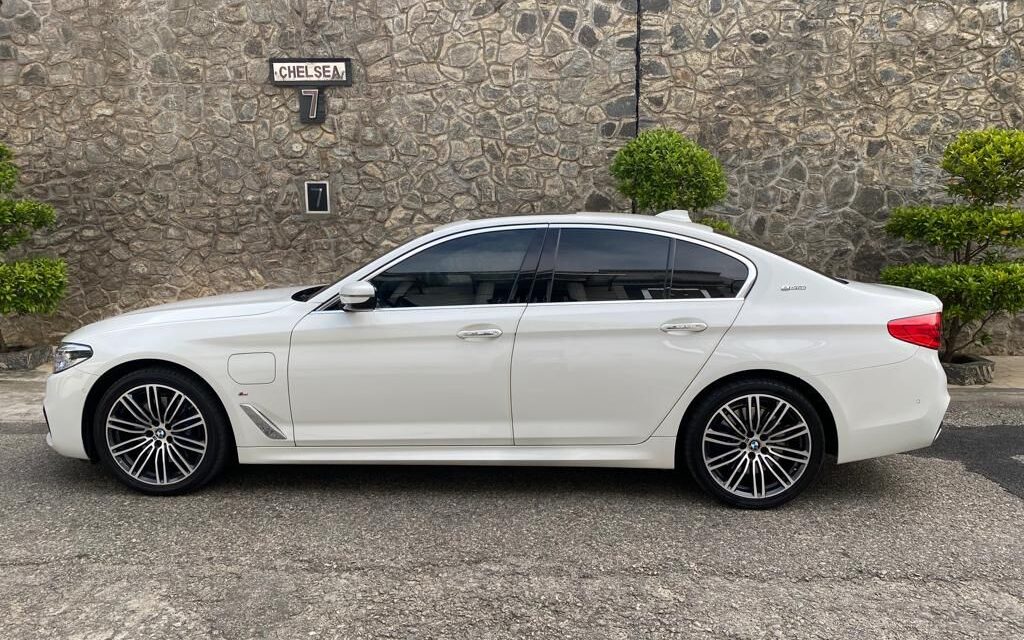 The BMW 530e is a luxury sedan that combines elegant design with advanced technology. Introduced in 2017, this model offers a seamless blend of performance, efficiency, and comfort. Let's delve into the key aspects of the BMW 530e.
Exterior Design
The BMW 530e boasts a sleek and sophisticated exterior design. With its aerodynamic lines and signature kidney grille, it exudes a sense of refined style. The car features 19-inch alloy wheels, LED headlights, and a panoramic sunroof, adding to its overall allure. The BMW LA wheel M Double Spoke 664 adds a sporty and stylish touch to the exterior, complementing the overall design of the vehicle.
The adaptive LED headlamps and LED fog lamps ensure excellent visibility in various driving conditions, enhancing safety and style. Parking becomes a breeze with the parking assistance system plus, guiding you into even the tightest of spaces. The automatic trunk lid mechanism allows for effortless access to the spacious trunk, making loading and unloading a hassle-free experience. With comfortable access and soft-close automatic doors, entering and exiting the vehicle is convenient and luxurious.
Interior Design
Step inside the BMW 530e, and you'll be greeted by a luxurious and well-crafted interior. The cabin offers premium materials and finishes, ensuring a comfortable and sophisticated driving experience. The seats are ergonomically designed and offer ample space for both the driver and passengers. The interior is equipped with modern amenities, including a high-resolution infotainment system, wireless charging, and a Harman Kardon surround sound system. For rear passengers, the rear entertainment system keeps everyone entertained during long journeys, providing a seamless in-car entertainment experience.
Performance
Under the hood, the BMW 530e combines a 2.0-litre turbocharged four-cylinder engine with an electric motor. This plug-in hybrid powertrain delivers a total output of 248 horsepower and provides a smooth and responsive driving experience. The car can accelerate from 0 to 60 mph in just 6 seconds, showcasing its impressive performance capabilities. Furthermore, the BMW 530e offers multiple driving modes, including a purely electric mode for emission-free city driving.
Safety and Technology
The BMW 530e prioritizes safety with a range of advanced features. It comes equipped with driver-assistance technologies such as lane departure warning, blind-spot monitoring, forward collision warning, and automatic emergency braking. Additionally, the car features BMW's iDrive infotainment system, which provides intuitive control over various functions, including navigation, smartphone integration, and vehicle settings. The head-up display provides important information right in your line of sight, allowing you to keep your eyes on the road. For audiophiles, the Harmon Kardon surround sound system delivers an immersive audio experience, making every drive enjoyable. With Apple CarPlay integration, you can seamlessly connect your iPhone to the car's infotainment system, access your favourite apps and enjoy a connected driving experience.
BMW 530e 2017 Price in Sri Lanka
As per the ikman's 3 months price data, the avg. price of used BMW 530e 2017 is LKR 29,833,334.
BMW 530e Pros
Impressive fuel efficiency and electric range

Luxurious and well-designed interior

Strong performance and handling

Advanced safety features

Integration of cutting-edge technology
BMW 530e Cons
Limited electric range compared to fully electric vehicles

Higher starting price compared to non-hybrid models
BMW 5 series එක 1972 ඉදලා අද වෙනකම් generation 7ක් එනවා.මේ වාහනය අයිති වෙන්නේ 7 generation එකට. මේ වාහනය plug-in hybrid වාහනයක්.2016දී තමයි 530e වාහන නිෂ්පාදනය ආරම්භ වෙන්නේ.
BMW වාහනයක් පාරේ යනකොට අපිට අඳුරගන්න පුලුවන් iconic design එකක් තමයි kidney grill කියලා කියන්නේ.මේ වාහනෙත් front view එකේ අපිට kidney grill දකින්න පුලුවන්.හැබැයි මේ වාහනේ තියෙන kidney grill එක ටිකක් විශේෂයි. මොකද මෙකේ තියෙන්නේ අවශ්‍ය වේලාවට විතරක් vents open කරලා engine එක cool කරන්න පුලුවන් active kidney grill. Unique design එකක් තියෙන headlights දකින්න පුලුවන්. BMW adaptive LED lights තමයි තියෙන්නේ.Headlight එකටම සම්බන්ධ turning lights බලාගන්න පුලුවන්.Fog lamps මේ වාහනේ දකින්න පුලුවන්.
158mm ground clearance එකක් තියෙනවා.Sporty look එකක් දෙන bump එකක් front view එකේ බලාගන්න පුලුවන්. Grill center එකේ mount කරපු ෆරන්ට් කැමරා,සෙන්සර්ස් වගෙම රාත්‍රීයේ රියපදවනකොට හොඳ සහයක් දෙන infrared camera එකකුත් grill side එකේ mount කරලා තියෙනවා.19 inch alloy wheels තමයි BMW 530e වාහනේ දකින්න ලැබෙන්නේ.door handle අලංකාර chrome finishing එකක් බලන්න පුලුවන්.Rear-view එකේ sensors 6ක් තියෙනවා.410 liters හොඳ boot space එකක් මේ වාහනේ තියෙනවා.2L twin-power turbo in-line 4-cylinder engine එකකින් BMW 530e වාහනය සමන්විතයි.
High-end වාහනයක දකින්න පුලුවන් features ගොඩාක් doors වල අපිට දකින්න පුලුවන්.High quality plastic සහ leather combination එකක finishing එකක් තමයි අපිට මේ වාහනේ interior එකේ දැකගන්න ලැබෙන්නේ.Harman kardon sound system එකක් තමයි BMW 530e වාහනේ තියෙන්නේ.වාහනය පුරාවටම speakers 16ක් තියෙනවා.සැපපහසුව කියන එකේ උපරිමෙන්ම යන්න පුලුවන් fully comfortable seats තමයි වාහනේ තියෙන්නේ.Leather finishing එකක් තියෙන grip එකක් සහිත multi-functional steering wheel එකක් මේ වාහනේ දකින්න පුලුවන්.
Anti-lock brakes, front/side impact airbags,overhead airbags ලබා දෙමින් උපරිම ආරක්ෂාවක් සපයන වාහනයක් විදිහට BMW 530e වාහනය හඳුන්වා දෙන්න පුලුවන්.
BMW 530e 2017 ශ්‍රී ලංකාවේ මිල
ikman හි මාස 3ක මිල දත්ත වලට අනුව සාමාන්‍යය BMW 530e 2017 හි මිල රුපියල් 29,833,334 වේ.
BMW 530e Grades
2.0L 4-cylinder TwinPower Turbo engine with an electric motor
12.3-inch digital instrument cluster
Apple CarPlay and Android Auto compatibility
Heated front seats
Automatic climate control
BMW 530e
xDrive iPerformance
Synthetic leather upholstery
Apple CarPlay and Android Auto compatibility
Power-adjustable front seats with memory function
Heated front seats
Automatic climate control
M Sport suspension
Sport front seats with enhanced bolstering
Aerodynamic body kit and M Sport badging
Shadowline exterior trim
Aluminum Rhombicle interior trim
BMW 530e Video Review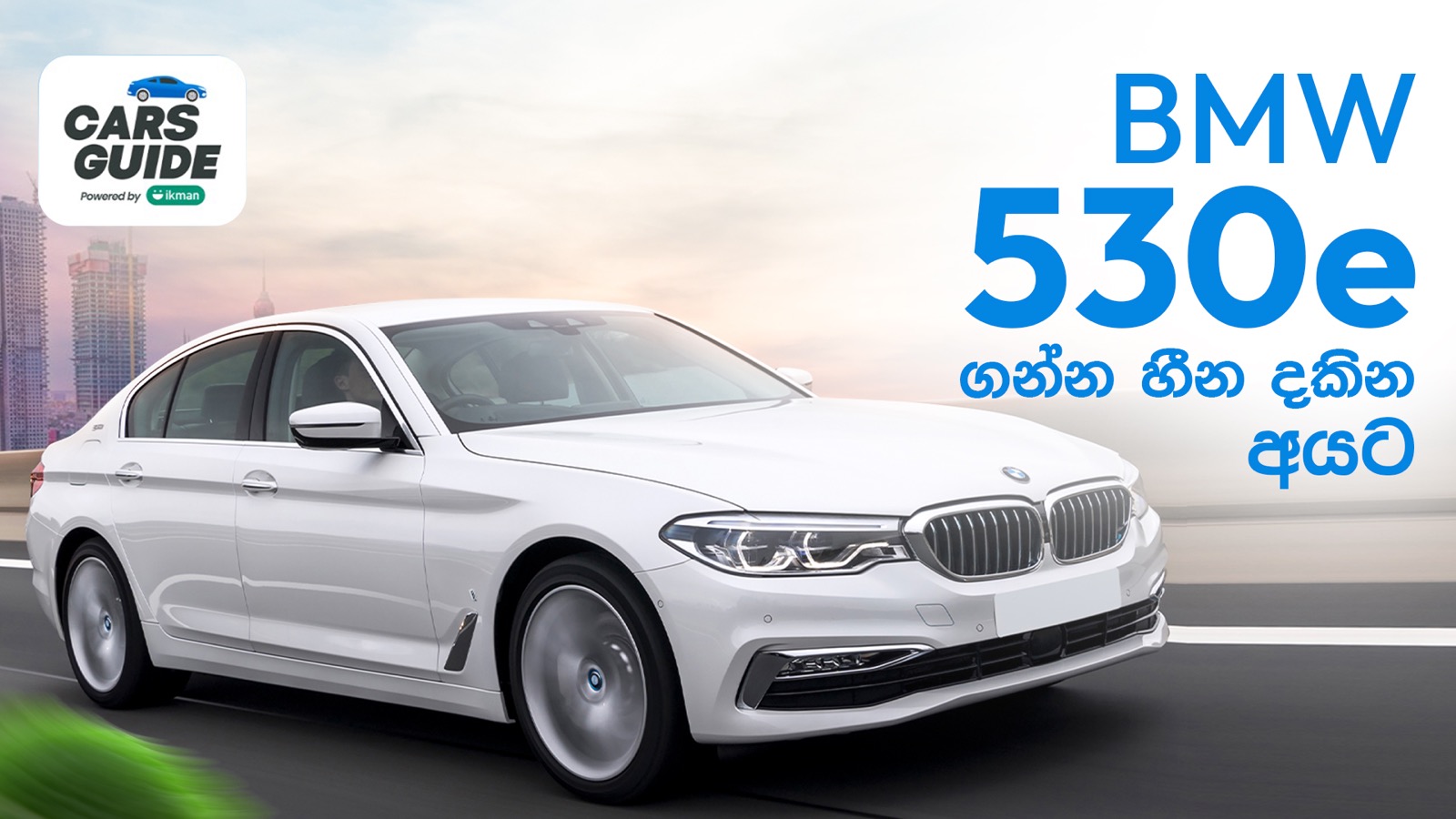 14 Jul, 2023 - BMW 530e ගන්න හීන දකින අයට අපේ latestම් review එක මෙන්න! 🚗🔍 Here's our in-depth review of one of the most coveted luxury sedans across the globe - the BMW 530e! 🚗🔥
Frequently Asked Questions (FAQs)
Is the BMW 530e a good / reliable car?
As per our experts' review and rating, the BMW 530e has scored 8.7 out of 10. To find out more about whether the BMW 530e is well-suited to your specific needs, make sure to read our full review on it.
What factors should I consider when buying a used BMW 530e?
Here are some important factors you should consider before buying a used BMW 530e car:
Price / budget & financing
Vehicle maintenance history & reputation
Pre-purchase inspection & test drive
Ownership and vehicle title
Insurance
Lifestyle compatibility
BMW 530e Cars

Auto parts for BMW Cars