Honda S660 2018 Review

04 Sep, 2023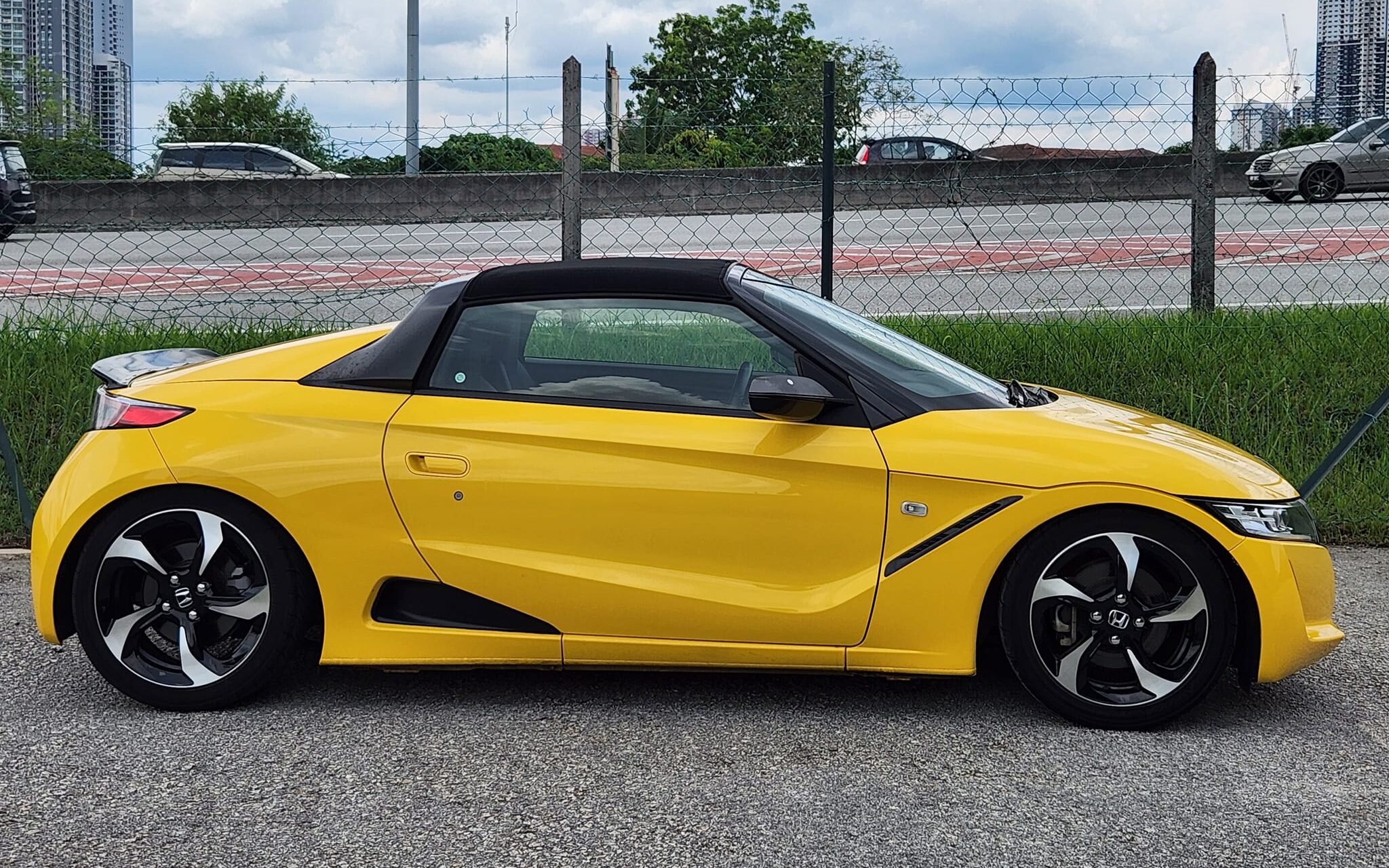 The Honda S660 is a sporty and compact roadster that offers an exhilarating driving experience. With its sleek design and lightweight build, the S660 stands out in the world of small sports cars. In this review, we will delve into the Honda S660 2018 model and evaluate its performance and features.
Exterior Design
The Honda S660 boasts a distinctive and sporty exterior design. Its compact dimensions and low-slung profile give it an athletic appearance. The S660's sleek lines and aerodynamic styling set it apart from other cars in its class. While it may not have the ground clearance of an SUV, its road-hugging design is perfect for those who crave a thrilling driving experience.
Interior Design
Inside the Honda S660 2018, you'll find a driver-focused cockpit designed for pure driving enjoyment. The cabin is minimalistic yet stylish, with high-quality materials and finishes. The snug seats provide excellent support during spirited driving, although taller individuals may find them a bit cozy. The dashboard is designed to keep distractions to a minimum, allowing you to focus on the road ahead.
Performance
The Honda S660 is all about performance. It is equipped with a small yet potent engine that delivers an impressive power-to-weight ratio. The lightweight construction of the S660 ensures nimble handling and quick acceleration. The manual transmission option adds to the driving engagement, making it a favorite among driving enthusiasts.
Ride Quality
Given its sporty nature, the ride quality of the Honda S660 is firm and tuned for sharp handling. While it may not provide the plush comfort of a luxury sedan, it excels in delivering a connected and thrilling driving experience. The S660's responsive steering and precise control make it a joy to navigate winding roads.
Safety & Technology
Safety features in the Honda S660 include airbags and stability control, but it may not offer the extensive suite of advanced safety technology found in larger vehicles. In terms of technology, the S660 comes with modern infotainment options, although the emphasis here is on the driving experience rather than an extensive array of tech features.
The Honda S660 2018 is a niche vehicle designed for those who prioritize the joy of driving above all else. Its compact size and sporty performance make it a unique choice in the automotive world. While it may lack some of the creature comforts and safety features of larger vehicles, the S660 compensates with its sheer driving excitement and distinctive design.
Honda S660 2018 Price in Sri Lanka
As per the ikman's 3 months price data, the avg. price of used Honda S660 2018 is LKR 4,980,000.
Honda S660 2018 Pros
Exhilarating driving experience

Sporty and distinctive exterior design

Driver-focused cockpit

Lightweight construction for agility

Manual transmission option for enthusiasts
Honda S660 2018 Cons
Limited interior space, especially for taller individuals

Firm ride quality may not suit all preferences

Basic safety features

Minimalist cabin design
Honda S660 යනු 2015 දී ජපානයේ දී ප්‍රථම වරට හඳුන්වා දුන් kei කාර් රෝඩ්ස්ටර් එකකි. එය අශ්වබල 60 ක් සහ රාත්තල්-අඩි 77 ක ව්‍යවර්ථයක් නිපදවන 660cc turbocharged ත්‍රි-සිලින්ඩර එන්ජිමකින් බලගන්වයි. S660 Soft-top සහ Hardtop Convertible body style යන දෙකෙන්ම ලබා ගත හැකිය.
2018 Honda S660 මෝටර් රථයේ පළමු පරම්පරාවයි. එය ජපානයේ පමණක් නිෂ්පාදනය කරන ලද අතර එය 2022 දී නතර කරන ලදී.2018 Honda S660 කුඩා හා සංයුක්ත මෝස්තරයක් ඇත. එහි දිග අඟල් 139.8, පළල අඟල් 67.1 සහ උස අඟල් 50.4 කි. මෝටර් රථයේ two-door, two-seater configuration ඇත. බාහිර ලක්ෂණ අතර sloping roofline, wide grill සහ circular headlight ඇතුළත් වේ.
2018 Honda S660 අභ්යන්තරය කුඩා නමුත් හොඳින් සැලසුම් කර ඇත. උපකරණ පුවරුව සරල සහ සරල ය, රියදුරුට පහසුවෙන් ළඟා විය හැකි සියලු පාලනයන් ඇත. ආසන දිගු ධාවන සඳහා පවා සුවපහසු සහ ආධාරක වේ. touchscreen infotainment system එකක්, rearview camera, Bluetooth connectivity වැනි අංගයන්ගෙන් සමන්විතව අභ්‍යන්තරය ද මනා ලෙස නිර්මාණය කොට ඇත.
2018 Honda S660 යනු නගරයේ රිය පැදවීම සඳහා සුදුසු විනෝදජනක සහ හැඩකාර කුඩා මෝටර් රථයකි. එය සාපේක්ෂව ඉන්ධන-කාර්යක්ෂම වන අතර, නගරයේ EPA ඇස්තමේන්තුගත ඉන්ධන ආර්ථිකය 37 mpg සහ අධිවේගී මාර්ගයේ 39 mpg වේ. කෙසේ වෙතත්, මෝටර් රථයේ සීමිත ඇරඹුම් අවකාශය සහ බිම් නිෂ්කාශනය සමහර රියදුරන් සඳහා එය අඩු ප්රායෝගික වේ.
Honda S660 2018 ශ්‍රී ලංකාවේ මිල
ikman හි මාස 3ක මිල දත්ත වලට අනුව සාමාන්‍යය Honda S660 2018 හි මිල රුපියල් 4,980,000 වේ.
Honda S660 2018 වාසි
වඩාත් හොඳ රිය පැදවීමේ අත්දැකීම
ක්‍රීඩාශිලී සහ සුවිශේෂී බාහිර නිර්මාණය
රියදුරු කේන්ද්‍ර කරගත් නියමු කුටිය
සුවපහසු බව
Honda S660 2018 අවාසි
විශේෂයෙන්ම උස පුද්ගලයන් සඳහා සීමිත අභ්යන්තර අවකාශය
මූලික ආරක්ෂක විශේෂාංග
ඇතුළත නිර්මාණය මූලික වීම
Honda S660 2018 Grades
Lightweight construction
Sporty exterior design
Manual transmission option
Airbags and stability control
Upgraded interior materials
Leather-trimmed seats
Premium infotainment system with touchscreen
Enhanced sound system
Sport-tuned suspension
Performance exhaust system
Sport seats with additional bolstering
Unique exterior accents
Frequently Asked Questions (FAQs)
Is the Honda S660 a good / reliable car?
As per our experts' review and rating, the Honda S660 has scored 7.1 out of 10. To find out more about whether the Honda S660 is well-suited to your specific needs, make sure to read our full review on it.
What is the maximum power and maximum torque of the Honda S660?
In the Honda S660, the maximum power is 64 ps and maximum torque is 11 kgm.
What is the riding capacity of the Honda S660?
The riding capacity of the Honda S660 is 2 Seater.
What is the engine capacity of the Honda S660?
The engine capacity of the Honda S660 is 658 cc.
What factors should I consider when buying a used Honda S660?
Here are some important factors you should consider before buying a used Honda S660 car:
Price / budget & financing
Vehicle maintenance history & reputation
Pre-purchase inspection & test drive
Ownership and vehicle title
Insurance
Lifestyle compatibility
Honda S660 2018 Specifications
| | |
| --- | --- |
| Model | Honda S660 |
| Launch Year | 2018 |
| Origin Country | Japan |
| Body Type | |
| Doors | 2 |
| Riding Capacity | 2 Seater |
| Model Code | DBA-JW5 |
| Overall Length | 3395 mm |
| Overall Width | 1475 mm |
| Overall Height | 1180 mm |
| Wheelbase | 2285 mm |
| Tread Front | 1300 mm |
| Tread Rear | 1275 mm |
| Interior Length | 895 mm |
| Interior Width | 1215 mm |
| Interior Height | 1020 mm |
| Weight | 850 kg |
| Engine Model | S07A |
| Maximum Power | 64 ps |
| Maximum Power | 47 kw |
| Maximum Power | 6000 rpm |
| Max. Torque KGM | 11 kgm |
| Max. Torque Nm | 104 Nm |
| Max. Torque RPM | 2600 rpm |
| Engine Capacity | 658 cc |
| Bore | 64 |
| Stroke | 68.2 |
| Compression Ratio | 9.2 |
| Fuel Tank Capacity | 25 L |
| Min. Turning Radius | 4.8 |
| Tires Size Front | 165/55R15 75V |
| Tires Size Rear | 195 |
| Driving Wheel | - |
Honda S660 Cars

Auto parts for Honda Cars