Ford Everest 2012 Review

16 Jun, 2023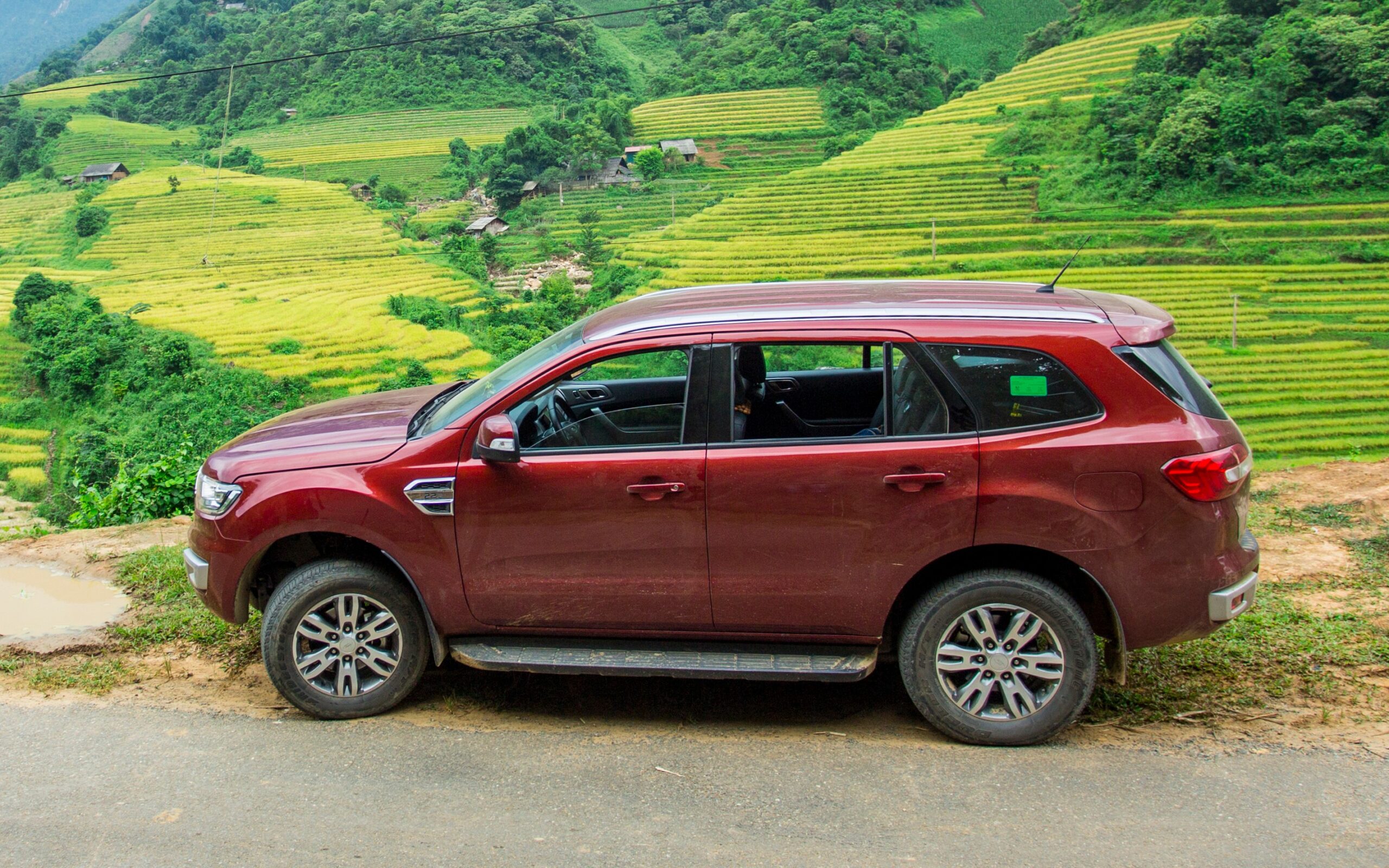 The Ford Everest 2012 model is a highly capable mid-size SUV known for its ruggedness, versatility, and off-road capabilities. It has gained popularity among drivers seeking a vehicle that can handle various terrains while offering comfort and ample space for both passengers and cargo. In this review, we will explore the Ford Everest 2012 model, examining its performance, features, and why it has appealed to many drivers.
Exterior Design:
The Ford Everest 2012 model showcases a robust and muscular exterior design, emphasizing its rugged capabilities. It features body-colored bumpers, follow-me-home headlights, and a commanding presence on the road. While it may not have the sleekness of some urban SUVs, its design communicates strength and durability.
Interior Design:
The interior of the Ford Everest 2012 offers a spacious and practical cabin with a focus on functionality. The controls are intuitively laid out, and the seating provides ample support and comfort for long drives. The rear seats can be folded to create more cargo space, accommodating various passenger and storage needs.
Performance:
The Ford Everest 2012 is equipped with a range of engine options, including diesel and petrol engines, providing drivers with choices based on their preferences and requirements. Its engines deliver solid performance, combining power and efficiency. The Everest is designed to handle both city driving and off-road adventures, with a capable suspension system and advanced traction control features.
Ride Quality:
The Ford Everest 2012 delivers a comfortable and controlled ride quality. Its suspension system is designed to absorb bumps and uneven road surfaces, providing a smooth and stable driving experience. The cabin remains relatively quiet, enhancing passenger comfort, and the overall driving dynamics strike a balance between on-road comfort and off-road capability.
Safety and Technology:
While the Ford Everest 2012 may not offer the same level of advanced safety and technology features as more recent models, it still provides essential safety equipment, including airbags, ABS, and stability control. The inclusion of a passenger airbag in the top-grade adds an extra layer of safety. In terms of technology, it offers features such as an audio system with USB and AUX input, ensuring drivers and passengers can enjoy their favorite music on the go.
Ford Everest 2012 Price in Sri Lanka
As per the ikman's 3 months price data, the avg. price of used Ford Everest 2012 is LKR 10,487,500.
Ford Everest Pros
Rugged and capable off-road performance.

Spacious and practical interior.

Various engine options to suit different needs.

Solid safety features.

Comfortable ride quality.
Ford Everest Cons
May lack the advanced technology found in more recent models.

Exterior design may appear to be dated and may not appeal to everyone.

Cargo space could be improved.
හැමෝම වෙනසකට කැමතියි. ඒ වෙනස සමාන්‍යයෙන් තරඟකාරී වෙළඳපලේ අනිත් අයට එක්තරා විදිහක අභියෝගයක් වෙන්නත් පුලුවන්.Ford Everest කියන්නේ ඒ වෙනසට හොඳම උදාහරණයක්.ඕනෑම තැනකට පහසුවෙන් යන්න පුලුවන්, සාමාන්‍ය පිරිසකට කිසිම අපහසුවකින් තොරව යන්න පුලවන් mid-size SUV රථයක් තමයි මේක.Ruggedness, versatility සහ off-road සදහා ප්‍රසිද්ධ වාහයක් විදිහට Ford Everest 2012 හදුන්වන්න පුලුවන්.
එළියේ පෙනුම
Robust සහ muscular exterior design එකක් අපිට මේ වාහනේ දකින්න හැකිවෙනවා.නිර්මාණය කරලා තියෙන body type colored bumpers, headlights සහ fog lights වාහනේට අමුතුම elegant look එකක් ගෙනල්ලා දීලි තියෙනවා. Chrome grill පවා අපිට front view එකේ දකින්න පුලුවන්.
ඇතුළෙ පෙනුම
පහසුවෙන් 7දෙනෙකුට වාඩි වෙලා සුවපහසුවට යන්න පුලුවන් වාහනයක් තමයි මේක.ඔබට අවශ්‍ය ඕනෑම ප්‍රමාණයක විශාල බෑගයක් පහසුවෙන් ගෙනියන්න පුලුවන් විදිහෙ හොඳ boot space එකක් Ford Everest එකේ තියෙනවා.පිටිපස්සේ seats නවලා අවශ්‍යනම් ඒ boot space එක තව වැඩි කරගන්න පුලුවන්.High quality materials වලින් නිර්මාණය කරපු driver-friendly dashboard තමයි මේ වාහනේ තියෙන්නේ.Interior හැමදෙයක්ම වගේ high quality materials දාලා සකස් කරලා තියෙන හින්දා වාහයට අමුතුම elegant look එකක් ඇවිල්ලා තියෙනවා.
ආරක්ෂාව කොහොමද?
සර්ව සම්පූර්ණ ආරක්ෂාව සහතික කරන ඉතා හොඳ වාහනයත් තමයි Ford Everest කියලා කියන්නේ. ඉදිරිපස dual air bags ගැටීමකදී රියදුරු සහ ඉදිරිපස අසුනේ මගියා ආරක්ෂා කරනු ලබනවා. පාලනය සහ හැසිරවීම සඳහා, ABS (Anti-lock Braking System) සහ EBD (Electronic Brakeforce Distribution) යන දෙකම මෙහි තියෙනවා. මීට අමතරව, රියදුරු වේගය අඩු වන ආකාරය සහ ABS සහ EBD සමඟ එක්ව ක්‍රියා කරන G-sensors මේ වාහනයේ දකින්න පුලුවන්. තිරිංග පීඩනය අවශ්‍ය රෝදවලට යොදනවා පමණක් නොව, අවශ්‍ය විටදී වැඩි තිරිංග හැකියාවක් ලබා දීම සඳහා වාහනය කෙතරම් ඉක්මනින් වේගය අඩු කළ යුතුද යන්න තීරණය කිරීමට ද ඒ sensors සහාය වෙනවා.
Rugged design, spacious interior සහ solid performance කියන දේවල් එකට එකතු වෙච්ච වෙනසක් ඇති කරපු වාහනයක් විදිහට ලෝකයට ආපු Ford Everest 2012 කියන්නේ off-road වලට ආස කරන අයට කියාපුම වාහයක් විදිහට අපිට හදුන්වලා දෙන්න පුලුවන්.
Ford Everest 2012 ශ්‍රී ලංකාවේ මිල
ikman හි මාස 3ක මිල දත්ත වලට අනුව සාමාන්‍යය Ford Everest 2012 හි මිල රුපියල් 10,487,500 වේ.
Ford Everest Grades
Body-colored bumpers
Follow-me-home headlights
Manual air conditioning
Front power windows, Central locking
Remote central locking
Audio system with USB and AUX input
Front speakers
Central locking
Passenger airbag
Power steering
Manual day/night inside rear-view mirror
Driver-side sun visor with mirror
Full wheel covers
Gear shift indicator
Ford Everest Photo Gallery
Frequently Asked Questions (FAQs)
Is the Ford Everest a good / reliable car?
As per our experts' review and rating, the Ford Everest has scored 7.8 out of 10. To find out more about whether the Ford Everest is well-suited to your specific needs, make sure to read our full review on it.
What is the price of the Ford Everest?
The price range of the Ford Everest in Sri Lanka is LKR
8.7 Mn
to
9.0 Mn
. To compare prices of the Ford Everest, based on the condition, mileage and year of manufacture, check out the Ford Everest listings on ikman
for sale
.
What factors should I consider when buying a used Ford Everest?
Here are some important factors you should consider before buying a used Ford Everest car:
Price / budget & financing
Vehicle maintenance history & reputation
Pre-purchase inspection & test drive
Ownership and vehicle title
Insurance
Lifestyle compatibility
Ford Everest Cars

Auto parts for Ford Cars