BMW i3 2014 Review

06 Nov, 2023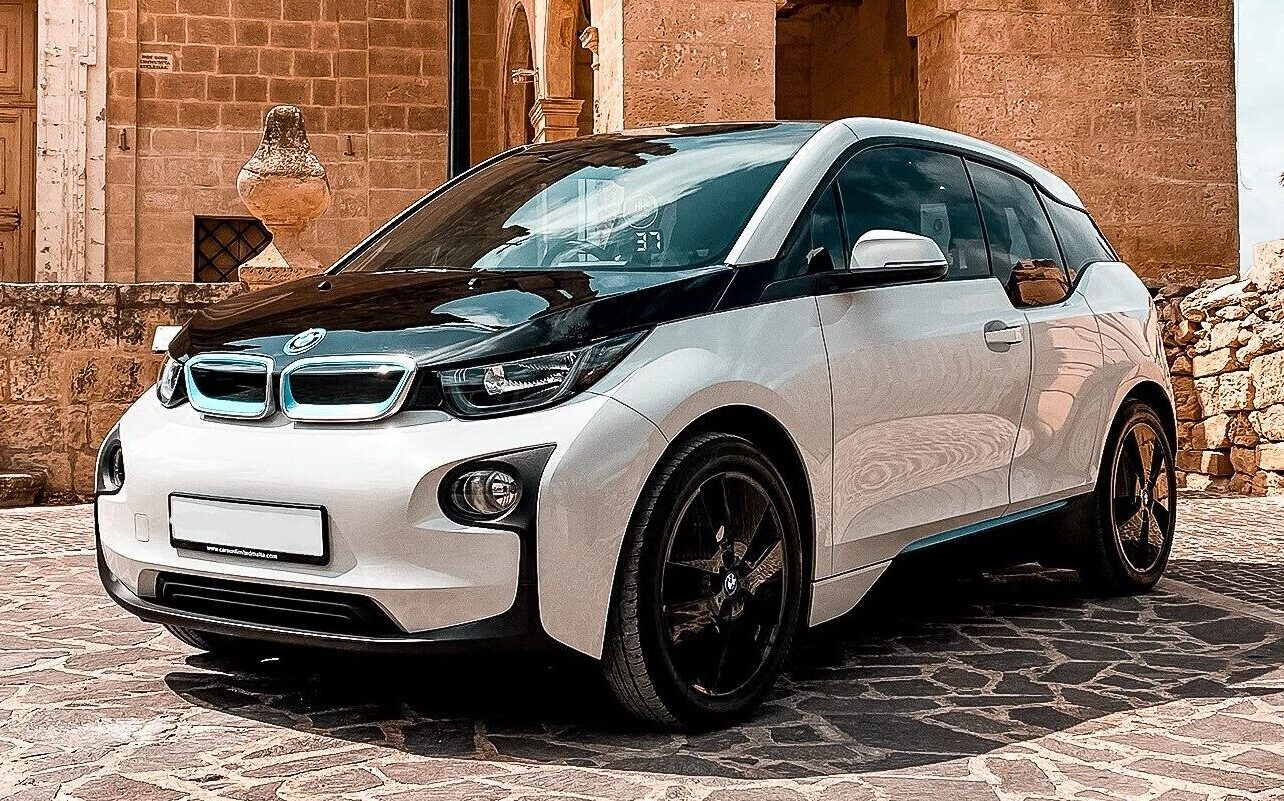 Do you enjoy driving a nice car that is also affordable? The BMW i3 is one such vehicle. The i3 is a battery electric super mini car manufactured by BMW from 2013 to 2022. BMW's first mass-produced zero-emission vehicle is the i3. So, today, CarsGuide is examining this ride, which was manufactured in 2014.
Exterior Design
When discussing the exterior of the i3, let's start with how the front is built. Front lights include fog lights, LED daytime running lights, and halogen headlights. Anyone looking at the front of the i3 may see that it is a little car.
On the side, there are 19-inch alloy wheels. The front wheels have Disc-Ventilated brakes, while the rear wheels have Disc brakes. The total length is 3999 mm. Body-colored door handles can be seen. The indicator and folding power mirrors are also visible.
The rear windshield is equipped with a demister. A minor spoiler is visible. We can see an integrated roof diversity antenna in the back. The back windshield features a wiper and a washer as well. A high-mounted stop light is present. Its rear lights are LEDs.
Because the i3 has a hatchback body style, the average ground clearance should be 168 mm. However, the producers have specified a ground clearance of 140 mm. This is commonly referred to as adequate ground clearance.
When it comes to the boot, the i3 has a capacity of 260 liters. There is no loading lip on it. As a result, loading and unloading items is a breeze. The back seats may be folded if necessary, and the boot space can be expanded to 1100 liters.
Interior Design
Two leather seats can be found in the driver's cabin. These are made to be extremely comfy. Even the tallest person can fit in without difficulty. The seats are manually adjustable. There is plenty of leg and headroom. Another feature you can see is a driver's foot rest.
The steering wheel is made of leather, and is tillable. There is also telescopic adjustability. Furthermore, multi-function choices are available. Power windows are visible. Even the doors appear to be very powerful at first glance. There are standard-sized door bins. An illuminated glove box compartment, an auto-dimming rear view mirror, grab handles, sun visors with vanity mirrors, and cup holders are all visible. The i3 has an AUX/USB input socket, a 12-Volt power outlet, a 4-speaker sound system, and a multi-function control panel.
The i3's passenger compartment has three leather seats. The headrests on these seats are adjustable. The passenger cabin provides adequate head and legroom. Although it has three seats, it is difficult for three persons to travel because the center seat includes cup holders. However, two passengers can travel comfortably. Seat back pockets are available in the front seats.
Performance
The i3 is propelled by a Lithium-Ion battery and an electric motor. This results in a power output of 170 horsepower and torque of 184 Nm, and comes with a single-speed automatic transmission. This i3 is available as a rear-wheel drive vehicle. The car can reach 100 km/h in 7.1 seconds. The top speed is 108 kilometers per hour. The fuel tank holds 1.9 gallons.
Ride Quality
We will now discuss the i3's ride. The windshield provides the driver with a good view. The steering wheel may feel stiff while driving, and also makes a squeaky noise.
Safety & Technology
Let's discuss how the manufacturers considered the i3's safety. Side airbags and head airbags have been included to ensure the driver and passengers' safety.
Engine immobilizer, cruise control, traction control system, dynamic stability control, electronic parking brake, reversing camera, ISOFIX anchorage system, and park assist are among the safety features available on the i3. All four wheels now have the ABS safety feature. With these facts, the i3 has received a 5-star ANCAP safety certification.
BMW i3 2014 Price in Sri Lanka
As per the ikman's 3 months price data, the avg. price of used BMW i3 2014 is LKR 6,580,000.
BMW i3 2014 Pros
High safety

Quick acceleration

Good visibility for the driver

Stylish interior
BMW i3 2014 Cons
Steering wheel feels hard

The squeaking noise of the steering wheel

A passenger cannot sit in the center seat

The occurrence of ventilation chafing issues in the fuel tank
දැරිය හැකි මිලකට ලස්සන මෝටර් රථයක් පැදවීමට ඔබ කැමතිද? BMW i3 එවැනි වාහනයකි. i3 යනු 2013 සිට 2022 දක්වා BMW විසින් නිෂ්පාදනය කරන ලද battery electric supermini මෝටර් රථයකි. BMW හි පළමු මහා පරිමාණයෙන් නිපදවන ලද zero-emission වාහනය වන්නේ i3 ය.
ඉදිරිපස විදුලි පහන් fog light, LED daytime running light සහ halogen headlight ඇතුළත් වේ. i3 එකේ ඉස්සරහ බලන ඕනම කෙනෙක්ට පේනවා පොඩි කාර් එකක් කියලා.පැත්තේ, අඟල් 19 ඇලෝයි වීල් ඇත. ඉදිරිපස රෝදවල disc ventilated brake ඇති අතර පසුපස රෝදවල disc brake ඇත. සම්පූර්ණ දිග 3999 මි.මී. ශරීර වර්ණයෙන් යුත් දොර හැන්ඩ්ල් දැකිය හැකිය. Indicator සහ folding power mirror දෘශ්‍යමාන වේ.
BMW i3 එක hatchback body style එකක් තියෙන නිසා සාමාන්‍ය ground clearance මිලිමීටර් 168ක් වෙන්න ඕන. කෙසේ වෙතත්, නිෂ්පාදකයින් විසින් මිලිමීටර් 140 ක ground clearance නියම කර ඇත. මෙය සාමාන්‍යයෙන් ප්‍රමාණවත් ground clearance ලෙස හැඳින්වේ.boot එක ගැන කියනවනම් i3 එකේ capacity එක ලීටර් 260ක්. එහි ප්‍රතිඵලයක් ලෙස භාණ්ඩ පැටවීම සහ බෑම ඉතා අපහසු කාර්යයකි. අවශ්‍ය නම් පසුපස ආසන නැමිය හැකි අතර, boot space එක ලීටර් 1100 දක්වා පුළුල් කළ හැකිය.
BMW i3 හි AUX/USB input socket එකක්, 12-volt power outlet, 4-speaker sound system සහ multi-function control panel එකක් ඇත. BMW i3 ලිතියම්-අයන බැටරියකින් සහ විදුලි මෝටරයකින් ධාවනය වේ. මෙහි ප්රතිඵලයක් වශයෙන් අශ්වබල 170 ක බලයක් සහ 184 Nm ව්යවර්ථයක් ඇති අතර, තනි-වේග ස්වයංක්රීය සම්ප්රේෂණයකින් යුක්ත වේ. මෙම i3 පසුපස රෝද ධාවන වාහනයක් ලෙස ලබා ගත හැකිය. මෝටර් රථය තත්පර 7.1 කින් පැයට කිලෝමීටර 100 ක වේගයක් ලබා ගත හැකිය. උපරිම වේගය පැයට කිලෝමීටර් 108 කි. ඉන්ධන ටැංකිය ගැලුම් 1.9 ක් ඇත.
අද, අපි ලෝකයේ හොඳම කුඩා මෝටර් රථය වන BMW i3 ගැන ඔබ දැනගත යුතු සියල්ල සාකච්ඡා කළෙමු. ඇත්තටම i3 කියන්නේ ගෙවන මිලට හොඳ වටිනාකමක් දෙන වාහනයක්. මක්නිසාද යත්, ඕනෑම අවස්ථාවක, නිෂ්පාදකයින් i3 සඳහා හොඳ වටිනාකමක් ලබා දීමට උත්සාහ කර ඇත. මෙම සියලු තොරතුරු සමඟින්, CarsGuide හි අපගේ ප්‍රවීණයන් i3 හට සමස්ත ශ්‍රේණිය 10න් 7.4ක් ලබා දී ඇත.
BMW i3 2014 ශ්‍රී ලංකාවේ මිල
ikman හි මාස 3ක මිල දත්ත වලට අනුව සාමාන්‍යය BMW i3 2014 හි මිල රුපියල් 6,580,000 වේ.
BMW i3 2014 වාසි
ඉහළ ආරක්ෂාව
රියදුරු සඳහා හොඳ දෘශ්යතාව
හැඩකාර අභ්යන්තරය
වේගවත් හැසිරවීමේ අත්දැකීමක් ලබා දීම
BMW i3 2014 අවාසි
මන්දගාමී ආරෝපණ බැටරි
මගියෙකුට මැද ආසනයේ වාඩි විය නොහැක
ඉන්ධන ටැංකියේ වාතාශ්‍රය පිටකිරීමේ ගැටළු ඇතිවීම
BMW i3 2014 Grades
Standard 19-inch alloy wheels
Navigation system with a 6.5-inch display
Providing a nimble handling experience
Single-Speed
Upgraded SensaTec and cloth upholstery
Leather-wrapped steering wheel
Universal garage door opener
Frequently Asked Questions (FAQs)
Is the BMW i3 a good / reliable car?
As per our experts' review and rating, the BMW i3 has scored 7.4 out of 10. To find out more about whether the BMW i3 is well-suited to your specific needs, make sure to read our full review on it.
What is the maximum power and maximum torque of the BMW i3?
In the BMW i3, the maximum power is 38 ps and maximum torque is 6 kgm.
What is the riding capacity of the BMW i3?
The riding capacity of the BMW i3 is 4 Seater.
What is the engine capacity of the BMW i3?
The engine capacity of the BMW i3 is 647 cc.
What factors should I consider when buying a used BMW i3?
Here are some important factors you should consider before buying a used BMW i3 car:
Price / budget & financing
Vehicle maintenance history & reputation
Pre-purchase inspection & test drive
Ownership and vehicle title
Insurance
Lifestyle compatibility
BMW i3 2014 Specifications
| | |
| --- | --- |
| Model | BMW i3 |
| Launch Year | 2014 |
| Origin Country | Germany |
| Body Type | Hatchback |
| Doors | 5 |
| Riding Capacity | 4 Seater |
| Model Code | DLA-1Z06 |
| Overall Length | 4010 mm |
| Overall Width | 1775 mm |
| Overall Height | 1550 mm |
| Wheelbase | 2570 mm |
| Tread Front | 1575 mm |
| Tread Rear | 1540 mm |
| Interior Length | 0 mm |
| Interior Width | 0 mm |
| Interior Height | 0 mm |
| Weight | 1390 kg |
| Engine Model | W20K06A |
| Maximum Power | 38 ps |
| Maximum Power | 28 kw |
| Maximum Power | 5000 rpm |
| Max. Torque KGM | 6 kgm |
| Max. Torque Nm | 56 Nm |
| Max. Torque RPM | 4500 rpm |
| Engine Capacity | 647 cc |
| Bore | 0 |
| Stroke | 0.0 |
| Compression Ratio | 10.6 |
| Fuel Tank Capacity | 9 L |
| Min. Turning Radius | 4.6 |
| Tires Size Front | 155/70R19 |
| Tires Size Rear | 175 |
| Driving Wheel | FR |
BMW i3 Cars

Auto parts for BMW Cars