Audi A5 2018 Review

08 Nov, 2023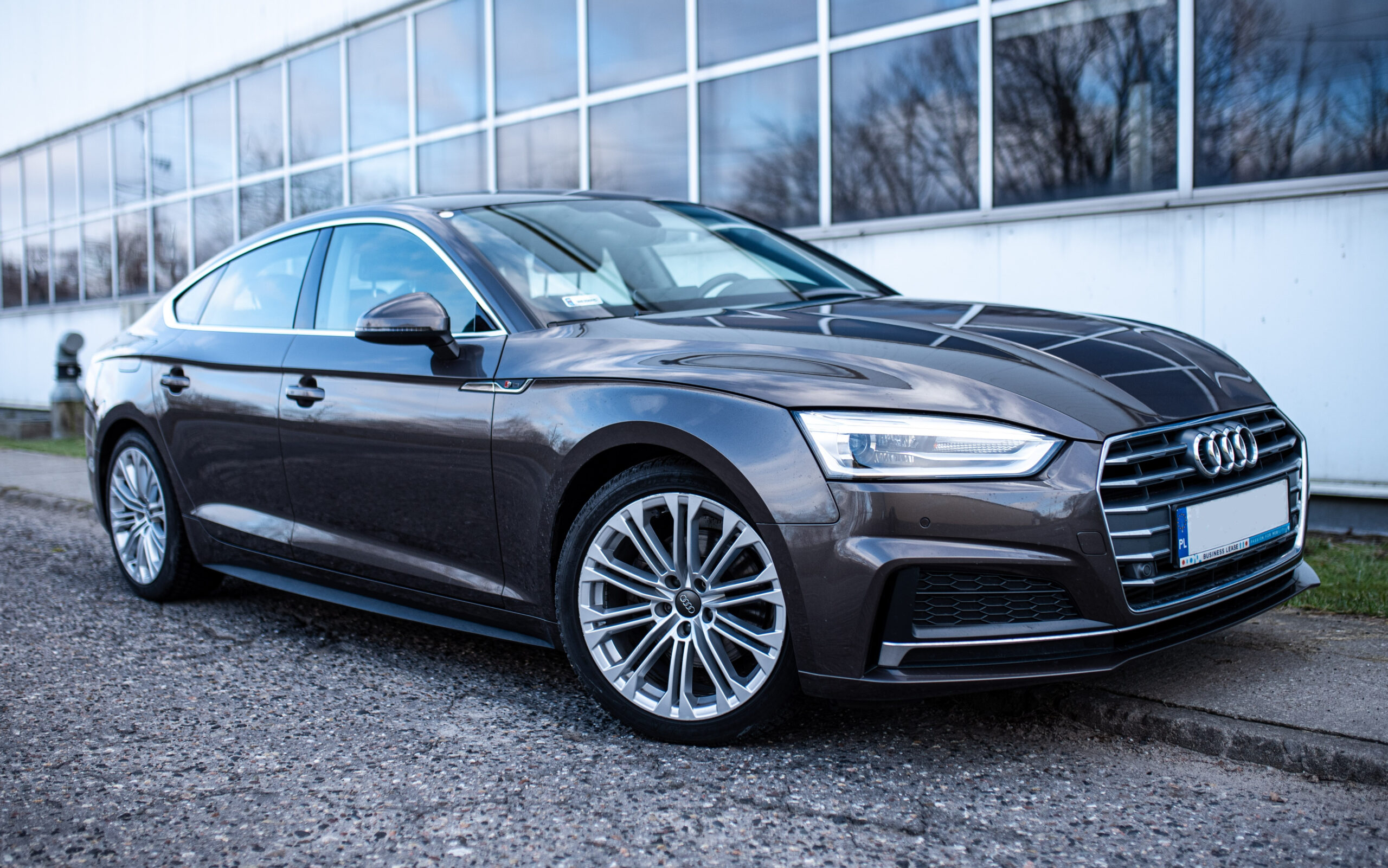 Audi, a symbol of German luxury and engineering precision, has always managed to impress with its lineup of vehicles. The A5, known for its sophisticated blend of performance and elegance, has been a favorite among luxury coupe enthusiasts. The 2018 Audi A5, with its revamped design and updated tech features, promises to further entrench its position in the segment. In this review, we journey through the offerings of the 2018 Audi A5 to determine if it continues the legacy of its predecessors.
Exterior Design
The 2018 Audi A5 showcases a sleek and modern design. It's characterized by sharp lines, a wide grille that proudly flaunts the four rings, and a beautifully sculpted silhouette. LED headlights and taillights come standard, adding a touch of sophistication to its appearance. The car's athletic stance is further accentuated by the 18-inch alloy wheels, giving it a poised look, ready to pounce.
Interior Design
Step inside the Audi A5, and you're greeted with a cabin that screams luxury. High-quality materials are evident throughout, from the leather seats to the brushed metal accents. The front seats are both heated and power-adjustable, ensuring utmost comfort. Audi's MMI infotainment system is intuitive and user-friendly, featuring a 7-inch display, Apple CarPlay, and Android Auto.
Space is ample for front-seat occupants, but like many coupes, rear-seat space can be a bit tight for taller passengers. However, the A5 makes up for this with a decently-sized trunk and split-folding rear seats for added versatility.
Performance
Under the hood, the Audi A5 boasts a turbocharged 2.0-liter four-cylinder engine producing 252 horsepower and 273 lb-ft of torque. Paired with a seven-speed dual-clutch automatic transmission, the A5 offers a brisk and responsive driving experience. Quattro all-wheel drive comes standard, ensuring stability and traction in various driving conditions.
Ride Quality
On the road, the A5 offers a balanced ride, adeptly merging comfort with sportiness. The adaptive dampers ensure that road imperfections are efficiently absorbed, offering a smooth drive. The car handles with precision, and the steering feedback is just about right for a luxury coupe.
Safety & Technology
Audi never skimps on safety, and the A5 is no exception. Standard safety features include forward collision warning and automatic emergency braking. Additional options like blind-spot monitoring, adaptive cruise control, and lane-keeping assist can be added. The 2018 A5 received top ratings in various safety tests, emphasizing Audi's commitment to passenger safety.
Audi A5 2018 Pros
Elegant and contemporary design

Powerful and efficient engine

Intuitive infotainment system

Top-notch safety features
Audi A5 2018 Cons
Limited rear-seat space

Some rivals offer more standard features
ජර්මානු සුඛෝපභෝගී සහ ඉංජිනේරු නිරවද්‍යතාවයේ සංකේතයක් වන Audi, සෑම විටම එහි වාහන පෙළගැස්ම සමඟ විශ්මයට පත් කිරීමට සමත් වී ඇත. A5, එහි කාර්ය සාධනය සහ අලංකාරයේ සංකීර්ණ සම්මිශ්‍රණය සඳහා ප්‍රසිද්ධියට පත් වූ අතර, එය luxury coupe වාහන අතර ප්‍රියතම එකක් විය. 2018 Audi A5, එහි ප්‍රතිසංස්කරණය කරන ලද සැලසුම සහ යාවත්කාලීන කරන ලද තාක්ෂණික විශේෂාංග සමඟින් මෙය නිෂ්පාදනය කර ඇත.
2018 Audi A5 sleek සහ modern මෝස්තරයක් පෙන්වයි. එය sharp lines, මුදු හතර ආඩම්බරයෙන් පෙන්වන පුළුල් grill සහ අලංකාර ලෙස මූර්තිමත් කරන ලද silhouette වලින් සමන්විත වේ. LED හෙඩ් ලයිට් සහ ටේල් ලයිට් එහි පෙනුමට නවීනත්වය එක් කරමින් සම්මත වේ. මෝටර් රථයේ athletic stance 18-inch alloy wheel මගින් තවදුරටත් උද්දීපනය කර, එය නවතම පෙනුමක් ලබා දෙයි.
Audi A5 ඇතුලට යන්න, ඔබට සුඛෝපභෝගී ලෙස හැඟීමක් වැඩියෙන් ලබා දේ. leather seat වල සිට brushed metal accents දක්වා උසස් තත්ත්වයේ ද්‍රව්‍ය වලින් ඇතුළත නිර්මාණය කර ඇත. ඉදිරිපස ආසන heated සහ power adjust කළ හැකි අතර, උපරිම සුවපහසුව සහතික කරයි. Audi හි MMI තොරතුරු රසාස්වාදය පද්ධතිය අවබෝධාත්මක සහ පරිශීලක-හිතකාමී වන අතර, අඟල් 7 සංදර්ශකයක්, Apple CarPlay සහ Android Auto ඇතුළත් වේ.
Audi A5 අශ්වබල 252 ක් සහ ව්‍යවර්ථ රාත්තල් 273 ක් නිපදවන ටර්බෝචාජ් කරන ලද ලීටර් 2.0-සිලින්ඩර හතරේ එන්ජිමකින් යුක්ත වේ. හත්-වේග ද්විත්ව ක්ලච් ස්වයංක්‍රීය සම්ප්‍රේෂණයක් සමඟ යුගලනය කර ඇති A5 වේගවත් සහ ප්‍රතිචාරාත්මක රිය පැදවීමේ අත්දැකීමක් ලබා දෙයි. ක්වාට්‍රෝ සියලුම රෝද ධාවකය ප්‍රමිතියෙන් යුක්ත වන අතර විවිධ රිය පැදවීමේ තත්වයන් තුළ ස්ථාවරත්වය සහ කම්පනය සහතික කරයි.
Audi A5 2018 වාසි
අලංකාර සහ සමකාලීන නිර්මාණය
බලවත් හා කාර්යක්ෂම එන්ජිම
ඉහළම මට්ටමේ ආරක්ෂිත විශේෂාංග
සුඛෝපභෝගී සුවපහසු අත්දැකීම
Audi A5 2018 අවාසි
සීමිත පසුපස ආසන ඉඩ
සමහර ප්‍රතිවාදීන් වඩාත් සම්මත විශේෂාංග ලබා දෙයි
Audi A5 2018 Grades
Turbocharged 2.0-liter four-cylinder engine producing 252 horsepower
Available in Coupe, Cabriolet (convertible), and Sportback body styles
Seven-speed dual-clutch automatic transmission
Leather upholstery
Virtual cockpit with a 12.3-inch digital display
8.3-inch infotainment display with navigation
Wireless phone charging
Audi side assist (blind-spot monitoring)
Adaptive cruise control
Traffic sign recognition
Full-color head-up display
Top-view camera system
Frequently Asked Questions (FAQs)
Is the Audi A5 a good / reliable car?
As per our experts' review and rating, the Audi A5 has scored 8.9 out of 10. To find out more about whether the Audi A5 is well-suited to your specific needs, make sure to read our full review on it.
What is the maximum power and maximum torque of the Audi A5?
In the Audi A5, the maximum power is 252 ps and maximum torque is 38 kgm.
What is the riding capacity of the Audi A5?
The riding capacity of the Audi A5 is 4 Seater.
What is the engine capacity of the Audi A5?
The engine capacity of the Audi A5 is 1984 cc.
What factors should I consider when buying a used Audi A5?
Here are some important factors you should consider before buying a used Audi A5 car:
Price / budget & financing
Vehicle maintenance history & reputation
Pre-purchase inspection & test drive
Ownership and vehicle title
Insurance
Lifestyle compatibility
Audi A5 2018 Specifications
| | |
| --- | --- |
| Model | Audi A5 |
| Launch Year | 2018 |
| Origin Country | Germany |
| Body Type | Hatchback, Coupé/Sports, Convertible |
| Doors | 2 |
| Riding Capacity | 4 Seater |
| Model Code | DBA-F5CYRF |
| Overall Length | 4690 mm |
| Overall Width | 1845 mm |
| Overall Height | 1365 mm |
| Wheelbase | 2765 mm |
| Tread Front | 1585 mm |
| Tread Rear | 1570 mm |
| Interior Length | 0 mm |
| Interior Width | 0 mm |
| Interior Height | 0 mm |
| Weight | 1570 kg |
| Engine Model | CYR |
| Maximum Power | 252 ps |
| Maximum Power | 185 kw |
| Maximum Power | 0 rpm |
| Max. Torque KGM | 38 kgm |
| Max. Torque Nm | 370 Nm |
| Max. Torque RPM | 0 rpm |
| Engine Capacity | 1984 cc |
| Bore | 83 |
| Stroke | 92.8 |
| Compression Ratio | 9.6 |
| Fuel Tank Capacity | 58 L |
| Min. Turning Radius | 5.4 |
| Tires Size Front | 245/40R18 |
| Tires Size Rear | 245 |
| Driving Wheel | - |